Now that our days have gotten busier, the weeks are going by even faster! I get the feeling that once the holiday season comes along, with all of the activities that includes, the rest of this pregnancy will go by in the blink of an eye!
How Far Along: 19 Weeks
Due Date: February 6, 2014
Boy or girl: We find out on Monday!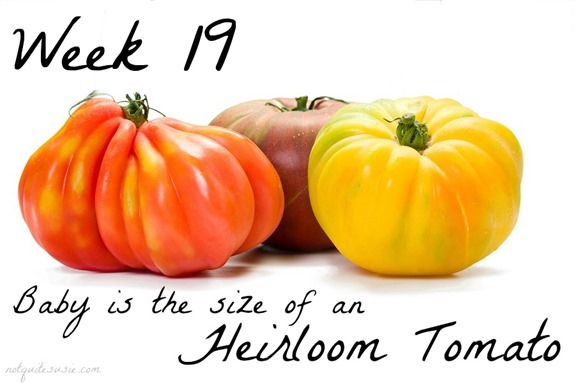 Baby's Development:
Your baby's sensory development is exploding! Her brain is designating specialized areas for smell, taste, hearing, vision, and touch. Some research suggests that she may be able to hear your voice now, so don't be shy about reading aloud, talking to her, or singing a happy tune if the mood strikes you.

Your baby weighs about 8 1/2 ounces and measures 6 inches, head to bottom — about the size of an heirloom tomato. Her arms and legs are in the right proportions to each other and the rest of her body now. Her kidneys continue to make urine and the hair on her scalp is sprouting.

via babycenter.com
Movement: Lots! Baby is getting bigger & stronger for sure and while they're still kicking &jabbing pretty low down, they've been branching out a bit too.
The Bump: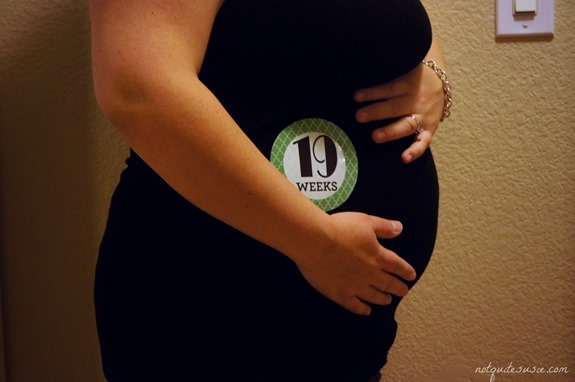 Symptoms: Well, from here on out let's just assume I have morning sickness because I get tired of writing it every week. I'm accepting that this may be a permanent thing- at least for the next 21 weeks. I will say it's a lot better than the first few weeks I had it, but still, I miss being able to walk into the kitchen without wondering if the sight of bread will make me gag.
I've also been super tired still, to the point where I may be switching my entire schedule. Instead of working late at night, I may start going to bed early & waking up early. I have always been a night owl so I'm not sure how this will work, but I'm going to have to try it if I hope to get anything done, ever. All I want to do at night is sleep!
Cravings: I have fallen in love with the BBQ Chicken Salad at Café Zupas. It's kind of ridiculous. It might not be a pregnancy craving though because this salad is good enough to warrant this love all on its own- even Justin keeps suggesting we go back for more. We've been three times in two weeks.
Food aversions: Hamburgers, which is making me sad since I never eat beef & only allow myself to when I'm pregnant. I feel like I'm wasting this time! In fact I am even craving them, while still having an aversion to them. I don't understand it either.
What made me cry this week: This viral YouTube video of a wedding proposal- man, those things always get me.
Medical stuff/appointments: We have our next appointment on Monday & if baby cooperates, we will be finding out the gender!
Something I am excited about: Finding out if we're painting the walls blue or pink!
Something I am not so excited about: We went furniture shopping today for a new desk- it's harder than I thought. We're super picky so we're having trouble finding something we like, plus looking at those price tags just hurts! I hate how expensive furniture is.
Baby purchases: I can officially start buying loads of stuff starting Monday once we know the gender! I haven't purchased anything this week though.
Shane's Thoughts: Shane has started randomly coming up to me & hugging and kissing my belly &saying they are for the baby. &He's so funny, every time I say "aww" while watching TV or looking at my phone, he immediately asks if someone is pregnant. Apparently he's noticed that half of the people I know are expecting!
Read More:
Week 18 Update
Week 17 Update
Week 16 Update
Week 15 Update
Week 14 Update
Week 13 Update
Week 12 Update
Week 11 Update
Week 10 Update
Pregnancy Reveal

If you're currently expecting, be sure to leave a link to your latest update in the comments! {&Be sure to check out Trista's update post on Anderson's Angels!}