When I first found out that Beauty and the Beast was being reimagined into a live action movie, I was mostly excited- but also a little bit hesistant. The original animated film was such a staple of many of our childhoods, and I had my fingers crossed that this new version would do it justice.
Luckily, now that the movie has arrived, it's apparent that not only did Director Bill Condon know what he was doing- but he felt the same way. He knew what a perfect movie he was working with and worked hard to add to it, rather than take anything away. In partnership with legendary composer and lyricist Alan Menken, who worked with Howard Ashman to create the original soundtrack and came back to work on the live action reimagining, the Tale as Old as Time has come back to life for a whole new generation- and the story is as magical as always.
A few weeks ago I had the chance to speak to both Director Bill Condon and Alan Menken- read on to see what they had to say about their love of the story, where the new songs came from, why Human Again didn't make the movie, and more!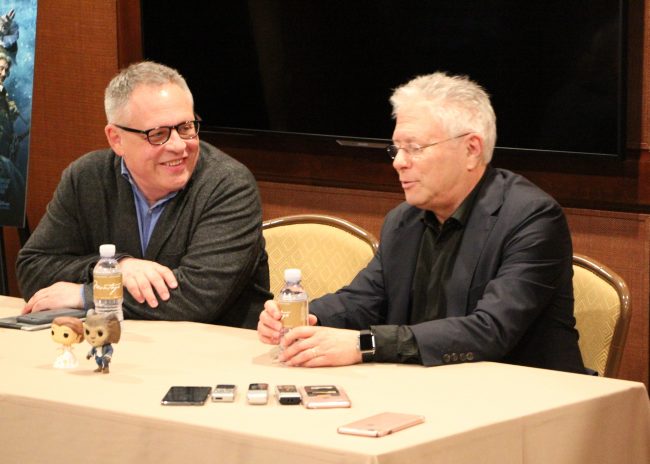 What drew you to this story? 
Alan Menken: I was drawn to the story by Disney. Howard Ashman and I were working on Little Mermaid- it hadn't been released yet but people were very happy with it and they said, "How about Beauty and the Beast? We're interested in doing that next." Howard and I had Aladdin, but Aladdin had to go back to development because we were a bit too edgy. There was more development work to do on that, so Beauty and the Beast then came in and became the next thing we worked on together.
Beyond that I have to go back and credit Howard. When you look at the initial story and how you're gonna turn it into an animated musical, then it was a matter of inventing the enchanted objects and inventing this huge ego for Gaston and his posse of nitwits who praise him. For the structure, we needed to put in production numbers and comedy numbers and it was all those brilliant ideas- and I gotta say Howard was so instrumental in that.
Bill Condon: So I come in. there's this movie, this classic, perfect movie that already exist and for me more than anything it was the score- the chance to really roll around in that music and to restage it, do a new version of it in a live action format but especially those songs. It just felt to me like a once in a lifetime opportunity.
Alan: When I heard that Bill was directing it I didn't know [him]. I knew the work [he] had done but Richard said, "Bill is a major fan of musical theatre. He loves it." Oh, he knows the craft. He knows musicals. So that was huge.
Are the new songs brand new?
Alan: They're brand new. No- Days in the Sun– before Bill was on as a director, this goes back to about 2008. There were discussions about a movie version of Beauty and it actually went as far as early script and when I was in London working on Sister Act, Tim was there and I said "Let's try working on a couple of songs." Days in the Sun, the genesis of that actually began back there as sort of a lullaby moment but once Bill came aboard then that really got reworked to be a vehicle of so much back story and we're threading a lot of story to it.
The other songs, I would say they were the songs we decided at the beginning. Some moments we followed through on. The actual conception of the songs was yes, here they are. The actual execution was two years of here are these songs, black and blue and we're gonna reprise it here and we're gonna put a little bit of How Does a Moment Last Forever into the middle of Days in the Sun. We're gonna take the Days in the Sun theme and we're gonna put it at the top as the Aria and just- you begin, you have these threads and you begin to weave with them. By the way I never pull from a trunk, ever.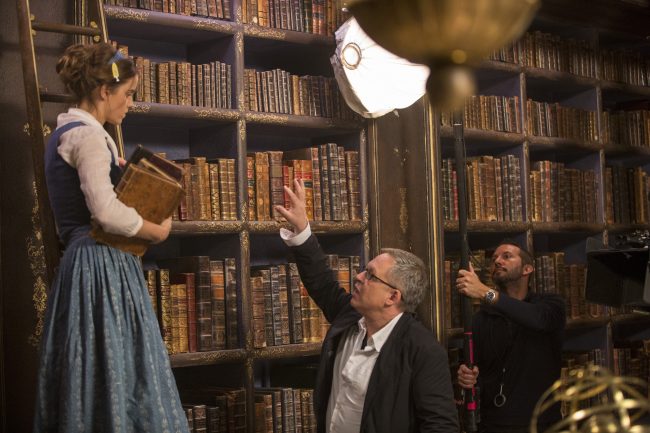 How did you work together throughout the process?
Bill: Well for me I was intimidated at our first meeting because here I am and I'm talking about the first possible new song- and this is a legendary composer, but also it's a property that as we keep saying is perfect on its own. I think Alan, as a man of the theatre, is somebody who craves the dialogue and the collaboration. I think that's what it's about and that became clear very, very soon. We just started a conversation and it went on for a couple of years, right?
Alan: Yeah, and also we're both professionals. We both have done a lot of work. We know what's necessary in order to collaborate and there are people who are new to musicals and will try to reinvent the wheel in one direction or another but we both have been through so much. When you're a pro you basically arrive at the same place because you know what's important and you know what needs to get done and you also know the necessity of process. I know that for me to go back to Beauty and the Beast on my own- no way I could do it. It's all about other people coming in and collaborating and for me the Director is the boss and so it takes such a burden off of me. Now I'm able to be a catalyst, which is what I want to be more than somebody driving the ship. Bill had the burden of actually driving the ship.
What was the hardest decision to make when you were filming the movie of taking the music out or put in?
Bill: We didn't take anything out- you look at the animated film and there's absolutely nothing missing. There was a song that was originally conceived for the animated film, put into a reissues of the film and put into the Broadway musical called Human Again, which is a fantastic song and I think one of the favorites. That was an early conversation that even in a movie this scale- it took two and a half years to do Be Our Guest and Human Again is even bigger in a way and that just became something that we had to sacrifice. So part of the feelings and what happens in Human Again got translated really into Days in the Sun which has a very different feel.
Alan: And Human Again– I must say because of Howard, it's a brilliant song. It really is, but it was always problematic, always. It was a nine minute sequence going through so many sections and so many edits, basically watching the entire coming together of Belle and the Beast and watching the objects react and going into a scene and coming back to the song. So it was always a challenge to get it in. We ended up cutting it down to about six minutes by the time it got back into the animated movie and then I think it got cut even a little further for the Broadway show but I think in the future maybe we'll do a whole musical called Human Again and make up for it.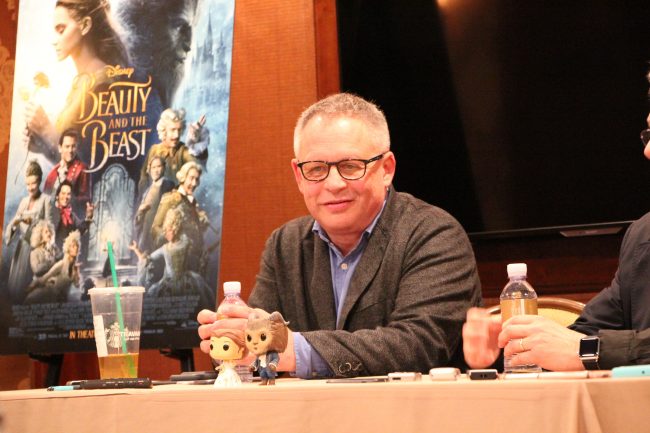 Can you talk about the challenges of preserving the timeless classic with integrating new things?
Bill: I think it was always about revealing more. It wasn't about reinventing. You bring it into the real world and you start to ask questions that didn't matter in the animated film: How did Belle and Maurice wind up in this village? What happened to her mother? How did the Prince become such a dissolute figure that he was worthy of being cursed? You start asking those questions and you start to bat around what the possible answers are. Then you're making something different, but I think for me I could really rely on my own reverence for the original film in knowing when you're changing something or going too far. I hope never to cross that line.
How has hearing stories of how your music has impacted other people, impacted you?
Alan: It's unreal. It's unreal. Frankly, it gives me more of a sense of what we think of as a collective consciousness- that we're all a part of a collective consciousness because we as artists are conduits for emotion and they really come through us. That's amazing and wonderful. I was a kid who liked to practice the piano and I was a nervous kid with an ulcer and I just was a dreamer. And then somehow I found that writing songs, that composing was where my brain would settle and I just did it and did it and did it and now it has an impact on people like that and I'm just living my life and it's had that effect and wow.
Beauty and the Beast is NOW PLAYING! Be sure to follow Beauty and the Beast on Facebook, Twitter, and Instagram for more information and follow the #BeOurGuest & #BeautyandtheBeast hashtags for more! {You can also check out more coverage including clips, images and more here and my interview with Emma Watson and Dan Stevens here, exclusive interview with Luke Evans and Josh Gad here, exclusive interview with Audra McDonald and Gugu Mbatha-Raw here, a round-up of great Beauty and the Beast gift ideas here, my film review here, and my experience at the Williams Sonoma Beauty and the Beast event here!}