We are just a few short days away from the release of the live action Beauty and the Beast and I can not wait! I had the chance to see the movie last weekend during the #BeOurGuestEvent in LA, but I'm going to be seeing it at least one more time while it's in theaters. I'll be sharing my full thoughts on the movie itself later this week, but for today I'll be sharing something very special- an interview with the Beauty & the Beast themselves, Emma Watson and Dan Stevens!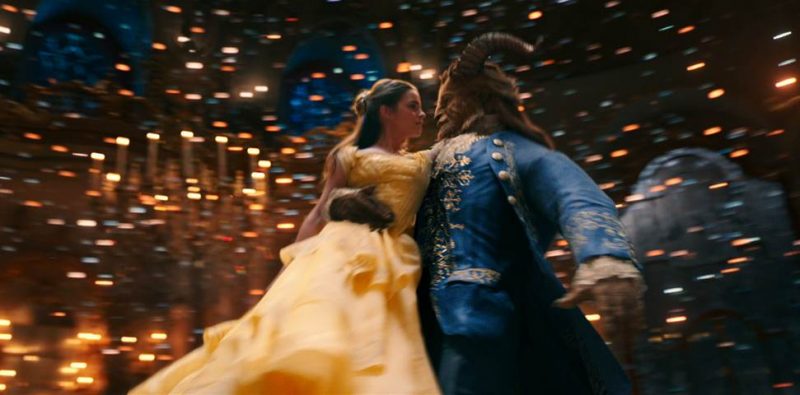 Emma Watson is my favorite actress and was absolutely perfect for the role of Belle. Dan Steven's voice is breathtaking, even when he's just speaking, and he's able to use that to bring that human factor to the Beast. They both did an amazing job in the film and it was such an honor to be able to ask them some questions along with a great group of bloggers. Here's what the stars of the film had to say about their input in the characters and their costumes, what Dan had to learn to do on stilts, and their inspiring words for people who feel different, like Belle!
What was the process for auditioning for the parts?
Emma Watson: Ooh, that's a good question. I think with Disney, it was about wanting to explore whether or not I could sing. I think that was the major question mark, so I was asked to put together an audition tape, and I went away and I did, and then kind did that classic thing of waiting on tentative hooks to get the call, and to hear whether or not it was up to standard and thankfully it was, so I got offered the role which was just very, very exciting, really.
Dan Stevens: For me, I put a song on tape for Bill Condon, and I sang the Beast song from the Broadway musical which we ended up not using in the movie, because the Beast doesn't sing in the animated film, of course. And yes, the same thing- fortunately he liked it.
What was it like seeing yourselves in full costume the first time?
Emma Watson: It was kind of amazing. I think because it's a fairytale- I play kind of an archetype, really. She's more of a symbol. Then the way that I got into character and I started to feel like I was understanding her really well, was through her costume. It was working on putting together the boots that she wore, and she had kind of these slightly scruffy socks. She had the bloomers underneath her skirt which meant that she could swing her leg over a horse. And creating the kind of tool belt that she has on for when she's inventing things, and it will carry her book- all these little details. She actually has a ring on her finger which is actually one that I wear which is one from my mom. All these tiny things, I really felt like I was starting to get to know her, so her costume was really important for me, actually. It was the way in.
Dan Stevens: I didn't really have a costume. Well, I did have a costume, they made costumes for the Beast. There were real giant coats that he wore, and this massive shredded cloak, but I never actually got to put it on. I spent the whole time- as the Beast, anyway- in a forty pound muscle suit on stilts covered in gray lycra. So I looked pretty odd, but nothing like the Beast that you see in the movie.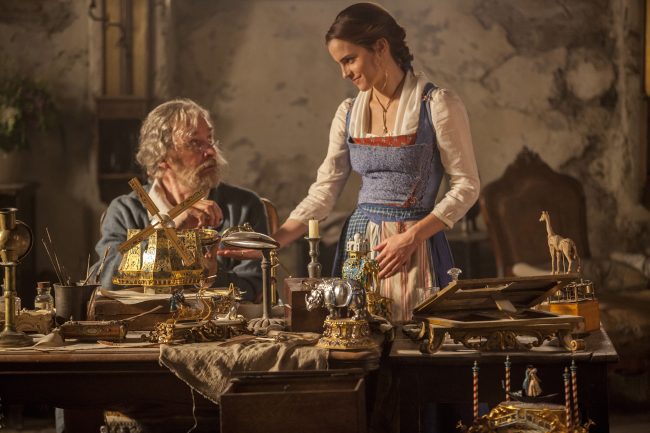 Both Hermione and Belle are very strong characters. In which ways were you able to shape the character of Belle to help continue the empowerment of future generations that will be seeing this film?
Emma Watson: There was talk- a little bit at the beginning- of a wedding, perhaps at the end, and that had not been in the original. I was sort of like, "Oh, me, sorry, can I just point out this isn't in the original? We need to stay faithful to the original." I felt strongly about that. I felt very strongly that she needed to have a vocation to fill her time with, and this is very important to me.
So we kind of co-opted what was originally kind of "Crazy Old Maurice's" identity. We had her design this washing machine that allows her to have more time to read and to teach. That was super important to me.
People ask me a lot, "What's it like being a Disney princess?" And I go, "Well, actually, Belle isn't a princess." She's actually one of the few that's in that line of young women who actually isn't a princess. She's an ordinary girl from an ordinary village and I actually think that's very important about her. She has no aspirations to be a princess. She has no aspirations to marry a prince.
There was a line in the movie, originally, where Audra, the chest of drawers says to me, "We'll make you a gown fit for a princess," and I asked Bill, "Could I say actually, 'I'm not a princess?'" So just like little things like that where I just felt like I was protecting and defending Belle's original DNA and just making sure that we stay truthful and faithful to this very independent young woman.
Your dance scenes were amazing. How long did it take you to prepare for that?
Dan Stevens: It was about three months training for that. We did the Beast Waltz and I have three dances in the film. It was a lot of dance training for this, and particularly for that iconic waltz, and we learned it on the ground.
Emma Watson: We learned it together.
Dan Stevens: Then I graduated to the stilts….
Emma Watson: And then he graduated to the ballroom because that ballroom is so huge that actually filling the space and really making it seem as if we were filling that room was a kind of challenge in itself.
Dan Stevens: Yeah, waltzing on stilts. Not something I thought I would ever be able to say.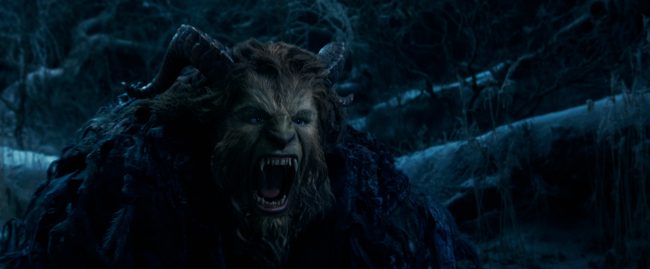 How much of it was CGI and how much was actually you?
Dan Stevens: It's all me, kind of. It was motion capture puppeteering of the suit. I'm inside a giant muscle suit on stilts, so the Beast's body was me moving inside there. The facial capture was done separately, and every two weeks, I'd go into this booth, and ten thousand UV dots would be sprayed on my face, and twenty seven little cameras would capture everything I've been doing for the past two weeks just with my face. So it was my face driving that Beast's face, and they turned that information digitally into the Beast's face and mapped it onto the body that I'd been working on the set.
So in answer to your question, lots of CGI and also, it is me driving it all, and it's an amazing new technology that's never been used this extensively before, and it's very, very exciting.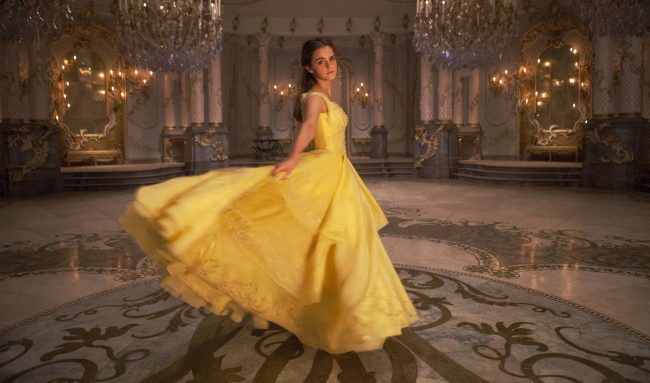 Did you have any input, Emma, into the dress of Belle?
Emma Watson: Yes, I was very heavily involved in the dress. Trying to get the dress right was really difficult because we needed to dress her to serve a number of different purposes and functions.  It needed to be of the period, so originally she started off with a very seventeenth century traditional dress, but then we realized that it didn't do that really cute twirly thing that it does in the animation, when the dress spins behind her.
We were like, it has to do that, otherwise it's not right. So we're like, okay, back to the drawing board, it's gotta twirl. It's gotta be seventeenth century, but the bottom's gotta be different, so let me try another version of it, which kind of did have that movement. It was lightness, so we made it out of chiffon, and then we were like, she's also gotta ride a horse in it, and she's gotta be able to go into the third part of the movie which is where she goes back to see her father. So it also needs to feel like an action hero dress which is why the front of the dress looks a bit like a coat of armor- it's got gold flecks in it, and it had that warrior element to it as well.  We kind of created a warrior, modern seventeenth century twisty, twirly dress hybrid.
Dan Stevens: There was a lot of, a lot of chewing and throwing with that dress design, and during that extensive design period, Emma came over to my house in London for dinner, and we were talking about the dress and what the dress was gonna look like and my five year old daughter at the time sort of overheard our conversation, and she scurried into the next room with a pen a paper and came back about a half an hour later with five different dress designs.  And Emma was very, very sweet.  She sat down with Willow and she looked through them all, and they chose which one they thought that they should go with. Anyway, a few weeks later, Willow came on set and saw Emma in the finished dress, and she's like, yep, that's the one.  So in her mind, she designed that dress.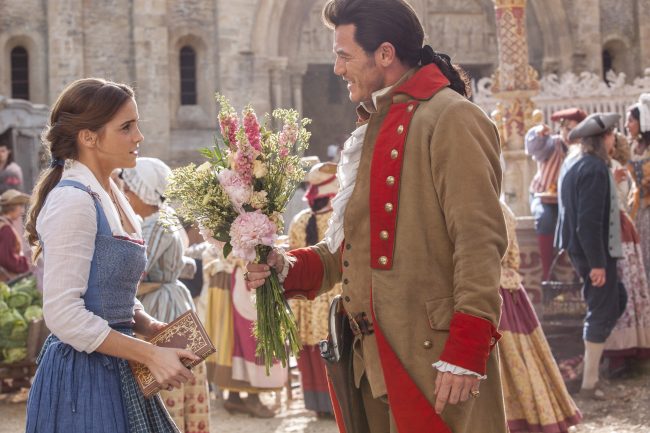 What would you say to girls that feel different and odd in their own way?
Emma Watson: What I remember being so torturous about school was that that is your whole world.  It's like this microcosm; the people that are in your class, that's your entire universe.  That is your planet, and if you don't fit with that, with those however many people are in your class, it's miserable.
And I think what my mom really said to me was that, "Look, it might feel like the end of the world right now, that you don't quite fit, but one day, you might be really grateful for that."  And it's very hard to see at the time but there's a big, wide world out there with people who have diverse interests, and perspectives, and opinions.  You have to just go out there and find your tribe; find your kindred spirits; find the people that resonate with you and that you feel at home with.
It takes a bit of persistence, and it doesn't necessarily come overnight and really easily, but actually when I look back on not feeling like I fit in at school, I'm really grateful that I didn't because I actually don't really particularly want to be like any of who were the cool girls in my class anymore, to be honest- really. I'm glad that I was different. I'm glad that I was a bit odd and I didn't really fit in. So, you know, obviously, all of this is easy to say in retrospect, but anyway, I hope that's helpful.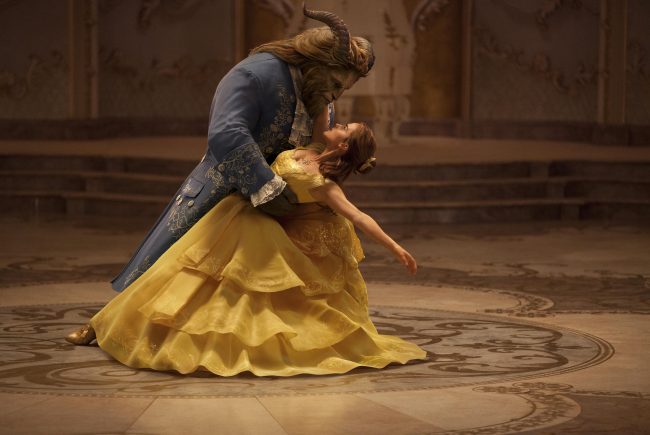 What is the most exciting scene that you filmed from the original movie, and how did you feel when you did it?
Dan Stevens: I'm gonna say the waltz again. That was, I suppose, the most iconic scene that we were really looking to replicate. And the feeling of the waltz- I highly recommend you go and try it.  Take a partner; go and take a waltz lesson. It's an amazing feeling when you get it right and there's something about the sort of swirling motion of two people doing that, especially in stilts which is quite weird. But it was very satisfying to have completed that sequence and feel like we captured the magic of that original dance.
What is important for both of you, for girls and boys to take away from this movie? It's a great on both sides, there's such great messages for boys and girls to learn.
Dan Stevens: There really are. I remember even for me, the animated film as being a Disney film that was immediately loved by boys and girls.  I actually have a great friend of mine who's now in his mid-thirties, he grew up in the west of England in the countryside, who for him- Belle was his greatest hero, and he used to go into the fields of Somerset and sing, "I want adventure in the great wide somewhere." There is something about the spirit of Belle that is to be championed in all of us.  I think that curiosity, that imagination, that ability to see beneath the surface deep, but also to see beyond your immediate surroundings.  And she has tremendous vision in all ways, and I think that's something to be applauded.
Emma Watson: I think as a child, I had a very hard time working out sometimes why people weren't kind to other people, and trying to understand. I think what is so beautiful about Belle is that she's so nonjudgmental. It's her ability to see beyond the surface of things and to understand that everyone has a story, and you don't always know what that story is, and to look deeper into things before you make a judgement. There's a compassion and empathy there which I think is kind of a relief because I don't think anyone is inherently evil.  I think there's light and dark in everyone, and I think that she symbolizes that very well.
Beauty and the Beast comes to theaters this Friday, March 17th! Be sure to follow the film on Facebook, Twitter, and Instagram for more information and follow the #BeOurGuest & #BeautyandtheBeast hashtags for more!