Last week at the #BeOurGuestEvent, I had the opportunity to interview many of the people behind Beauty and the Beast. Yesterday I shared my interview with Emma Watson and Dan Stevens, who play Belle and the Beast, and today I'm sharing some interesting facts we learned about the "bad guys"- Luke Evans and Josh Gad, who play Gaston and Le Fou!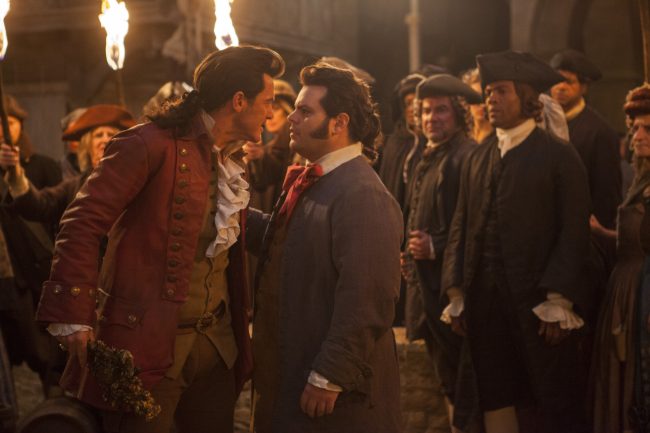 These two had us cracking up throughout the interview and couldn't have been any more different than their on-screen personas. Below, find out ten interesting facts about the actors themselves and Gaston and Le Fou's parts in the movie!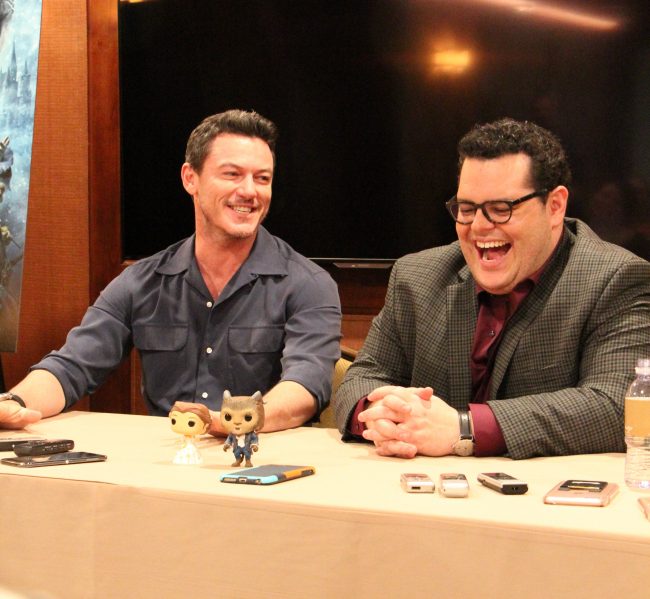 Luke and Josh like to perform- and do it often. In fact, they performed for us with Alan Menken!
Josh says, "The truth is, you don't need to beg us to do a performance. Luke and I will sing at the drop of a coin. But it's a problem, actually. I never thought I'd be someone who was so willing to sing for no reason at all. Until I met Luke Evans."
For Luke, watching Disney movies as a kid was the highlight of his year.
"It was always dark and gloomy where I came from. So to go in and watch a Disney film in the little cinema in our village was the highlight of my year! Always was."
Luke and Josh were able to improvise with their lines.
"There were moments when some of the funniest moments we had are things that we made up on the moment," said Luke. Josh added, "Oh yeah. The first sequence when the two of us are riding in that wagon with Maurice. That whole idea of calming Luke down with stories about the war was something that we literally came up with on the spot. And we had about like 30 variations of it. Some of them were even more insane than what you see on the screen."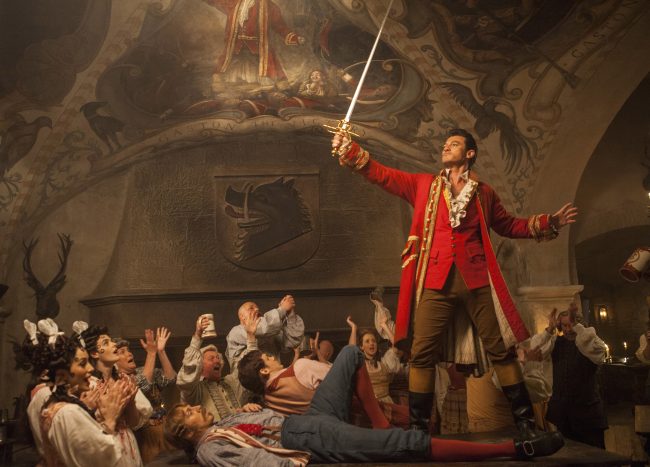 There were several different versions of Gaston's jacket, and a lot of work went in to Gaston's look.
"I've always said, and I always will say, because I think it – a massive part of my creation of a character, especially somebody like Gaston- the look is half of his ego. The hair and the fitted red leather. We went through about four or five incarnations of that leather jacket before we found the right color of blood red. That represented the sinister part of his nature. I don't know if you noticed, but that red jacket which is obviously so synonymous with Gaston in the original- it's the same here- that only goes on when he puts Maurice into the carriage to lock him up. And that's the first time you see it. And we made that conscious decision. When you put something on like that, there was so much work in it, those buttons all had antlers on each button. And I had a pinky ring which was an antler impressed into red stone. It was all antler themed, as you can imagine. It looked fantastic and you put the wig on and there you go."
They both had a hard time letting their characters go.
Luke said, "He was a hard character to let go. I think we both felt very sad to let them go because we'd had so much fun and brought so much happiness to villains to make people laugh. That's quite a gift, you know, because usually you just make them hate you. But we had the opportunity to do both."
Josh was so passionate about the film, he would have done it for free!
"Honestly, I literally would have done this movie for nothing. The reason I signed on was because it was so iconic. Beauty and the Beast was my Frozen. This was the movie I saw five times as a kid. Just recreating these moments, these iconic moments that I grew up with, knowing that my daughters are gonna grow up with this as hopefully their definitive version of the story.
The other thing is, and I was saying this to Luke, I can't think of a big screen musical, live action, that my kids have seen on the silver screen in their lifetimes. And that is unacceptable to me coming from musical theater. But think about that. This is gonna be for many of your kids and my kids certainly, the first time they ever see a musical on screen, that isn't animated. That's huge."
The biggest challenge for Luke was the big fight scene at the end.
The physicality of the fight sequence at the end was going to be demanding. It took a lot of stunt rehearsals and training. Quite a few times on weekends once we finished I came in and they had a big cherry picker which they would raise another six feet and then another six feet and I was on cables. And I had to land, I had to jump and try to sort of reflect what the Beast was doing on another turret- doing it in his beastly way. Where I am just a human being, so I have to find a way about doing it like Spiderman with long hair.
I managed to get it by the time we shot it. But I think it was about a 42 foot high leap that I do in the film with a cable. And it's a trust exercise. I mean, you're trusting them with your life– it's not a stunt guy. And it's an interesting thing to do, but I found that quite challenging  but very rewarding. And thank god it's in the film. They often don't make the movie and then you're really annoyed.
Both of them hope that kids watching it today learn good lessons from the film.
Josh said, "I think that Gaston in particular, represents a really interesting character. Because one of the most important lessons to be learned, comes surprisingly out of that character. Which is, you have a guy who is provoking fear, based on a character that nobody knows, that people are scared of because they've never seen him- but they're afraid of what he's capable of. Feeding into those fears and going to attack someone based on the fact that you've never met them before, but what you believe they're capable of. Well, that's as relevant today as it was when Beauty and the Beast was first written. I think that is the thing that I hope kids can look at- and they're not gonna understand it now, but that's something as they revisit this film over and over and over again – this idea of never judging a book by its cover is so important."
Luke added, "Love conquers hate, and that's basically the running theme. And to watch it all being carried by a very strong female lead character, who basically at the end of the day, she saves the Prince. If it wasn't for her, this story wouldn't have the backbone that it does. And it comes from a very fearless, independently spirited young woman who reads, who's intellectual, who wants to learn, who sees that there are no boundaries to her world. It might be right there and then but she knows there's a world out there to conquer and to discover. And she doesn't need a man to do it. I mean, she's a 21st Century Disney princess."
Their favorite scene? The tavern scene, of course!
Luke said, "It would have to be for me, the Gaston tavern sequence. For two reasons- One, my song. Two, it was the one piece of the whole film where we got to rehearse for four to five weeks, because it was incredibly technical. So we had all the villagers in the room. There's vignette stories going on which you have to watch it a few times to know that, all that took a lot of time. And honestly, the music was playing throughout the whole thing, and we have to get them to roofs, onto tables, and there were swords, there were murals that we have to reflect in the back of each shot. It was a lot of stuff going on, which took time and development and collaboration and a lot of working it out. But that's what we come from. We come from the theater, we're used to that rehearsal experience. And so to have that on a film, was a joy." He jokingly added, "Also we got paid one month more."
On that note, the song "Gaston" haunts them.
Josh said, "That is the brilliance of these Menken and Ashman songs, is they are so unbelievably addicting. Luke and I have now been singing this song in one way or another, for two years and it's not because we want to, it's because we can't stop. It's because we are literally haunted by these songs."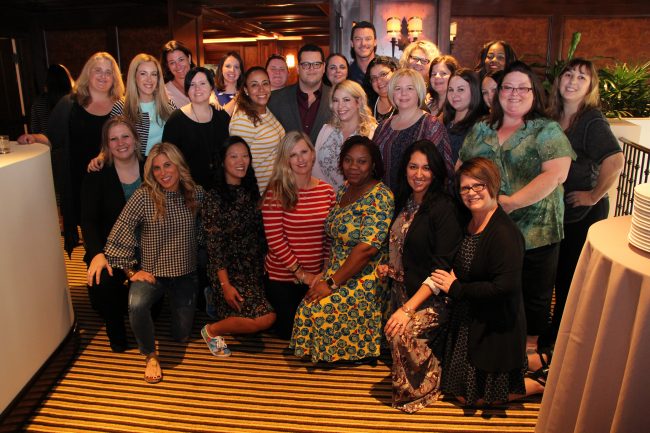 You can catch Luke Evans and Josh Gad in the Disney's Beauty and the Beast, out in theaters this Friday, March 17th! Check out a clip from "Gaston" below!
Be sure to follow Beauty and the Beast on Facebook, Twitter, and Instagram for more information and follow the #BeOurGuest & #BeautyandtheBeast hashtags for more! {You can also check out more coverage including clips, images and more here and my interview with Emma Watson and Dan Stevens here!}