There are just a few more days until Captain America: Civil War hits theaters! Last month, I had the chance to interview Paul Bettany, who currently plays Vision after years of voicing J.A.R.V.I.S. Find out how long it takes to get into costume, how his daughter reacted to seeing him as Vision for the first time, and more!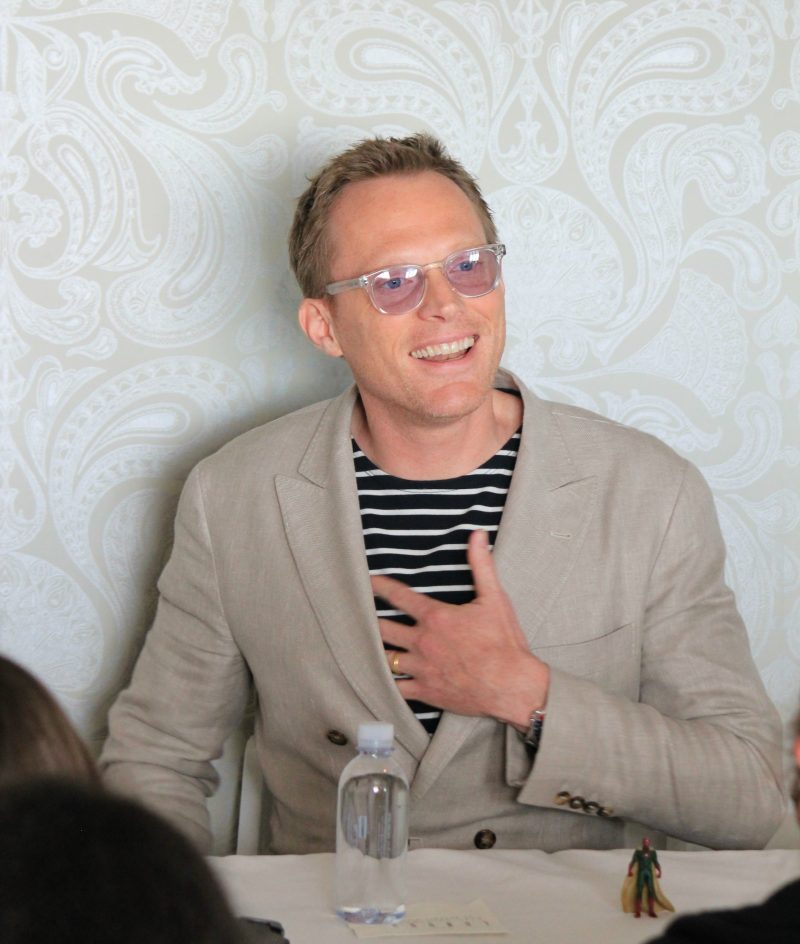 Can you tell us about dealing with the heat [in Atlanta during filming]- including the makeup process and the struggles with that?
Paul Bettany: It was hot. You all come out of your air-conditioned trailers in your costume and makeup and everybody's looking rather like super heroes and movie stars. And then in about naught point 5 minutes in 105 degree Atlanta weather, you look a lot less like a movie star.
Both me and Chadwick [Boseman, who plays Black Panther] have this special suit that goes on underneath which pumps ice cold water through it. Close your eyes and imagine being inside a gin and tonic. It feels exactly like that.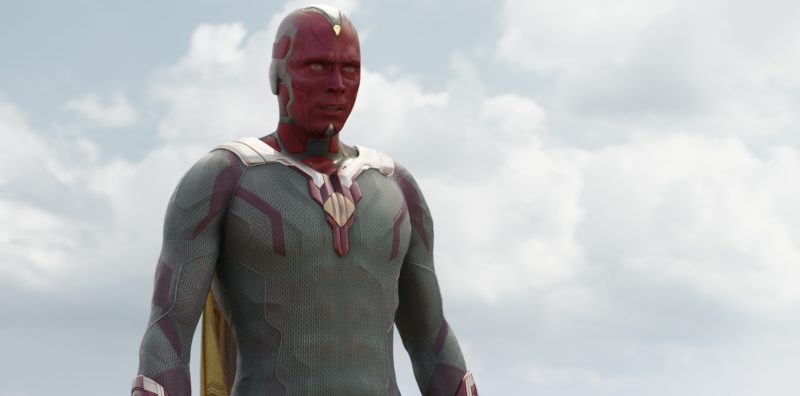 Towards the end there, you got a little distracted. 
Paul Bettany: I think you find Vision in this movie on a sort of personal quest. In the previous movie you see him born- which I don't expect ever to do on camera again in my career- and he is naïve and yet omnipotent in sort of struggling with learning about the world. And I think in this movie you find him trying to be more human.
How do you personally relate to Vision?
Paul Bettany: I have to relate to him as a human being, because I am. And I've never met a synthetic person. Although, in Los Angeles…

So, you're a director now yourself. Is it different being on the other end?
Paul Bettany: Yeah, and I think more actors should do it. It really gives you much more of a respect for the directors that you work with. And I really enjoyed my own period of being an actor and just enjoying my responsibility- because you're obviously taking care of a much larger picture as the director. Your day is just filled with a thousand questions, 99% of which are 'What color do you want the red shoes to be?'
It's been amazing, and I loved doing it. And will do it again. I'll do a comedy next time.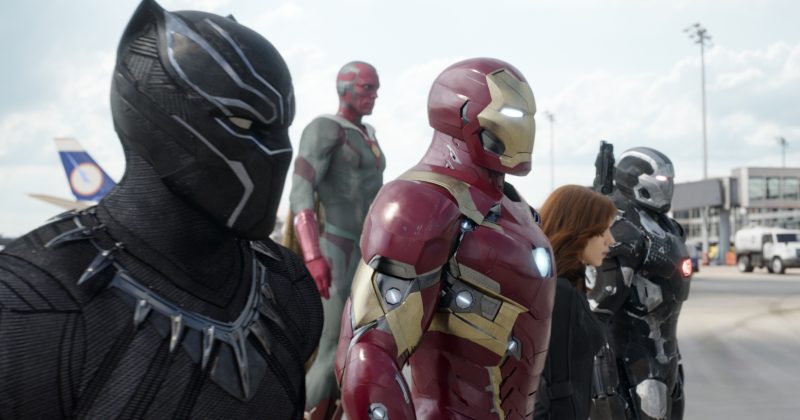 I read that you hadn't watched the Iron Man movies in the beginning. Have you watched them now?
Paul Bettany: Oh, yeah. You know, when you enter an interview with a journalist where they ask you, have you seen the movies?  And you say, "Oh, no, I haven't seen the movies."- and then you go on to say, "But then I don't really see 80% of the movies that I'm in." But they don't use that bit because it's a much more eye catching headline- "Bettany doesn't watch the Iron Men movies."
So, no, I did my homework and I watched them all. And I really loved them. I think that the stories are becoming more and more rich and complex and I think you see that in this movie. That both in terms of the interpersonal relationships between all of the super heroes and also the broader sense.
Often these sorts of movies are just plain escapism. Actually this movie talks about some of the things that we sometimes want to escape from. Unilateral intervention from a super power is really what, on one level, this film talks about, and the need for a strong regulatory body. And that's pretty topical stuff. Which is amazing for a movie that's this broad and this much of a popular franchise, I think to touch on those sort of subjects is kind of great.
So, how do your kids feel about having a superhero in the house now?
Paul Bettany: They love it, actually. My daughter met me as Vision for the first time when I think she was just three, or maybe even just about to turn three, and she just ran up to me and gave me a hug.  She knew entirely who it was.
I had been very worried about what her response would be. And then at the end of the day when I took it all off she had her first ever meltdown. And she went, "I want purple daddy!" Which, as I'm sure you can imagine, was a little depressing.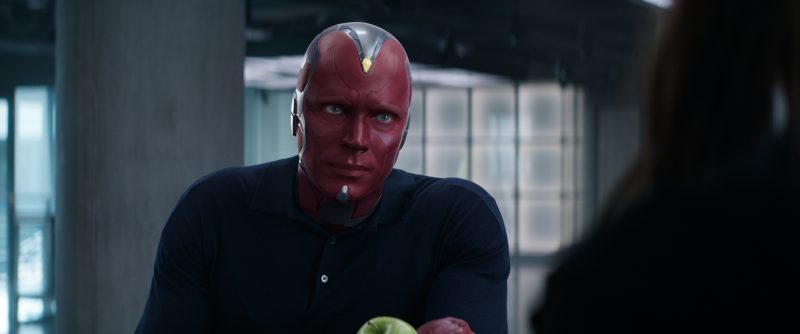 Going off that, how much of it was costume and makeup and how much of it was CGI?

Paul Bettany: It's mostly costume and makeup. And then there's some sort of circuitry, I don't know how to describe it, they're lines basically. The makeup starts from under my eyes and goes all the way up, and then goes all the way under. What the CGI does is continue the lines and circuitry into my eyes.
So, they weren't contacts?  Or were there contacts?
Paul Bettany: No, there were no contacts. They stopped short of that. They think, "Oh, we're punishing him enough than to put contacts on him. Poor [guy]'s in Spanx and a muscle suit. How about let's give him some contact lenses?"
How many hours did it take for you for full costume, full make up to be ready to go?
Paul Bettany: Two and a quarter. Initially the makeup is somewhere between an hour and a half and 2 hours when everybody's rusty and they're starting off again. And then they quickly get it down to about an hour, which is frankly amazing for the transformation that they achieve. And then the costume is about 45 minutes.
What was it like being his voice for all those movies and then finally becoming a character?
Paul Bettany: Well, I just love it. I mean, it's a double-edged sword, of course, because I used to show up for 45 minutes, talk a bit and they'd give me a big bag of cash. Now I gotta got to Atlanta and wear Spanx. But no, it's been so much fun. I loved doing it and I look forward when the date is set for the next one. It's lovely. You meet a bunch of people that you know and it's like coming back to a family. It's lovely.
Captain America: Civil War hits theaters THIS Friday, May 6th! Whatever team you side with, be sure to follow Captain America: Civil War on Facebook, Twitter, and Instagram for more updates! And don't forget to tweet your allegiance using #TeamIronMan or #TeamCap– or if you aren't into picking sides, you can just use #CaptainAmericaCivilWar!
Want more on Captain America: Civil War? Check out my interview with Chris Evans {Captain America} and my interview with Elizabeth Olsen and Jeremy Renner {Scarlet Witch and Hawkeye}! You can also see more photos from the movie here. Come back later this week for interviews with Emily VanCamp {Agent 13} and The Russo Brothers- as well as my non-spoilery review. You can also download these free printable superhero birthday party invitations– and keep an eye out for another special way to celebrate! {Hint: It's delicious.}