As a kid, I was sick a lot. I had strep throat for so long that it gave me rheumatic fever &I still have a heart murmur because of it. Luckily, Shane didn't get my immune system & in his entire 3 and a half years he's had two minor colds, each lasting about two days, and that's it. I don't know how, but he escaped ever getting RSV. This is especially impressive since about 2/3 of babies get it before their first birthday- and by their second, almost 100% of children have had it.
With this large number of children being affected, it's astounding that only 1/3 of moms have even heard of RSV! Serious RSV infection is the leading cause of infant hospitalization, responsible for 125,000 hospitalizations & up to 500 infant deaths each year. So what is RSV?
– Coughing or wheezing that does not stop
– Fast or troubled breathing
– Spread-out nostrils and/or a caved-in chest when trying to breathe
– Bluish color around the mouth or fingernails
– Fever (especially if it is over 100.4°F in infants under 3 months of age)
While most cases of RSV will be mild, there is no treatment and it will have to run its course. That said, even a mild case can be spread to other children, and their case may be more severe. It's very important to be vigilant so that you don't spread the virus to other babies. Be sure to wash your hands & your child's hands, and ask others to do the same.
"RSV Season" is November to March, so if you have a baby right now you need to be extra careful to watch out for others with the above symptoms & avoid letting your baby come into contact with them. Be sure to keep toys, clothes, blankets and sheets clean & avoid crowds and other sick children during RSV season.
Some more need-to-know facts about RSV: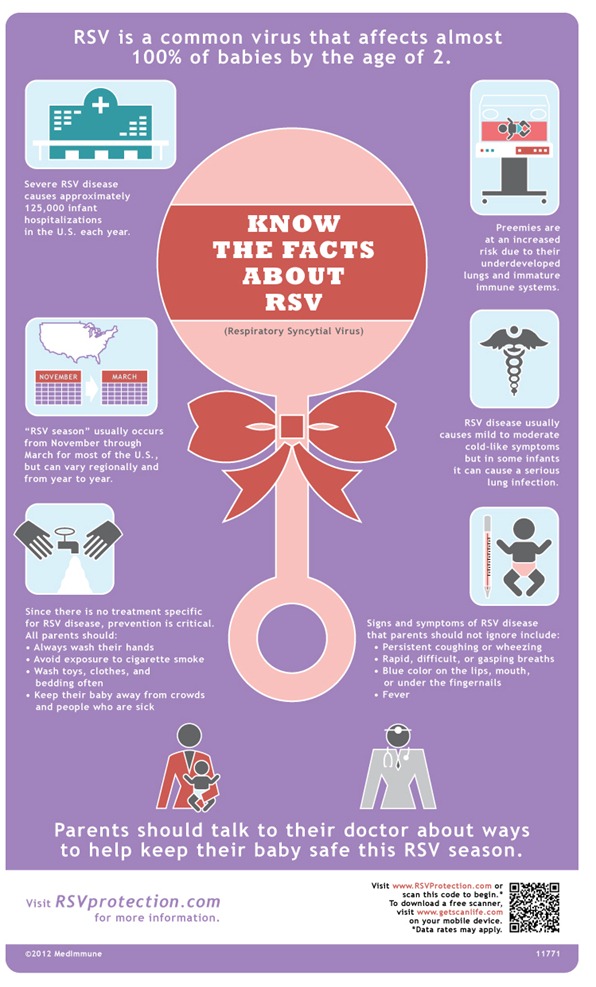 To learn more about RSV & assess your baby's risk, be sure to check out the RSV Protection website for more tools & information.
Have you ever dealt with RSV?


Note: I wrote this review while participating in a campaign for Mom Central Consulting on behalf of MedImmune and I received a promotional item to thank me for my participation.