One of the things that can be difficult with a prequel film is that we already know what comes after. We all know about Han Solo and Princess Leia, and even Kylo Ren after that, so I was curious to see where Qi'ra, Han's first love interest, fit into his life story. I was optimistic about her character, however, as soon as I heard that she would be played by Emilia Clarke.
Emilia gave Qi'ra so much depth and made it really hard to tell how you felt about her. So many times you want to root for them to work out, but knowing about Leia makes it hard to commit. Regardless of romantic entanglements, Qi'ra was an amazing character- and I was so excited to have the chance to speak to Emilia Clarke about her experience playing Qi'ra! Keep reading to see the powerful message she has for girls watching her work, how she feels about being a LEGO, and why she loves doing theatre!
When did you become a fan of the entire Star Wars franchise?
So I wasn't around when it first came out, I wasn't born then, but my brother was a huge fan. So when I was little we would dress up on Halloween. I didn't know what was going on. But then when episode 7 came out and I went to watch that with him, I became a fan because I suddenly realized what everyone must have felt in 1977 when it first came out.  The enormity- like this is how a movie should be made.
This is what they should look like, this is a blockbuster. So as soon as that happened I was like, "I need to be a part of this. This is like how it's done.  This is how everybody should make a movie." So from then on I just watched everything and then now I'm here.
What was your brother's reaction that you're now part a of the Star Wars legacy?
I think he maybe screamed louder than me. It's really impressive.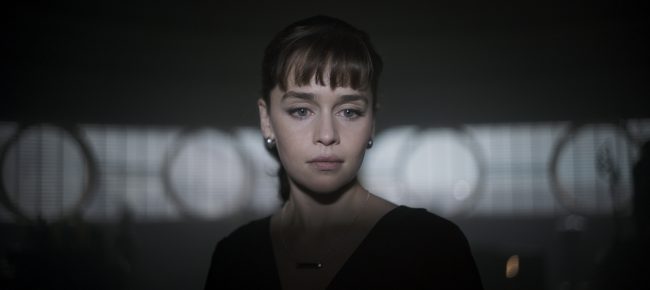 Were there any similarities between you and your character Qi'ra? 
Well goodness, I think that Qi'ra is definitely a survivor. She does what she needs to do to keep being around. I think it's fun because what you get to see with her is you see her and Han from the very beginning, from kids, and so you kinda get to see where they both came from, when nothing was too serious you know what I mean? They were just surviving and Bonnie and Clyding their way out. [Spoilers redacted!]
She's lived a huge amount in the short time that we don't see her,  and I had to grow up really quickly. This was my first job and then you know literal Baptism by Fire. So you just gotta' hustle, you gotta' up grow up real quick. So I think that was a bit of that that I got, but not to the level of her at all.
How much of an effect do think Qi'ra had on Han?
Loads, hopefully. I think those first relationships are really important in shaping who you are as a person and I think this was a part of that. I think that's the beauty of the movie is that every character is a part of the character that we know and love that Harrison played later on and every character he meets kinda plays into another little lesson that he's learned along the way that has allowed him to be who he is later on.
Can you tell us about the costumes and what it was like for you? You went from a poor character to a lucky character.
Yeah it was really funny because in the beginning, there was like a kids on the run, sort of cool factor that you can kind of play into. I remember when I first put on the younger outfit I was like, "Yes! This is good. I'm gonna' go ahead in this."
And then later on it needed to have an impact and also because of where we see Qi'ra later on, there's a little kind of property about her. So I wanted to give the impression that later on she had clothes that were brought for her to appear a certain way and I think that kinda' plays into Qi'ra's character in terms of what she chooses to show and what she doesn't. And I think that was reflected in the costume definitely.
Were you intimated at all at playing the woman who came before Princess Leia?
Well I just tried not to think about it.  I'm not gonna lie, it's scary enough standing under the Star Wars banner, but having that as well. I was like it's before her so I don't need to spend too much time worrying about it. I don't know what my next 10 years are gonna look like, so I can kind of step away from that. I'll let Alden take all that heat. You carry that one honey.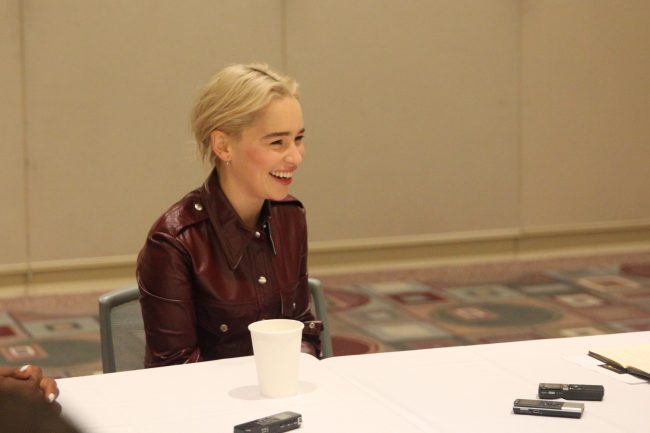 You always play such strong female role models- what was something different that you brought to the film to make sure that she really stood out differently from your other strong characters?
Well it's really difficult to not say too much, because some of that answer is definitely a spoiler, but there were a lot of discussions that I had with the creators of the movie to just kind of make sure that there were certain things in place that I felt were important for her and for the Star Wars franchise to have a girl that was strong.
How do you want young girls to look up to you? What do you want them to come away with?
Well you know, I get "you play a lot of strong women" questions a lot and what I would love is we're just women.  You can take strong out of the equation do you know what I mean? It just is what we are, strength is within us as women. And it'd be wonderful if for the young girls who are watching me play these characters now just see that as a part of being a woman, as opposed to it being a choice of like, "Oh I'm gonna be a strong woman or I'm not gonna be a strong woman."  You are. We all are. You have it in you anyway, so just go get it.
Broadway, Game of Thrones and now you're doing this- do you have a preference to where you prefer to perform?
I think it's really important to do both stage and screen as an actor because when you do the stage it's like going back to drama school. You kind of relearn everything. I grew up- my Dad was in the theater. He was the Sound Designer. So I grew up being able to go back stage and it's magic in the theater and it's magic being part of an ensemble that is unlike anything you could ever get when you're filming on screen. You're in your trailer doing your thing. Whereas in the theater every single night- every single night- you're with your squad. You're with your ensemble and you're working together to make something different every night and to me it feels like actual magic. Like it's the most beautiful thing ever, but it's really exhausting and it sure don't pay the rent. So you know you gotta mix that up if you have the ability to, but I think it's important to keep going back and checking in with your craft in that way.
You've always wanted to be a Lego. So how does it feel now to be like part of the Star Wars merchandise?
It's so good. No, it's amazing. I'm very happy.
What was it like to be directed by Ron Howard?
Amazing. Jon Kasdan, one of the writers, I kept being like, "You're joking, I don't believe you. This is just ridiculous. You can't actually really expect me to believe that Ron Howard has chosen come and direct this movie." And that's when you're like, "Oh yeah, of course, it's a Star Wars movie." So it was just a dream come true. He literally couldn't have been better and he made us all feel heard, which in a movie of this scale is so impressive.
Did you keep any fun momentos from your filming? Did you take anything from set?
I was given a piece of jewelry- it's in my safe and it's not left yet. That was amazing.
About the movie:
Board the Millennium Falcon and journey to a galaxy far, far away in "Solo: A Star Wars Story," an all-new adventure with the most beloved scoundrel in the galaxy. Through a series of daring escapades deep within a dark and dangerous criminal underworld, Han Solo befriends his mighty future copilot Chewbacca and meets the notorious gambler Lando Calrissian, in a journey that will set the course of one of the Star Wars saga's most unlikely heroes.
Solo: A Star Wars Story hits theaters May 25th! Get your tickets now! You can also follow along on Facebook, Twitter, and Instagram or by using the hashtag #HanSolo.
Be sure to check out my other Solo: A Star Wars Story coverage, including an interview with the new Han, Alden Ehrenreich, my no-spoilers review, and my experience from the world premiere!