This past weekend, I had the amazing opportunity to interview some of the cast of the new film, Solo: A Star Wars Story. I sat at a table with 24 other bloggers and we asked questions of the cast and even Director Ron Howard, asking everything from questions about their characters to their acting methods to their personal lives.
It seems fitting that I start sharing those interviews with the titular Han Solo himself, Alden Ehrenreich! Below, read all about what it's like joining such a huge phenomenon, what it was like working with Emilia Clarke, his favorite books, and the totally random way he celebrated being cast as the young Han Solo!
On Having Big Shoes to Fill
How much of it is Harrison Ford and how much of it is your own?
Well before I answer that, I just have to sort of excuse myself, because I'm in sort of a daze, because I was just doing an interview and he came up behind me and it was just wonderful. I haven't talked to him since I met with him for lunch before we shot.
Something that was really important to me was to make it feel like a real person, that you're watching a real person going through something. And you also want to feel a kind of continuity that you could grow into that guy. I basically started by watching all the original movies, very early on, and kind of trying to just absorb as much as of that as I could, so that when it came time to actually do it, I wouldn't be thinking a lot about it.
What was that one Han Solo quirk that you made sure you nailed and how?
Well there's several things- I don't want to name them because then it's like you're watching for them and I want people to just watch the story. But I think one of the qualities about him that I really love- there's a moment in A New Hope where they're pinned in a corner and they don't know what to do and he just starts yelling at the top of his lungs and running at them. And I feel like that's a great quintessential thing of the essence of this guy.
You just saw him, did he tell you his reaction to the movie?
He loved it, he thought it was awesome, he thought it worked like gangbusters.  He thought I was really great and he said I'm going to make hundreds and hundreds of dollars.
When did you see your first Star Wars movie and how did you like it?
I loved it, I was five, I think and I saw it on VHS, and I had all the toys and all the action figures and pretended. In fact, when I got to do my screen test on the Millennium Falcon, it was so familiar to me from just imagining that I was on it as a kid, it kind of put me at ease.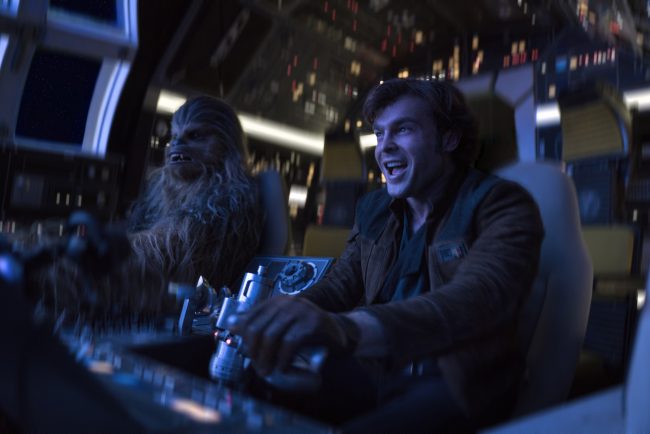 On Set of the Movie
What was it like doing the pilot scenes?  
That was really one of the best parts of the whole shoot. There's two things that are really cool- one is that you sit down and it's really fun and you can't believe you're there and it's really surreal. And that's exciting and that's what everybody that comes and visits the set experiences. And the other thing is about two months in and you're in there every day and you realize you kind of know what button does what and you know how the chair sits and you kind of you feel like it's yours.
Han and Chewy have such a great camaraderie, did you and Joonas work on that?
I mean I think the main thing with that is that him and I had a lot of time to do training together. So the way we meet- there's a lot of work that goes into that, so we spent a lot of time. We were the only cast members who were there in advance, so we ended up just hanging out and doing stunt training and boxing and stuff like that together for a long time, which was really great. And played some video games together at the hotel.
And he's the whole package, he's seven feet tall with blue eyes. He went to film school, he is hilarious. He's just perfect for it. And I don't think everyone even realizes the amount that he has to do technically and also he has this big heart and exudes that and you really feel it. It was some of my favorite work in the film, doing those scenes.
What will fans like the most?
Well I think so much of the fun of it is it's almost like a biopic of a fictional character. So you get to watch these things that you know and are familiar with and love come into place and how they all add up to making him the Han that we see later on. That means so much to people and it's so fun, and I just think also the humor of it and the playfulness of the whole thing is so great.
What was it like working with Emilia Clarke?
So I haven't seen Game of Thrones, but I'm definitely a fan of hers. She's really wonderful, incredibly talented, and sweet as could be. She brought in baked goods for the whole crew like every single Monday, the whole makeup trailer got fresh baked goods every week. She's just super sweet and warm.
She was probably the person that I was most on this journey with, in a sense, because we spent so much time together and our work was so involved.  We ended up spending a lot of time together and it was a blast, it was really sweet and I'm very grateful to have that partnership with her.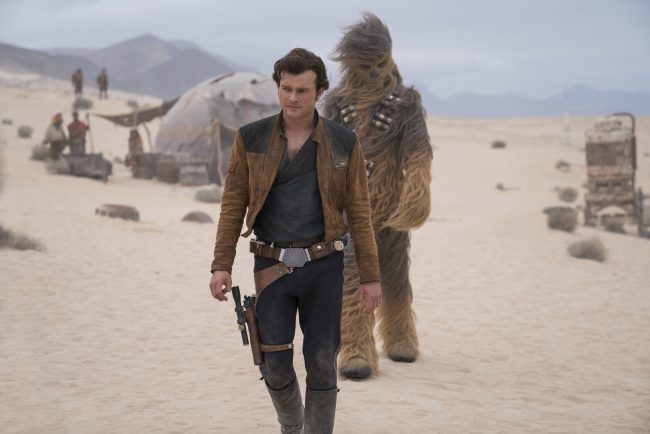 What life in Hollywood- and beyond- is like
Is there a lot of pressure?
There's certainly more pressure with something like this, because it's so enormous, of course. But the kind of pressure is the same as it is on any movie, which is you want people to really like it. And the only recourse you have in the face of that is to concentrate on what you have control over, which is not very much. You concentrate on your task at hand, the character you're tasked with, and your job that you have to concentrate on.  So you just try to pour your energy into that.
After you got the part, what was your first thought and what did you do?
I think it's kind of like your mind is blown. You're in a daze such as I am right now. And you just kind of can't believe it, it's so thrilling and so exciting. And after I found out, I'm not allowed to tell anybody. So, you know, I did, but-
Who'd you tell?
My family.  I went and all my friends were at work, and I just kind of didn't know what to do. So I was like well I should find a way to celebrate this.  So I went to the beach and I stood around and I walked around and then I found myself at the pier and then I was like, well I guess I'm here, I should go on a ride, so I just rode a roller coaster by myself.
On how his family is responding to his newfound mega-fame:
They all came to the premiere and had probably the most memorable night of their lives, I mean they were so thrilled.  They all stayed up late with iPhones trying to film their own Star Wars movie with light sabers and stuff. It was really cute.
How does your family keep you grounded?
They don't, they're too excited, they're too crazy about it. I'm like guys, you've got to stop talking about the movie. But then they make fun of me a lot.
Do you really read a book a day?
No, I think Ron [Director Ron Howard] said that. I do read a lot. I think the Gilead trilogy by Marilynne Robinson is as good as anything I've ever read. I there's a novel that called The Art of Fielding that I think is really great, Infinite Jest is really great, East of Eden is really great. Those are probably my favorite books.
About the movie:
Board the Millennium Falcon and journey to a galaxy far, far away in "Solo: A Star Wars Story," an all-new adventure with the most beloved scoundrel in the galaxy. Through a series of daring escapades deep within a dark and dangerous criminal underworld, Han Solo befriends his mighty future copilot Chewbacca and meets the notorious gambler Lando Calrissian, in a journey that will set the course of one of the Star Wars saga's most unlikely heroes.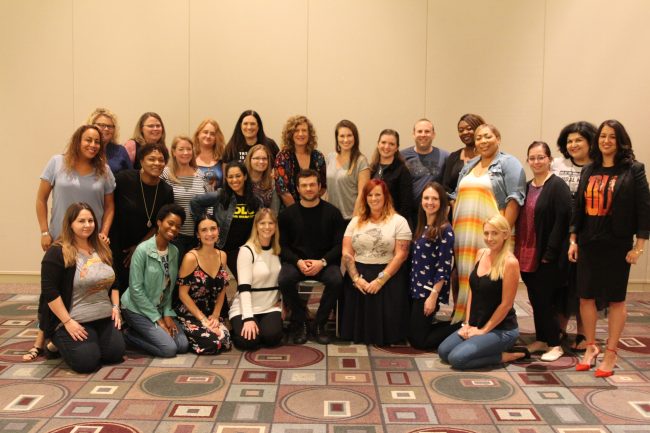 Solo: A Star Wars Story hits theaters May 25th! Get your tickets now! You can also follow along on Facebook, Twitter, and Instagram or by using the hashtag #HanSolo.
Don't miss my spoiler-free review of Solo: A Star Wars Story and find out more from my experience at the World Premiere of the movie!