In just one more month the movie we've been waiting 13 years for- Finding Dory- will finally swim into theaters! A couple of months ago I got a sneak peek and I'm even more excited now than I have been since the day they announced that they were making a sequel to the 2003 classic Finding Nemo!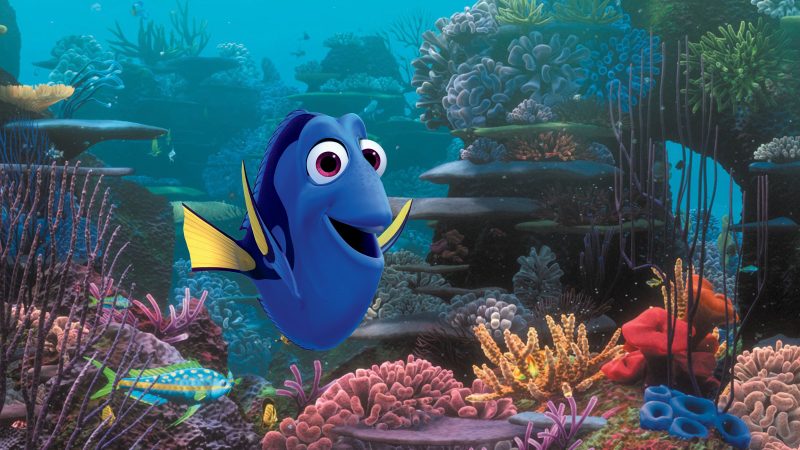 While I was in California touring one of the aquariums that the Pixar team researched for Finding Dory and learning how Dory's Story came to be, I also had the amazing opportunity to interview Director Andrew Stanton and Producer Lindsey Collins! You could tell from the moment we sat down that they were as excited for this movie as we all were- and after you read the interview you'll see why. Below, Andrew and Lindsey discuss if finding massive success has changed Ellen since Finding Nemo, how having kids affects their storytelling, and what the movie was almost about!
Do you have a favorite new character?
Andrew Stanton: Well, that's a tough one. They pop around- it was sort of the same in the first film. I think maybe it's just because we spend a little more time with this character than any of the other new characters, Hank. He's just so gruff, but he's got a heart of gold. He's like your grumpy uncle, or your Grandpa. You just love putting him in uncomfortable situations and seeing him have to deal with it, and be kind and things like that.
Lindsey Collins: And Dory's so relentless. You know, her genuine kind of like, 'I'm not gonna listen to your gruffness.' It softens him pretty quickly. And it's Ed O'Neill, whose voice is so perfect. It's gruff but hiding this heart of gold.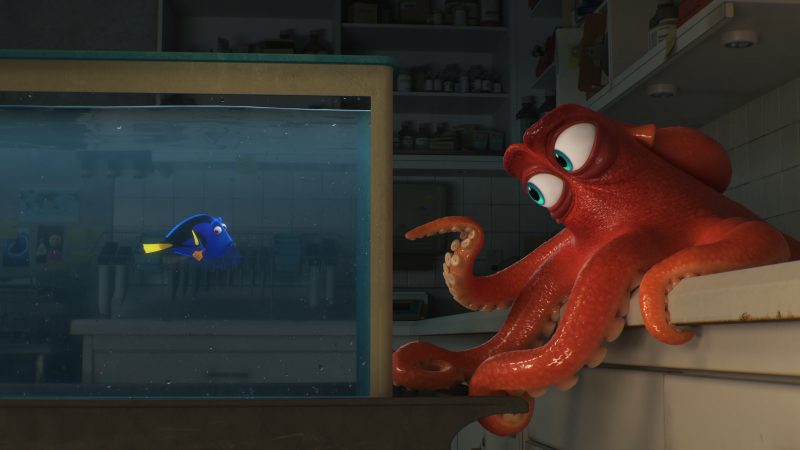 So, when you're doing this do have voice actors in mind before you create some of these new characters?
Andrew Stanton: Sometimes, yeah; sometimes, no. For example on Finding Nemo, I wrote with only Ellen in mind to do Dory. And that's rare- I don't think I've ever done that with anybody else. This film, I didn't do that with anybody except I did always wish that if Dory ever did have parents, it was Diane Keaton and Eugene Levy. They were my dream casting and I'm just so blessed that they basically said yes immediately. It was so exciting.
Lindsey Collins: It was like the easiest casting- usually when we cast something, we have to have the Editors find clips from movies of peoples voices, and then cut those clips together with another one of our voices to kind of see what they would sound like. And you're just listening to what they would sound like together from other films. But because Ellen has interviewed everybody on the planet, we'd be like, 'What does she sound like with Ty Burrell?'  And they would pull up the Ty Burrell.
Andrew Stanton: And if you've ever seen her with Diane Keaton, it's just electric.
Lindsey Collins: They are the goofiest pair.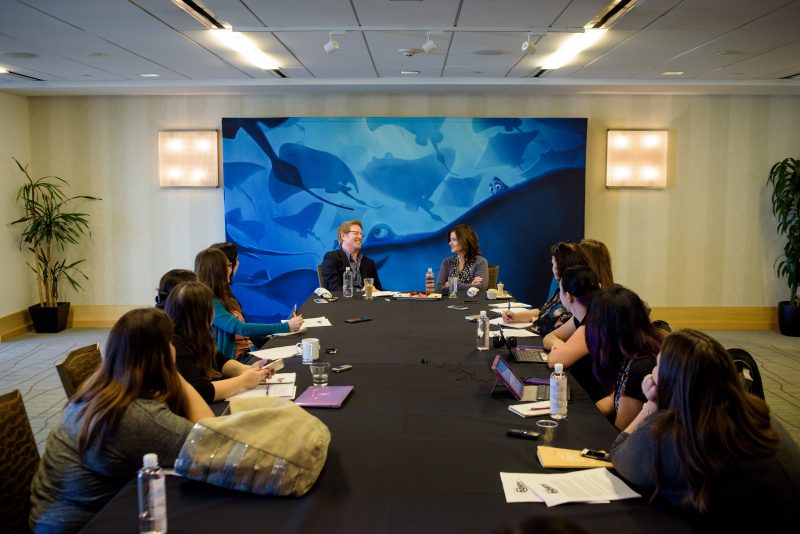 Speaking of Ellen, she's been very public that she wanted a sequel.
Andrew Stanton: Yeah, she didn't hide that too well.
How did that factor into the organic growing of your story?
Andrew Stanton: Well, honestly, I held off for 10 years. So, it didn't really affect me. I got a kick out of it. But, I did take a lot of pleasure, though, once I did have an idea, thinking that's gonna be a fun phone call.
It took about a year before it was something that was kind of official. I wasn't going to tease anybody with it before I knew it was for sure. But when I called her, I said, "Well, uncle. We're gonna finally do it." And she said, "I was just kidding." And just totally joking, pulling my chain.  But that's very Ellen. It was great.
The world changed like 180 degrees since Finding Nemo came out. Not only for me and my career, but particularly for Ellen and her show coming out, which was like either the month right before or right after that she aired it for the first time.  So, the two are almost synonymous with each other. It's very personal for her, the role of Dory. And she's become- you can't be bigger, and I hadn't seen her in seven years. And I didn't know, has she changed? Does that change a person?
When we had our first recording session, she drove herself. She came onto the stage, with the same Engineer. We were dressed the same. The room hadn't changed. It was like Vegas, nothing changes. And it might as well been the last session we had in 2003. It was really comforting, and it was a really nice reunion. We picked up where we left off. It was really nice.
Lindsey Collins: And she's been such a trooper, given how busy she is.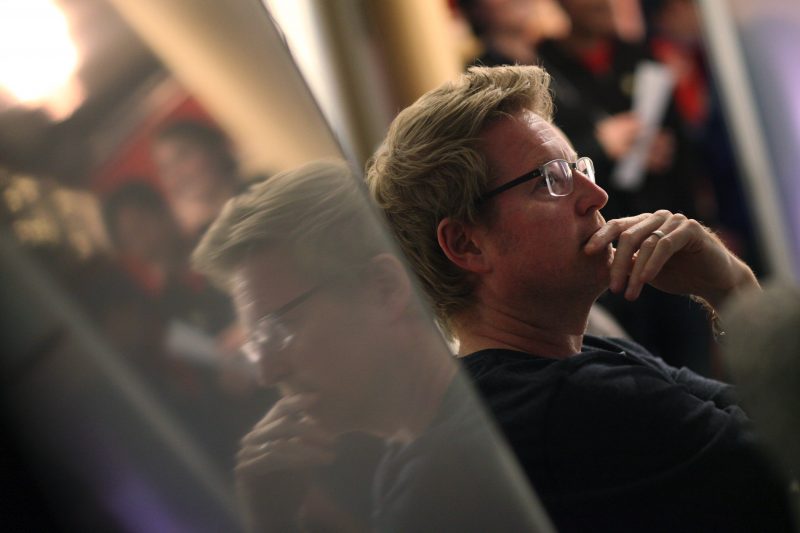 With the amount of time that's passed, there is now a new generation. With this movie, when you guys were writing and making the movie, did you have those younger kids in mind that are going to be introduced to these films for the first time?  Or the ones that grew up with it?
Andrew Stanton: There's no way I can't be influenced by the age of my kids at the time that I'm writing. Even though I try to really not be influenced by anything.  I'm just immature enough I don't need help about thinking about what children like- I'm just gonna go, 'What would I like?'
[With Finding Nemo], I had a six-year-old and a three-year-old running around in my house at the time I started writing it. And they were 10 and seven by the time I finished Finding Nemo. And that totally affects you.
I mean, my dad was still alive then, I was very young to have kids, and my dad was very young to have kids. We're all very cognizant and present in each other's lives. I always said I was the center of the telescope. I was keenly aware that I was the son of my father, and keenly aware that I as the father of my son.
And I just thought I was in this real duality place that was kind of perfect to capture for the movie. And there's no way, even if you're not trying to, that that doesn't like affect how you're writing stuff.
So, on this one, my kids are out of the house. They've been out of the house for years. I've got a 23 year old and 21 year old, and they started going to college when I started this movie- and they're both out of college now at the end of this thing. It just takes so long. This movie's more about figuring out who you are, and if it isn't me on the couch, going through midlife crisis, you know? You learn to embrace those things. You don't try to look for those things. Those things tend to just come out on their own. All I as was worried about was Dory, but when I look back, I can go, 'Oh, yeah, I can see what I was wrestling with.' So, it was kind of the absence of kids that affected that.
Lindsey Collins: I have young kids. There are moments in this film that I'm like, 'That is exactly what my kids say.'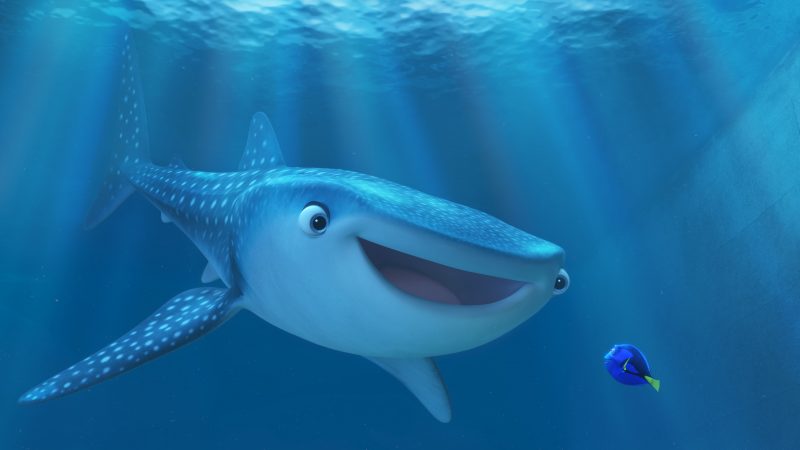 Since it takes so long to create the movie, there are a lot of shifts in the story. What were the biggest shifts in the main story that you had to deal with?
Andrew Stanton: There was a lot. There's a lot with all the pictures, this isn't unique to this film. They probably go through about three or four versions of the movie that are sometimes are vastly different from one another over four years.
This one actually started out thinking it was going to be a little bit more directly of an adoption story, because I thought Dory sort of sits in the world of an adopted character. She doesn't remember or know who her original birth parents were. And I thought, what if the parents found somebody else? And for a while, this character Destiny was this. The parents originally had short-term memory loss, too, which turned out to be the worst idea in the world. It made so many problems. But I loved the idea that you can get replaced by this giant whale shark as a sister. So, it was a sister story for a while. There were just too many things in the air, there was too many variables.  And we just needed to simplify the story.
Aside from Dory, were there any other characters you were really excited to revisit? To reanimate, and maybe just tell a little bit different side of them?
Lindsey Collins: Yeah, Marlon. I think Marlon was so worried, right? The whole movie. Our animators- a lot of whom have worked with us since Finding Nemo- that was the character they were really excited to be able to get back into, too. When you spend four years with these characters, you love them. You miss them. So when the animators get back in, it's almost like they get to start talking to them again. Marlon's been a ton of fun.
Andrew Stanton: And Nemo's one year older. And he's traveled the ocean. He's smarter now.  He doesn't take as much guff from dad.
Lindsey Collins: Just a little bit sassier now.
Finding Dory hits theaters June 17th! You can keep up with updates about Finding Dory by following the hashtags #FindingDory and #HaveYouSeenHer– or you can follow Finding Dory on Facebook, Twitter, Instagram, Pinterest, and even Tumblr! Don't miss these free Finding Dory Coloring Pages & Activity Sheets while your kids are waiting for it to hit theaters!