Have you ever had a job that you hated? I'm pretty sure almost everyone has- but Ralph's has us all beat. Because of his job, he doesn't have any friends, and he has to sleep on a stump at the dump, using bricks as a blanket. He doesn't want to upset anyone- he's just trying to do his job. So really, can you blame him for wanting to get the respect he deserves for doing his job so well?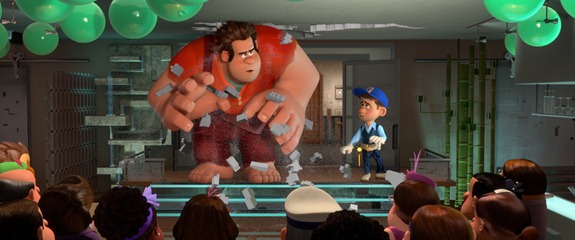 On the anniversary of the premiere of their game, Fix It Felix Jr., the game characters host a party to celebrate. They don't even invite Ralph, and this is the last straw for him. He sets out to prove once and for all that he really is a good guy.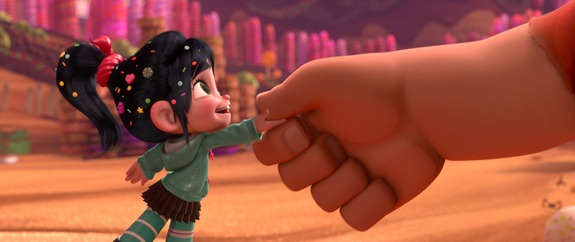 During his journey, he game jumps into Hero's Duty, where he meets Sergeant Calhoun. Havoc ensues, and he leaves the game and immediately jumps into Sugar Rush. Sugar Rush is home to Vanellope Von Schweetz, a "glitch" in the candy-themed race-car game. Ralph and Vanellope make unlikely friends when they team up to help each other.
While Ralph is out game jumping and trying to be a hero, his real game is Out of Order. And Ralph has unknowingly released a deadly enemy from Hero's Duty into Sugar Rush that can wipe out the entire arcade. You'll have to go see it to see what happens!
This movie is really about learning to love who you are, as the "bad guy" and "glitch" protagonists struggle with. It's also about taking your fate into your own hands and not giving up, even when the odds are nowhere near in your favor. It sends a positive message to kids of all ages, and I think it'd be great for all pre-teens & teenagers to see since Vanellope also deals with bullies.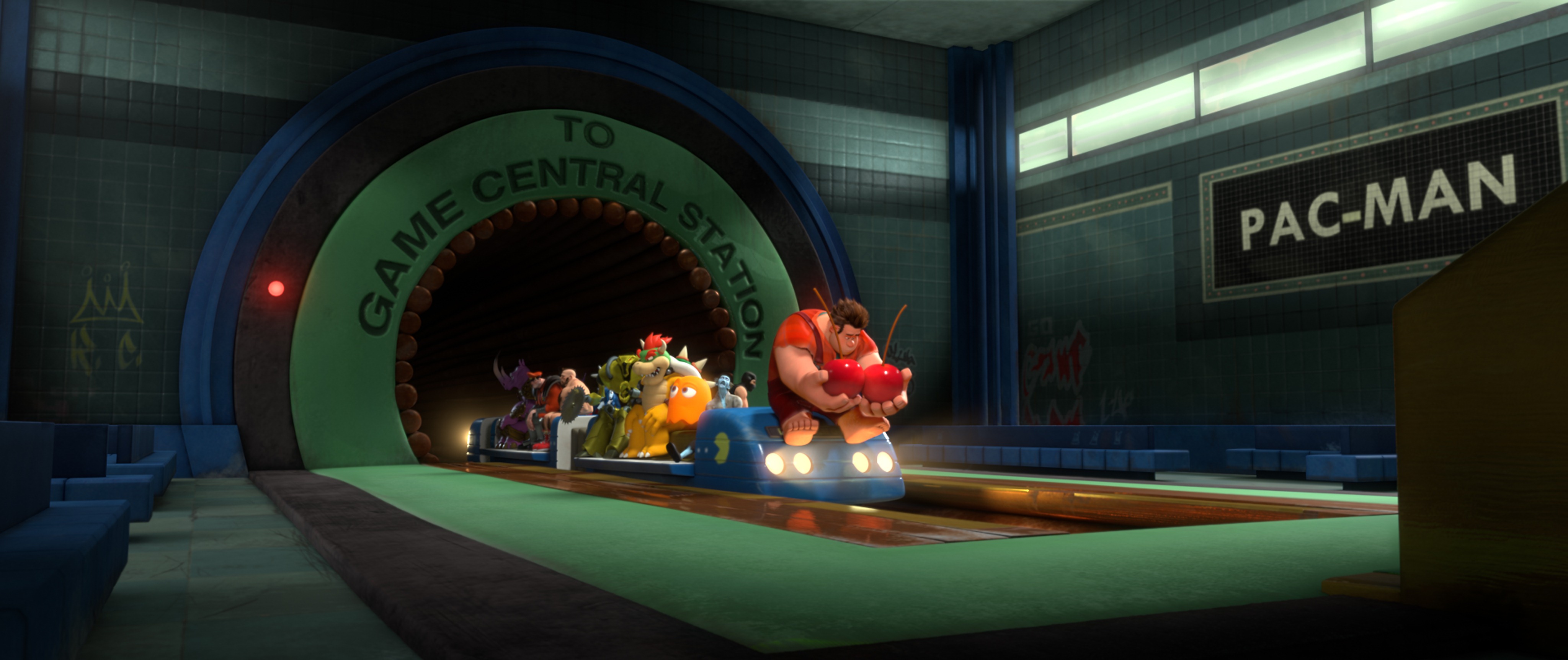 I absolutely, positively loved this movie. As in, this is one of my favorite movies ever. There were so many great themes and the movie is great for anyone, from young children to adults. The voice acting was phenomenal & the animation was so detailed- there were three distinctly different worlds, yet somehow they all worked together. There are so many references to video games that Justin & I played growing up, and I was laughing throughout the movie.
Be sure to go see Wreck-It Ralph which is in theaters NOW! For more, you can check out my interview with the director & producer, get a behind-the-scenes look at the Wreck-It Ralph pod at Disney Animation Studios, and watch me do a voice-over of Vanellope!


Note: I watched this movie as part of the #DisneyMoviesEvent. Disney provided my travel and accommodations to cover this event. All experiences are authentic & all opinions are my own.