One of the best things about Halloween has to be the treats! I don't just mean the ones the kids go knocking door to door for- I mean the ones you get to enjoy for an entire month leading up to the spookiest night of the year!
I don't know about you but I think Halloween baking is so much fun! There are so many recipes and fun spooky ideas to choose from: snack and dessert ideas like pumpkin cookies, mummy brownies, ghost cupcakes, ghoulish cakes and so much more.
If you're looking for a scarily sweet treat to conjure up this Halloween season, check out the SIXTY options below! You will definitely be able to find something to inspire the scariest season in this list of baked goods for Halloween!
Creepy Cookies
Hocus Pocus Cookies
These magical chocolate Halloween Cookies are filled with a delicious green "witches brew" frosting!! An awesome Halloween recipe inspired by one of our favorite spooky movies: Hocus Pocus!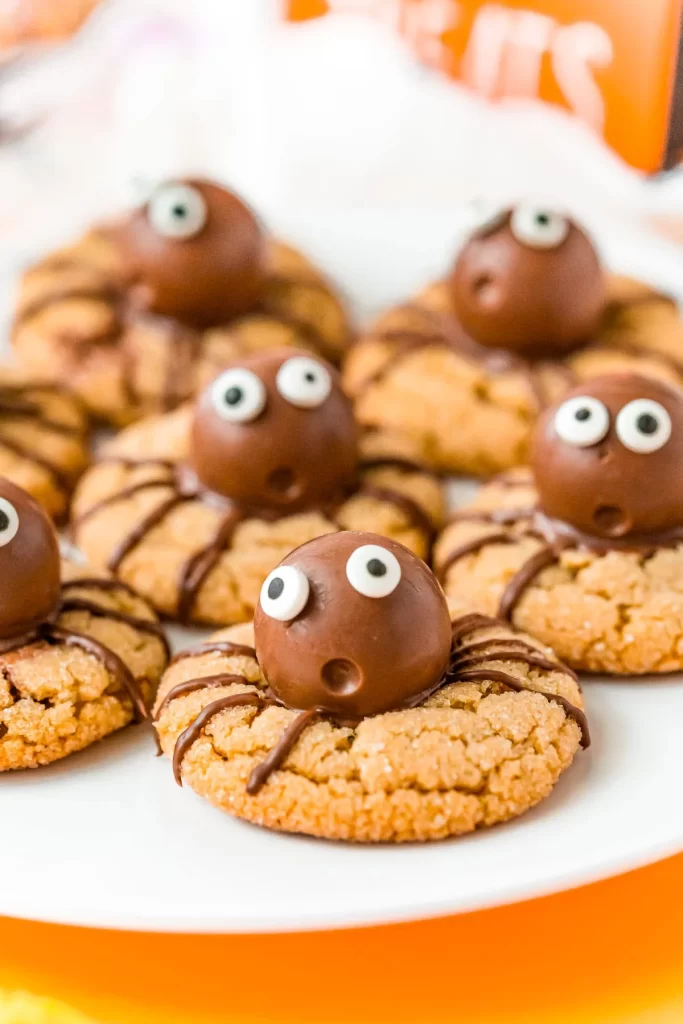 Spider Cookies
Halloween Spider Cookies are a spooky twist on classic Peanut Butter Blossoms! Made with truffles nestled in soft, chewy peanut butter cookies and decorated with chocolate and candy eyes.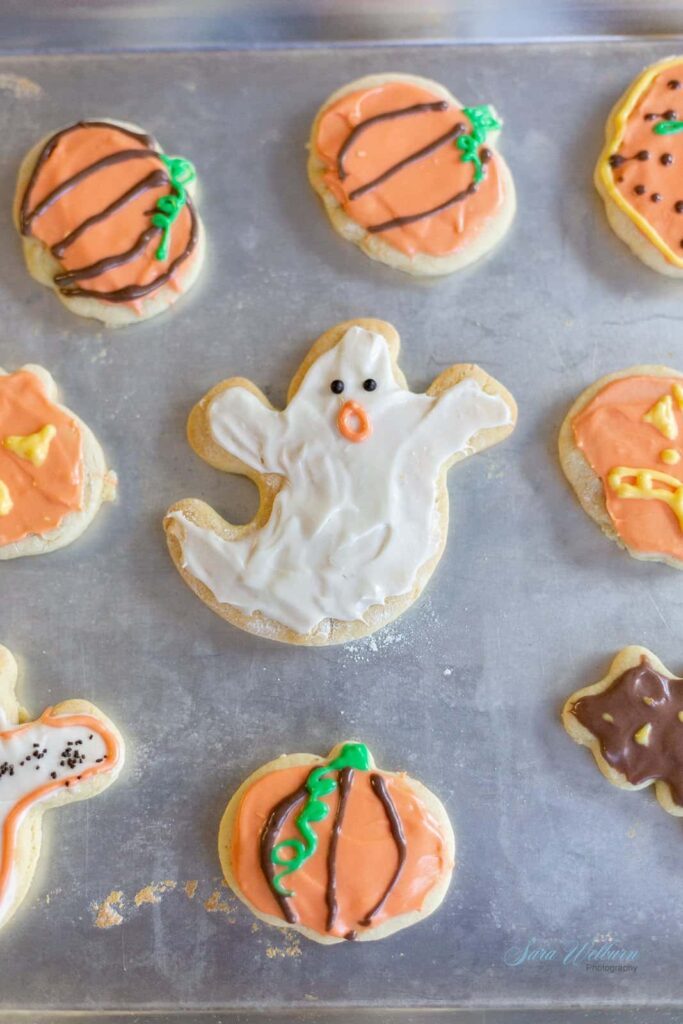 Spooky Sugar Cookies
Halloween themed sour cream sugar cookies are the perfect spooky Halloween party treat! The cream cheese frosting is fun to decorate.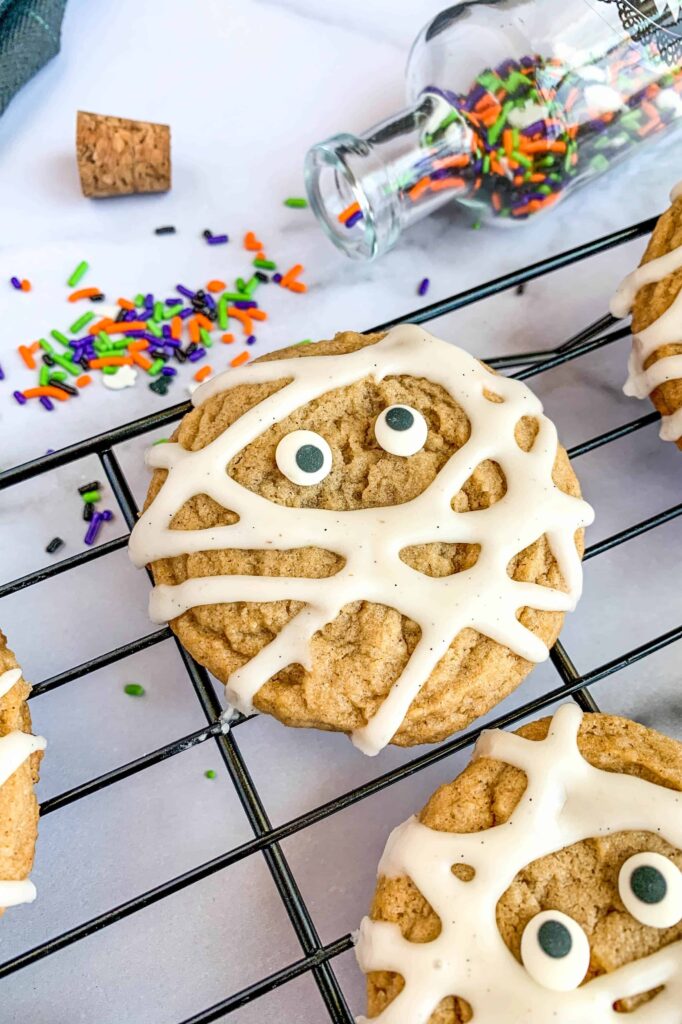 Maple Cinnamon Cookies
These Maple Cinnamon Cookies are soft, chewy, and delicious! The warm flavors of maple, cinnamon, and brown sugar are perfect for the season, and the finishing touch is the maple vanilla glaze!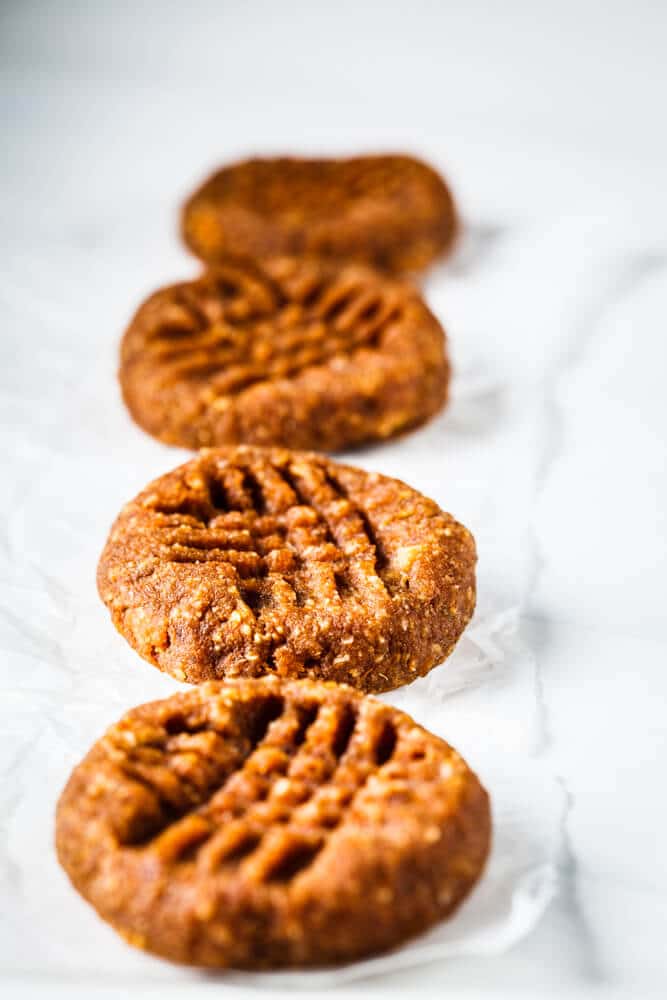 Cinnamon Sweet Potato Cookies
If you're looking for something more simple to bake for Halloween try these easy 3 ingredient sweet potato cookies with cinnamon! Dessert ideas like this are so quick and easy.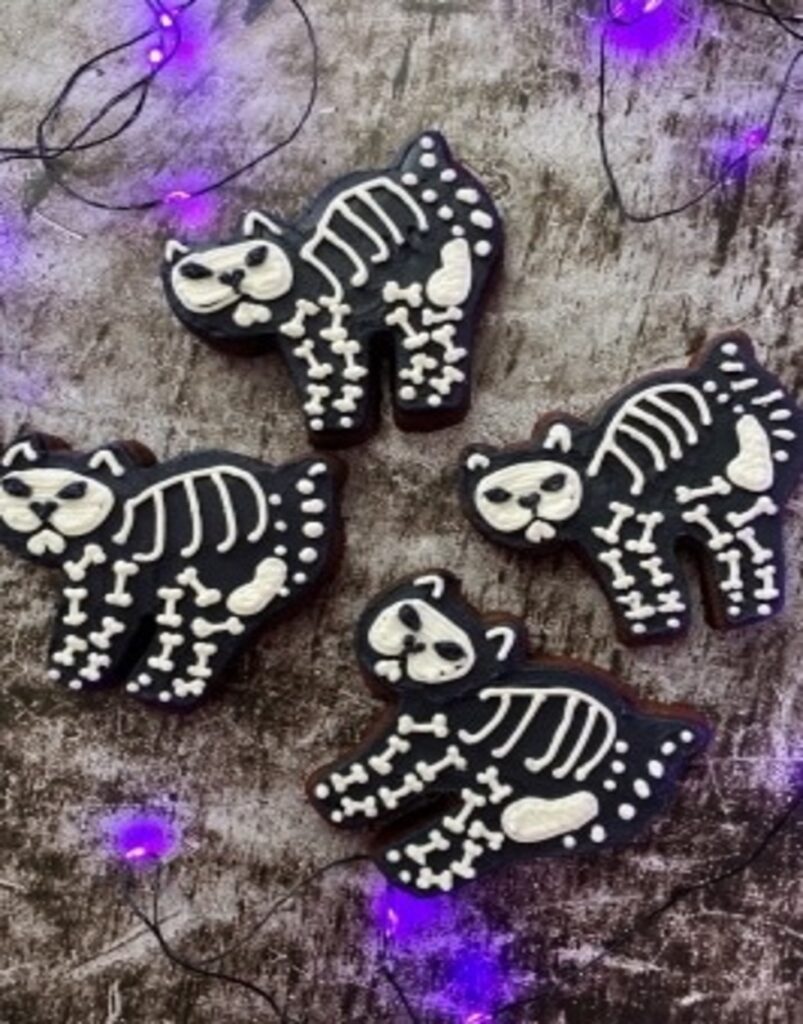 Skeleton Cat Cookies
Spooky cat sugar cookies are just what you need this Halloween season. Soft sugar cookies decorated with a delicious vanilla buttercream frosting will impress your eyes and your taste buds. Follow the full step-by-step tutorial to create these skeleton cats with ease.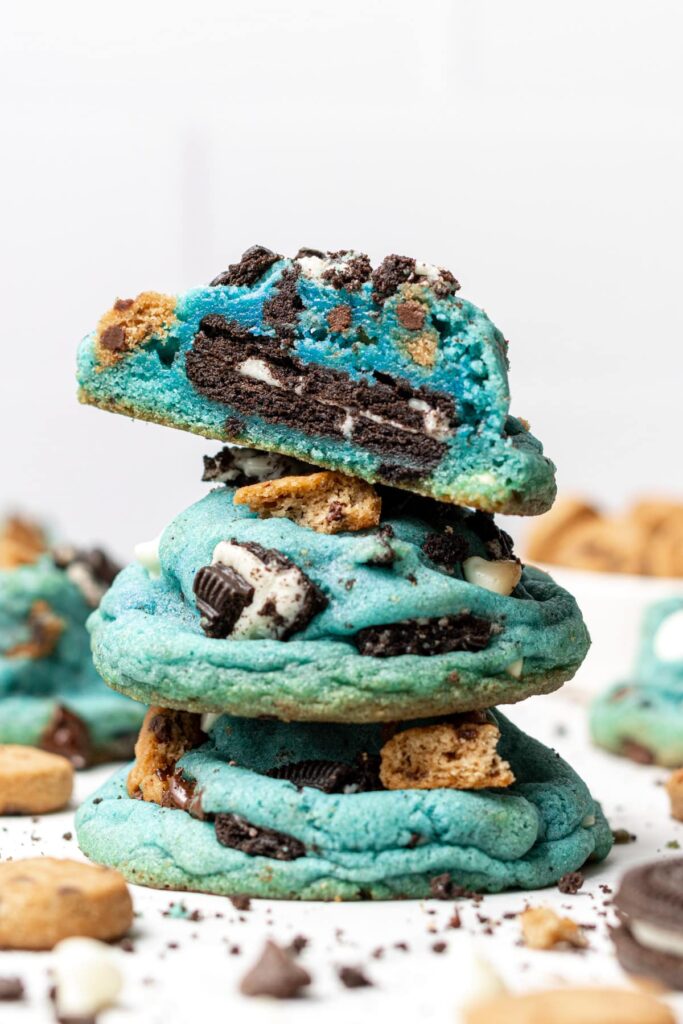 Cookie Monster Cookies
These blue cookie monster cookies are loaded with chocolate chips, cookie pieces, and stuffed with an Oreo in the center! They're a fun Halloween treat for both adults and kids alike!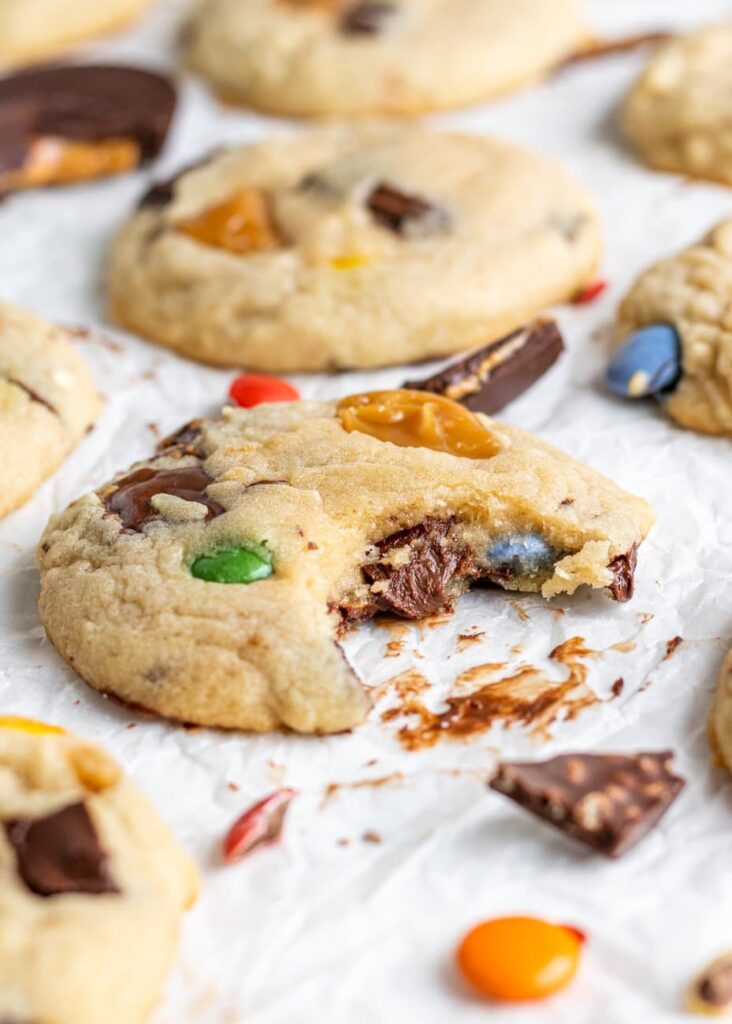 Halloween Candy Cookies
These Halloween Candy Cookies are a perfect way to use up all that leftover Halloween candy. They take less than 30 minutes and are easy and super customize-able.
Candy Corn Cookies
These delicious candy corn meringue cookies are perfect for a Halloween party or just a fun sweet treat for the kids!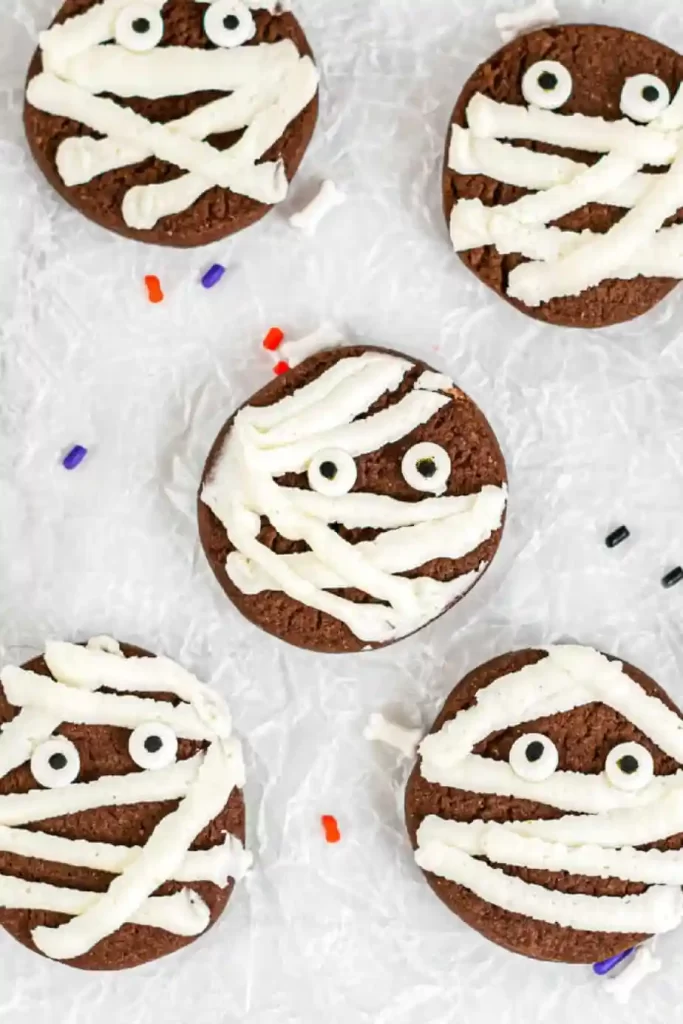 Spooky Mummy Cookies
These chocolate Halloween Mini Mummy Cookies are the perfect spooky addition to your Halloween celebrations. These delicious little cookies make plenty to share, and are so fun!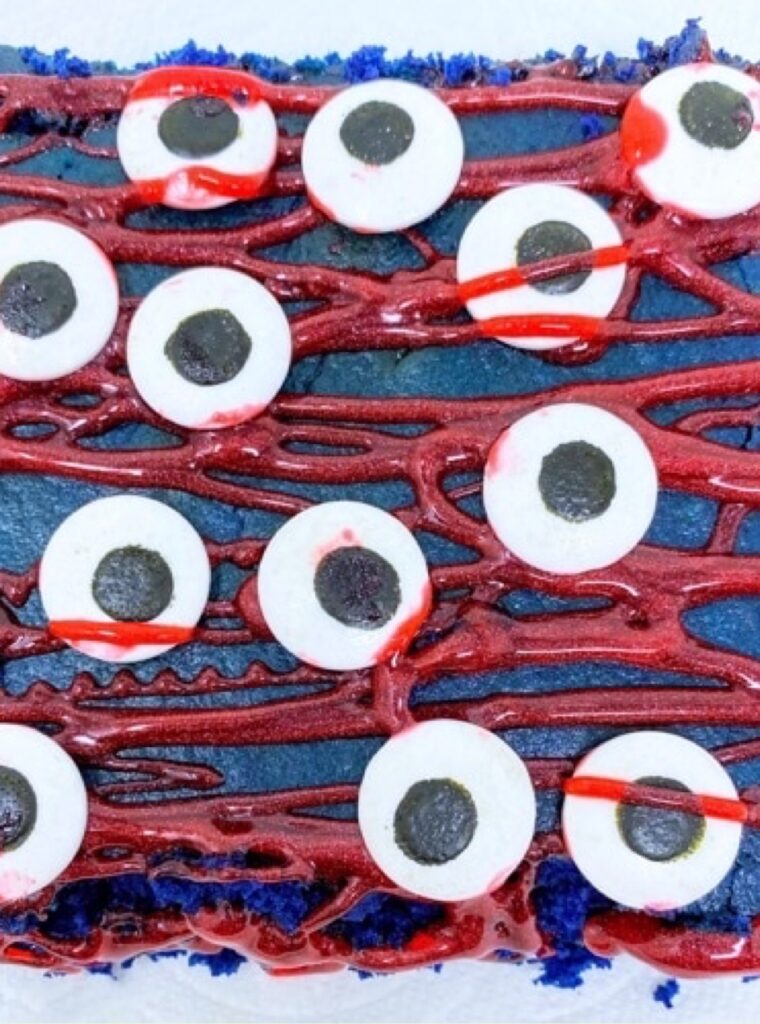 Bloody Eyeball Sheet Cookies
If you're looking for something super easy yet fun and spooky to bake for Halloween fry these sheet pan cookies. All you need to spook them up is blue food coloring, red glaze, and eyeball candy sprinkles.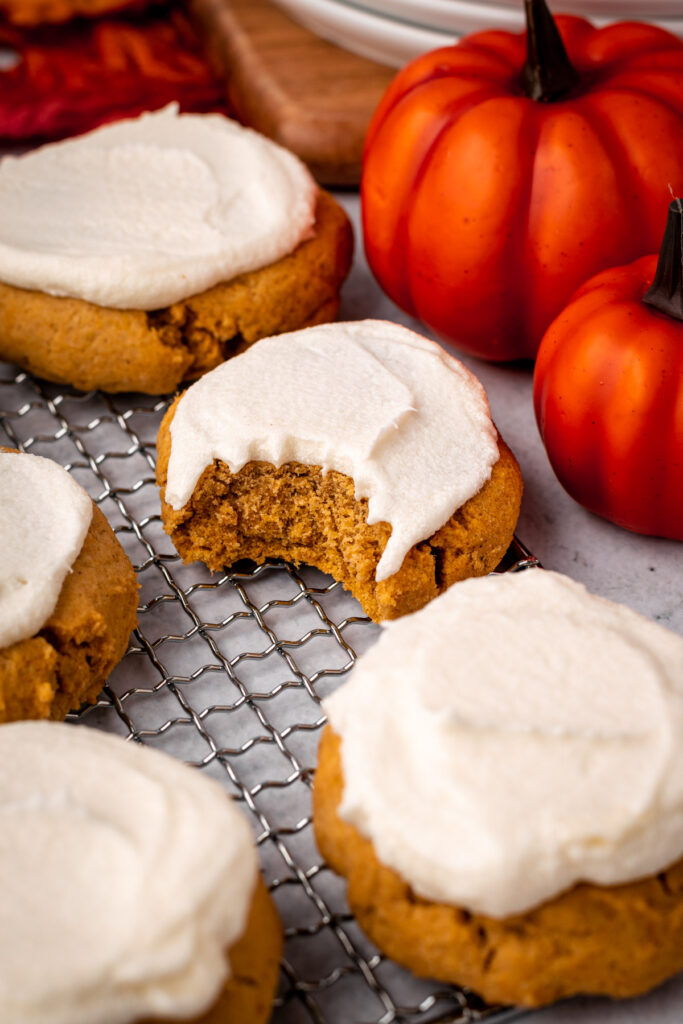 Pumpkin Sugar Cookies
These soft pumpkin sugar cookies are full of fall flavor. Soft and chewy with a cream cheese flavored icing, you will never guess these cookies are gluten and dairy-free!
Ghoulish Cakes To Bake
Pumpkin Bundt Cake With Maple Frosting
Try making the elegant pumpkin bundt cake for your creepy dinner party or potluck! The flavors like pumpkin and maple are super festive for fall. Dessert ideas like this are so quick and simple.
Midnight Candy Layered Cake
Layers of velvety black, moist cake, covered in the softest black frosting and of course filled with Skittles & M&M's! This is the ultimate Halloween cake, with a classy twist of course!
Black Magic Cake
A spooky homemade chocolate cake with witchy green buttercream frosting and Halloween-themed sprinkles.
Spooky Cakesicles
These Halloween cakesicles are a super fun and cute Halloween treat! Perfect for a spooktacular party or as a wonderful homemade trick or treat candy.
Dairy Free Devil's Food
This vegan devil's food cake is rich and light all at once. Made with layers of moist chocolate cake and creamy Swiss meringue buttercream. It's perfect if you're looking for something more classy and elegant for your Halloween baking plans.
Pumpkin Cake Bars
These decadent pumpkin bars are so soft and tender and are perfectly complimented by a fluffy smooth cream cheese frosting. Delicious for any fall get together or just for fun!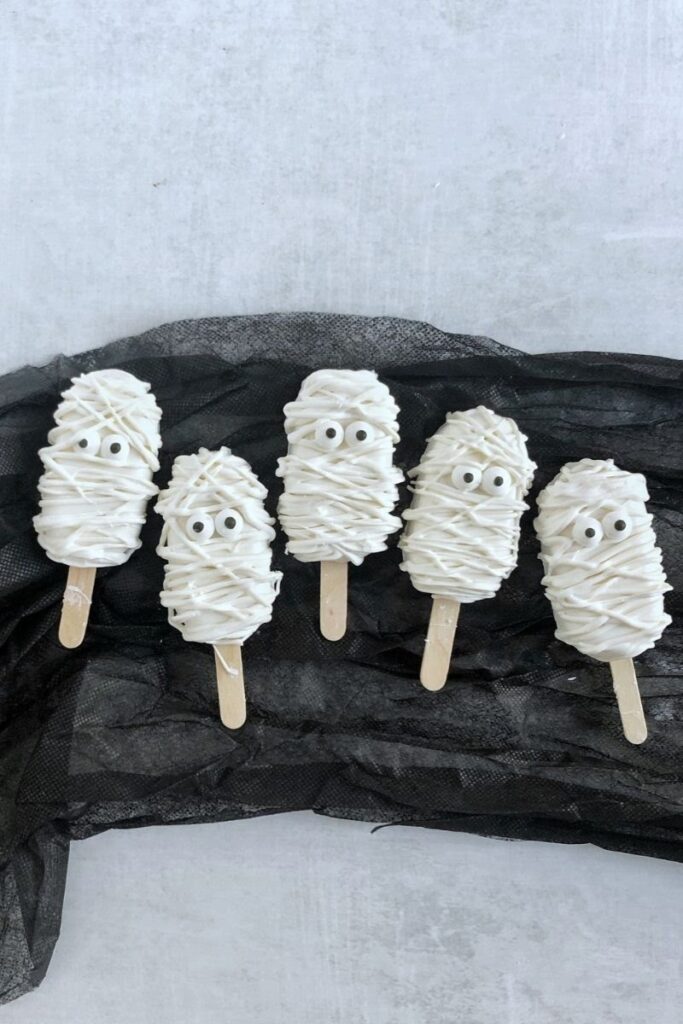 Mummy Cake Pops
These mummy cakesicles are easy to make and totally kid-approved. They are made of white cake with a white chocolate coating and candy eyes. Perfect for your Halloween celebration!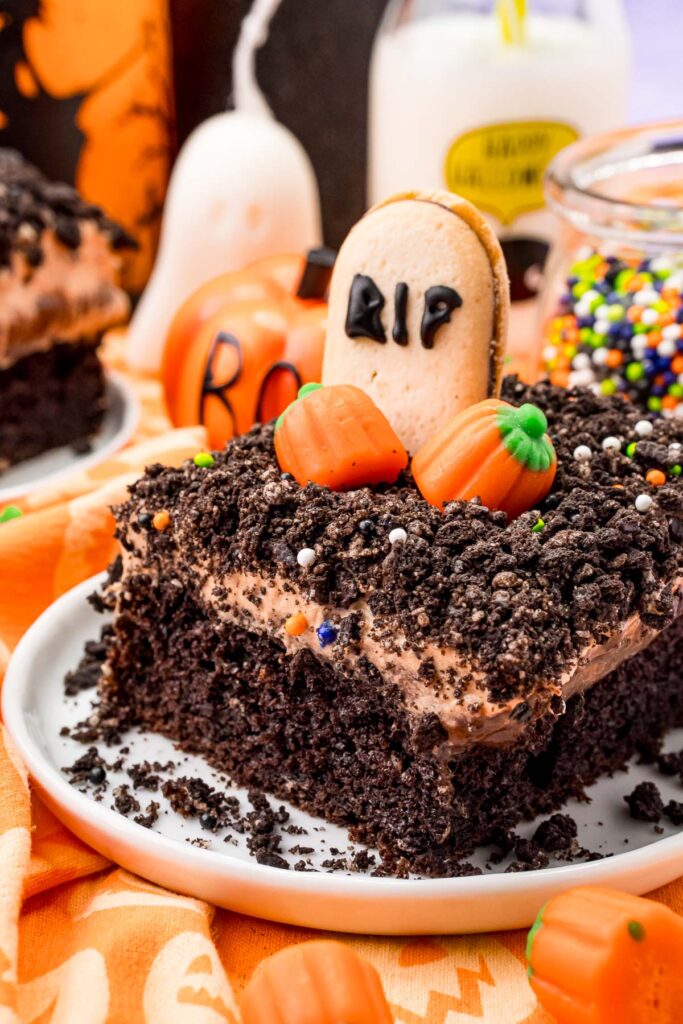 Halloween Dirt Cake
Halloween Dirt Cake layers chocolate pudding over a chocolate cake before being finished off with a 3-ingredient frosting and fun toppings! This festive cake will be an absolute hit at this year's Halloween Party!
Spooky Spider Web Cake
This spooky spiderweb cake is the ultimate Halloween treat. Made with black cocoa the cake turns out perfectly dark and spooky. Dessert ideas like this are so quick and easy.
Oreo Bats Chocolate Cake
If you love cookies and cakes, you are definitely gonna love this Vanilla Oreo Cake Recipe with Oreo bats. Perfect for a Halloween party!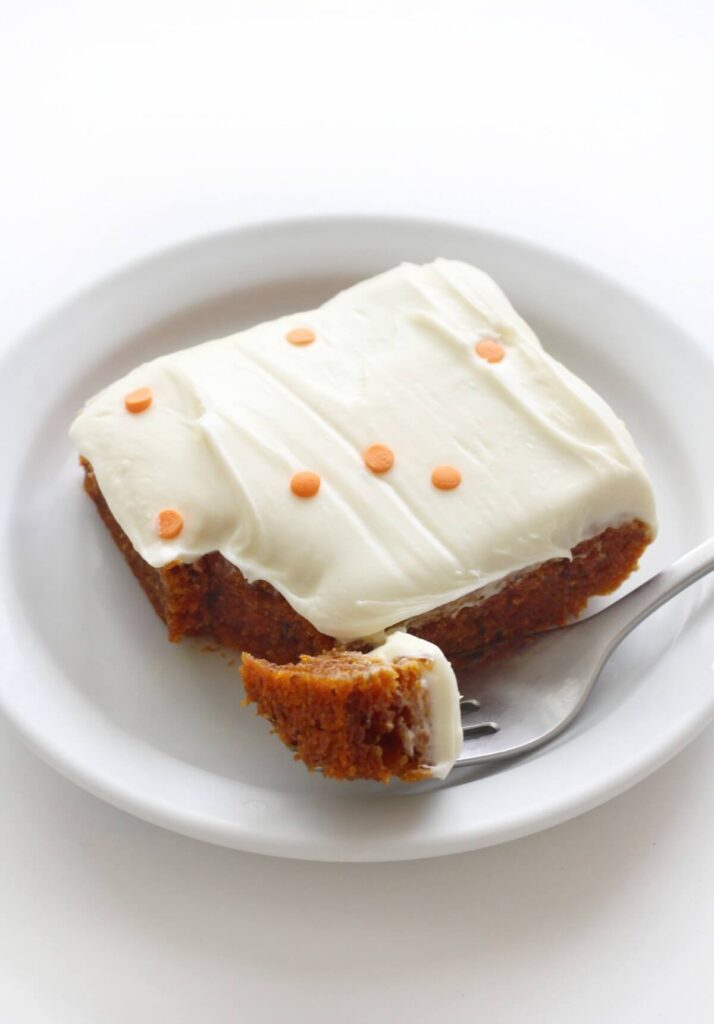 Gluten Free Pumpkin Cake
Easy and so delicious, this Gluten-Free Pumpkin Cake with Vegan Cream Cheese Frosting is a must-make seasonal treat! Fluffy, moist, and tender, this one-bowl single-layer cake is just 10 ingredients and bakes in 30 minutes! An allergy-free and kid-friendly dessert that's loaded with pumpkin, spice, and cozy autumn vibes!
Haunting Cupcakes
Dairy Free Mummy Cupcakes
These Vegan Mummy Cupcakes will be a hit at your spooky Halloween bash. They are fun to make, kid-friendly and completely adorable! The mummy wrapping is piped on with vegan buttercream and the eyes are dotted with chocolate chips. It's so easy!
Red Velvet Cupcakes
These red velvet Halloween cupcakes boast a flavourful, tender sponge, a smooth and delicious cream cheese frosting and a gorily good blood red syrup. Dessert ideas like this are so amazingly delicious.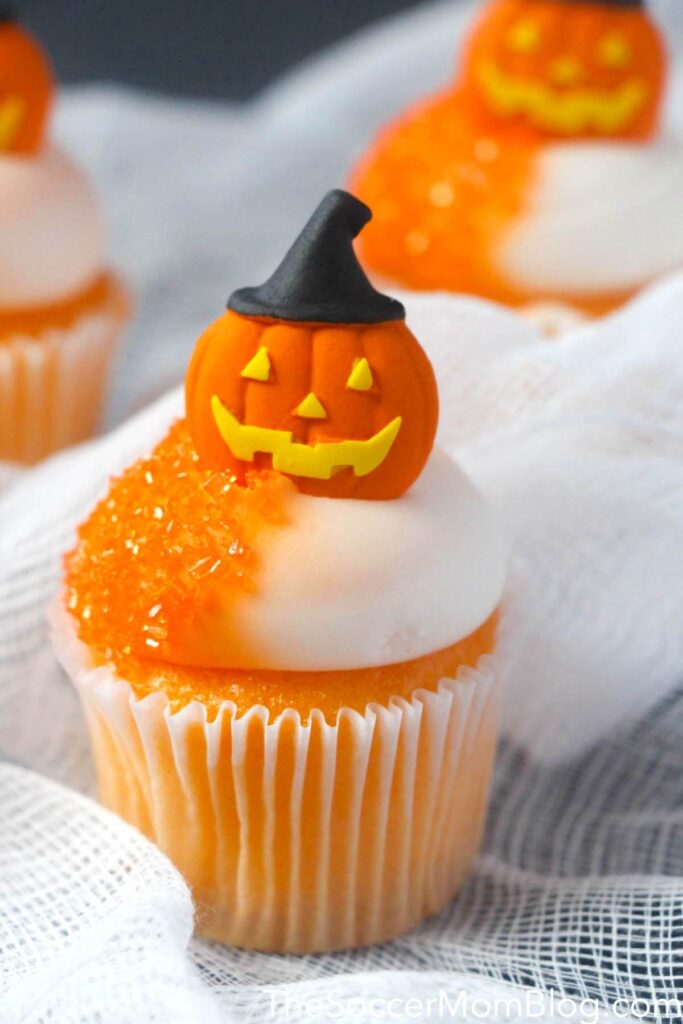 Creepy Orange Cupcakes
These orange Halloween cupcakes are the perfect pumpkin alternative! They taste just like a Creamsicle: a tantalizing combination of smooth vanilla and juicy orange fruit!
Bloody Halloween Cupcakes
This Bloody Halloween cupcake is moist, fluffy, and tastes just amazing! Besides its fun design with the edible glass and fake blood, it has a super delicious strawberry cheesecake flavor due to the cream cheese frosting and strawberry sauce added as decoration.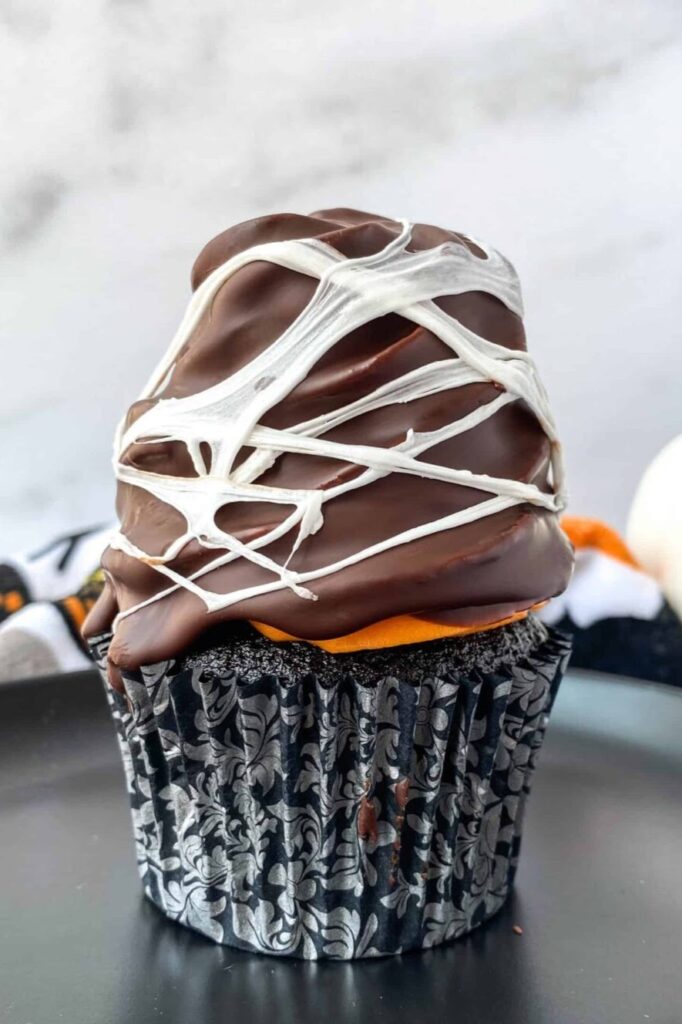 High Hat Webs Cupcakes
These High Hat Cupcakes are super chocolatey, frosted SKY-HIGH with vanilla buttercream, then dipped in chocolate! It's an over-the-top treat, complete with spooky marshmallow "webs!" Dessert ideas like this are so quick and easy.
Jack Skellington Pull Apart Cupcakes
These easy Jack Skellington Pull Apart Cupcakes make the perfect Halloween party dessert! Movie-inspired Nightmare Before Christmas cupcakes are a must for fans of the classic film!
Black Velvet Cupcakes
Get ready for the spooky season with these moist black velvet cupcakes! These cupcakes are naturally dyed with black cocoa powder, giving you this intense black colour and delicious chocolate taste.
Dairy Free Blackberry Chocolate Cupcakes
These delicious vegan Halloween cupcakes are topped with chocolate skulls. They consist of a sweet blackberry surprise centre inside of a chocolate cupcake.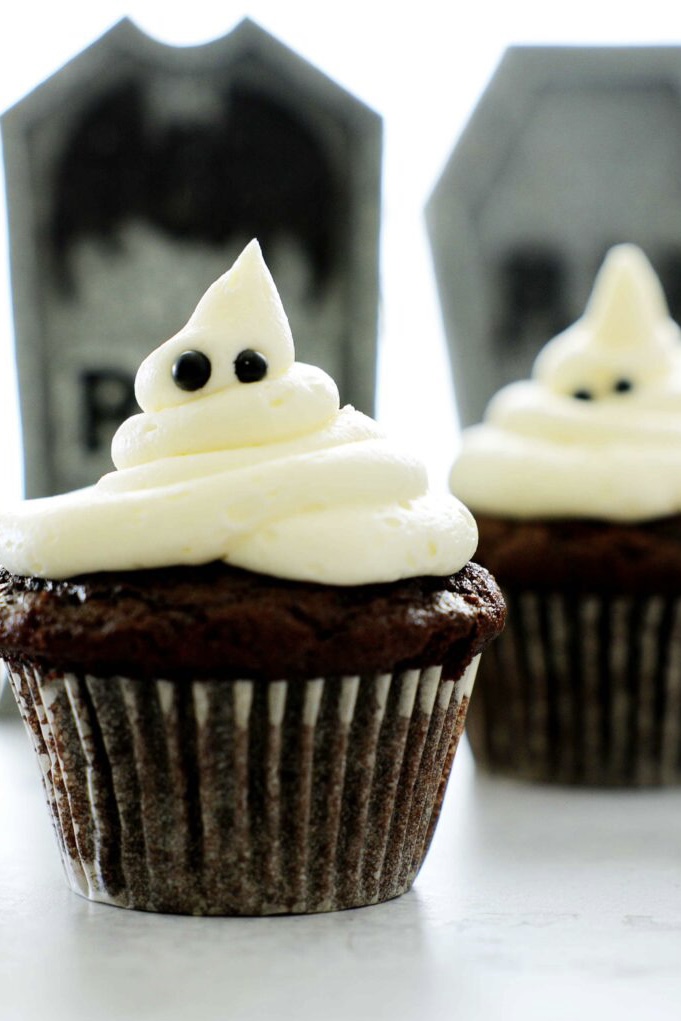 Ghoulish Ghost Cupcakes
If you're looking to show up and show out at this year's Halloween party with some adorably spooky Halloween treats in hand, you've come to the right place. These Ghost Cupcakes come together with a simple chocolate cupcake batter and a great big swirl of vanilla buttercream frosting.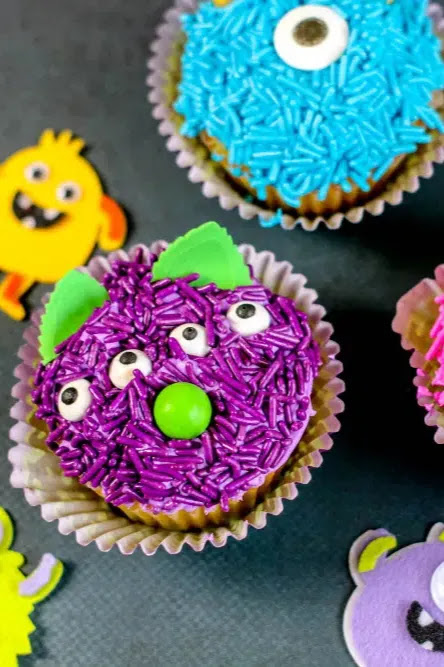 Fun Monster Cupcakes
These monster cupcakes are sure to be a hit with both kids and adults alike this Halloween season! Dessert ideas like this are so mouthwatering.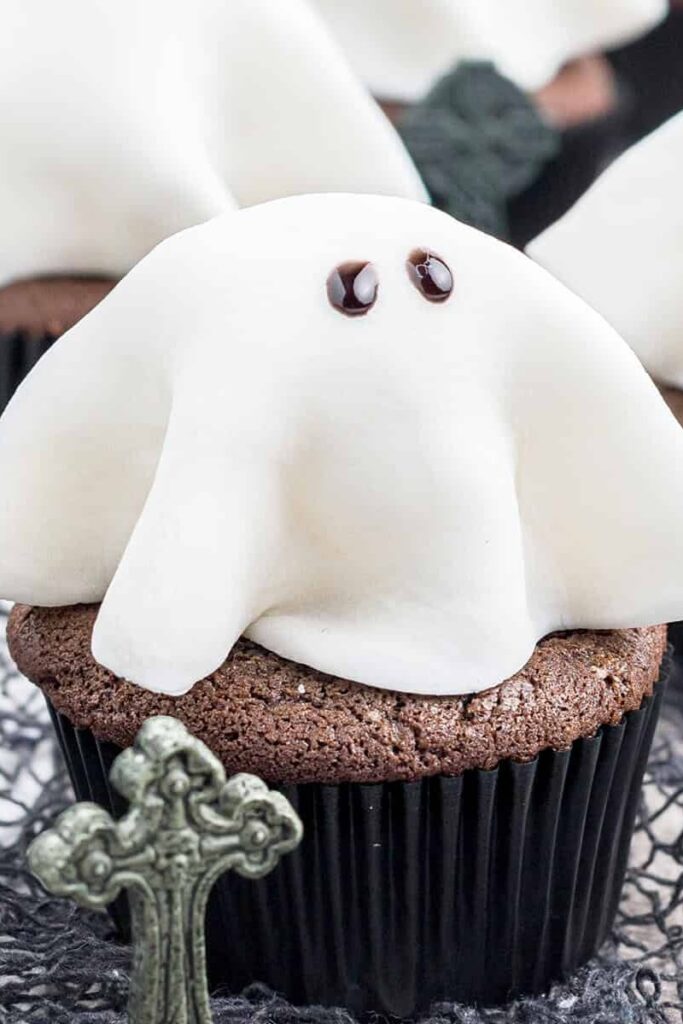 Ghost Cupcakes
Use this simple chocolate cupcake recipe and purchased fondant to make these adorable Halloween Ghost Cupcakes to serve to all your trick-or-treaters!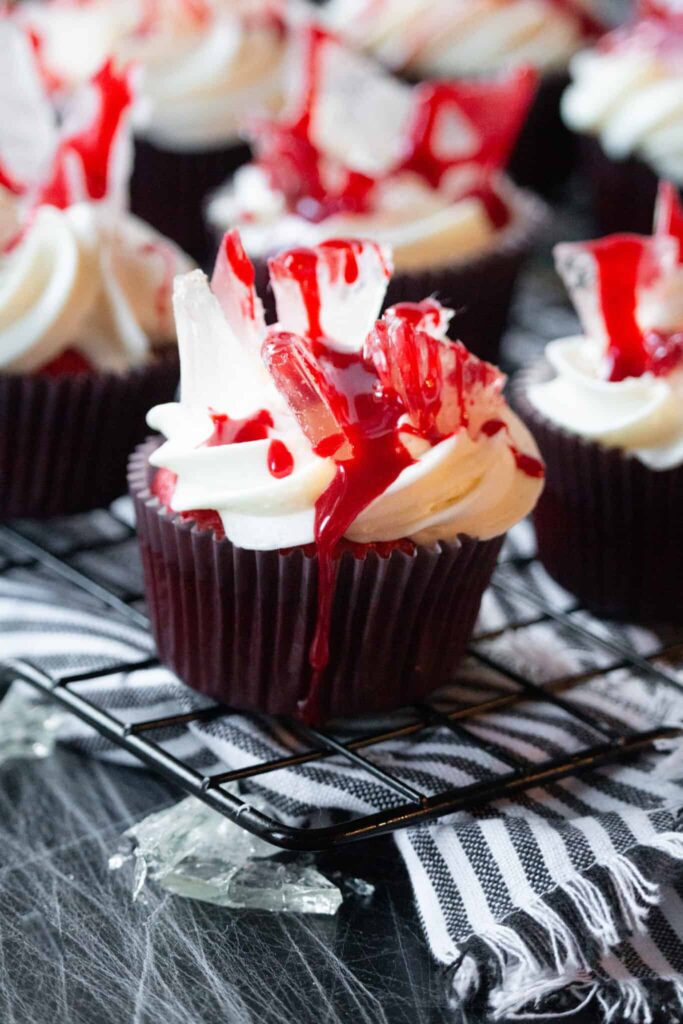 Broken Glass Cupcakes
These Halloween-inspired cupcakes are visually alarming while at the same time extremely delicious.
Spooky Treats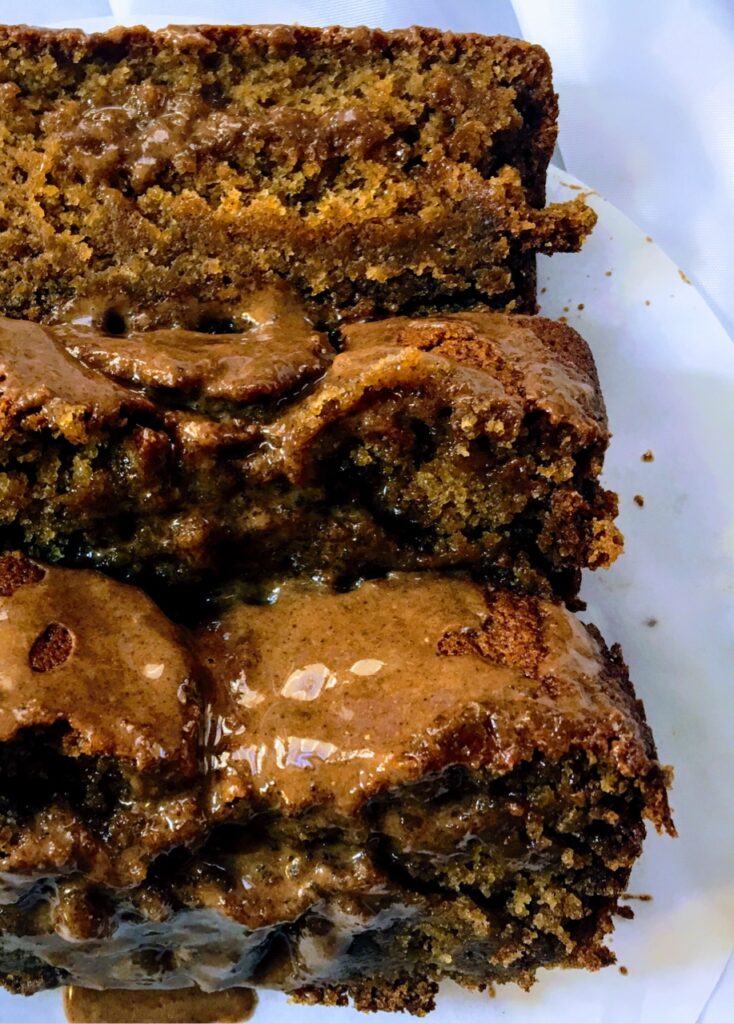 Glazed Pumpkin Pie Bread Recipe
Halloween baking has never been more decadent and delicious. Serve this pumpkin bread for breakfast, brunch, or dessert.
Cream Cheese Filling Pumpkin Roll
Moist and flavorful pumpkin cake is combined with a delicious cream cheese swirl filling, to create a treat that looks as good as it tastes. But don't be intimidated, this pumpkin roll cake is surprisingly easy to make. Get ready for wide eyes and big smiles when you serve up a slice!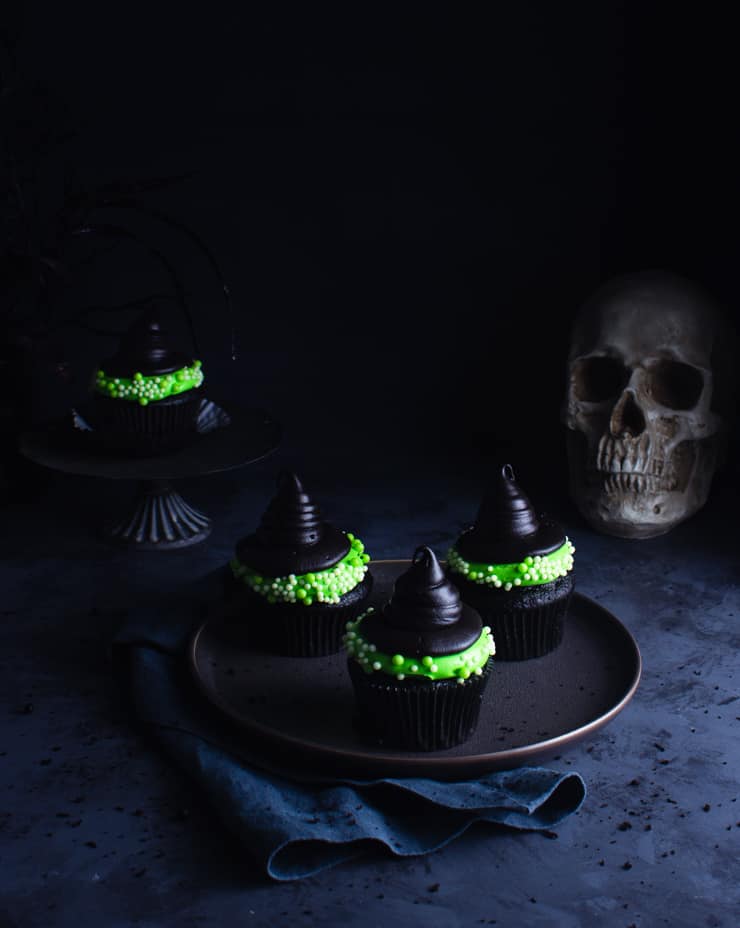 Witch Hat Cupcakes
No need to break out the fondant because these witch hats are pure frosting goodness! Whether you're throwing a Halloween party for the kids or just throwing it down at the office potluck, these cupcakes are sure to delight ghouls both big and small!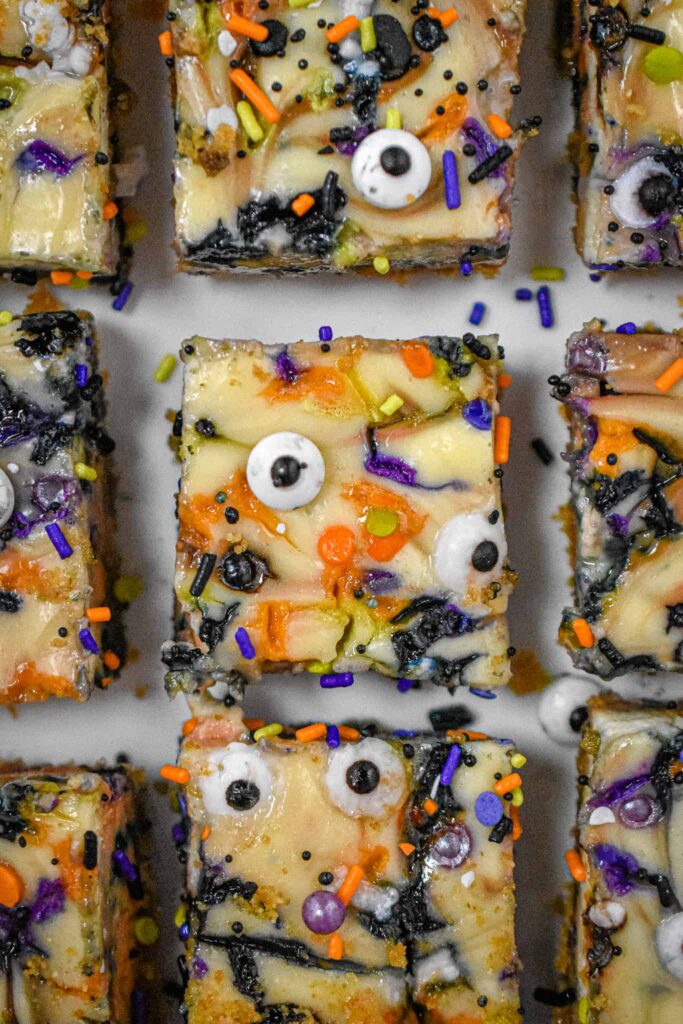 Spooky Funfetti Cheesecake Bars
Creamy and full of sprinkles, these Halloween Funfetti Cheesecake Bars are made mostly in the food processor! No need to bake in a water bath for hours, these bars are baked in 30 minutes.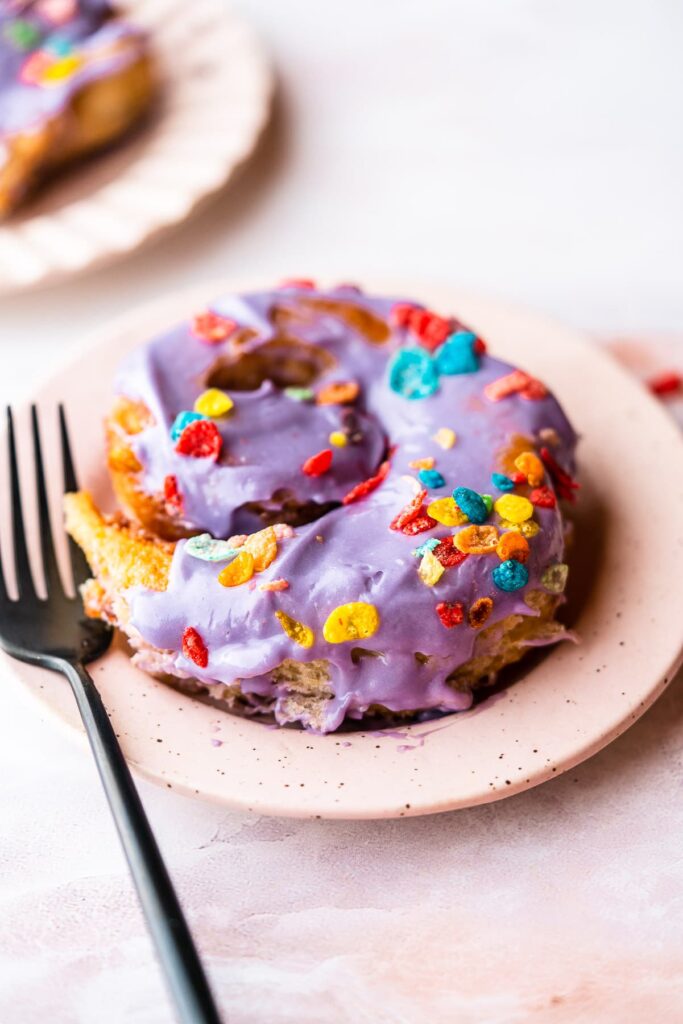 Cereal Milk Cinnamon Rolls
These fluffy brioche Cereal Milk Cinnamon Rolls are flavored with a deliciously sweet Fruity Pebbles cereal milk. Then, they're slathered with a thick and luscious Ube Cream Cheese Frosting and topped off with more Fruity Pebbles! Add Halloween sprinkles for a spooky breakfast look!
Boo-ringues
BOO-Ringues! Homemade meringue cookies, but little ghosts! They're light, airy, slightly sweet puffed Halloween treats that are fun and easy for kids to make! Dessert ideas like this are so quick and easy.
Zombie Guts Cinnamon Rolls
This Zombie Guts Cinnamon Rolls recipe is not for the squeamish! But don't let looks fool you, these "Zombie Guts" are actually super delicious red velvet cinnamon rolls!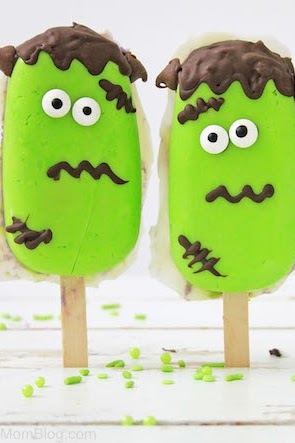 Frankenstein Cake Pops
These Frankenstein Halloween Cake Pops are super cute, slightly spooky, and SO much fun! A wow-worthy Halloween party treat!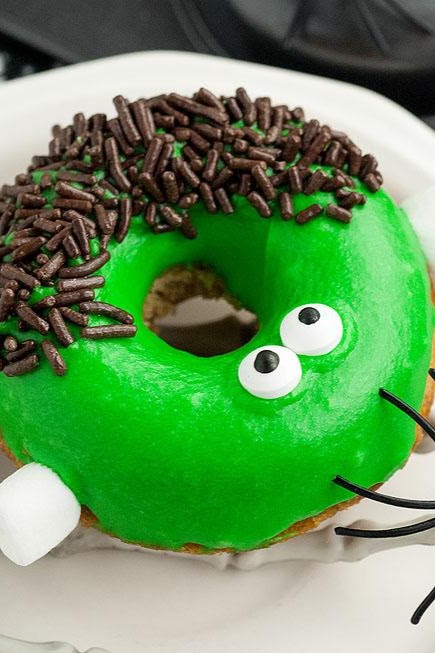 Frankenstein Donuts
These Frankenstein apple cider Halloween donuts arere impossibly cute! Baked apple cider donuts boast plenty of fantastic fall flavour in every bite.
Pumpkin Chocolate Swirl Bread
A fluffy tender pumpkin babka filled with a rich decadent chocolate filling that's perfect for Halloween with it's pumpkin flavor and orange and black (dark brown) colors.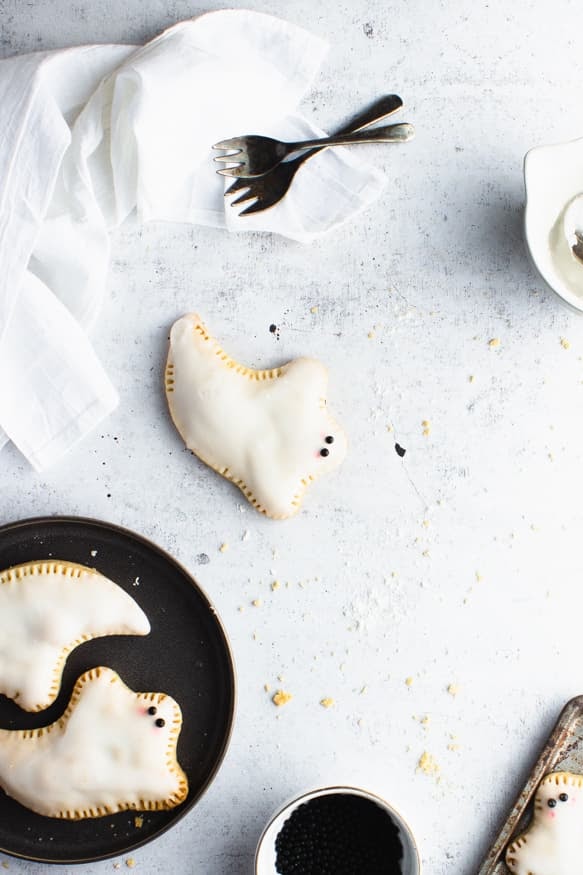 Ghost Poptarts
Who needs store bought pop tarts when you can make your own right at home? These flaky pop tarts are stuffed with a decadent nutella filling, covered in a sweet vanilla icing and decked out to delight even the pickiest goblin or ghoul in your life.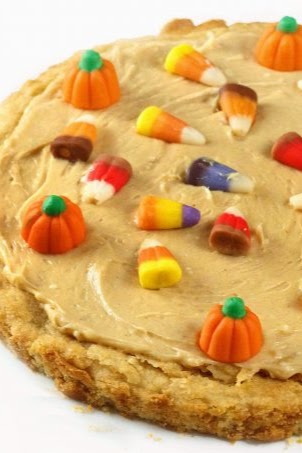 Sugar Cookie Pizza
If you're looking for a delicious and fun cookie for your next Halloween party, this cookie is the perfect choice! Dessert ideas like this are so fun and simple.
Phyllo Ghosts
These phyllo dough ghosts are a spooky Halloween dessert that kids will go crazy for! Made with just a few ingredients, they are surprisingly simple to make and no ghost mold is required!
Boo-riffic Brownies
Mummy Halloween Brownies
Mummy Halloween Brownies are the perfect spooky treat for your Halloween party table. So simple and easy, these are sure to delight kids and adults alike!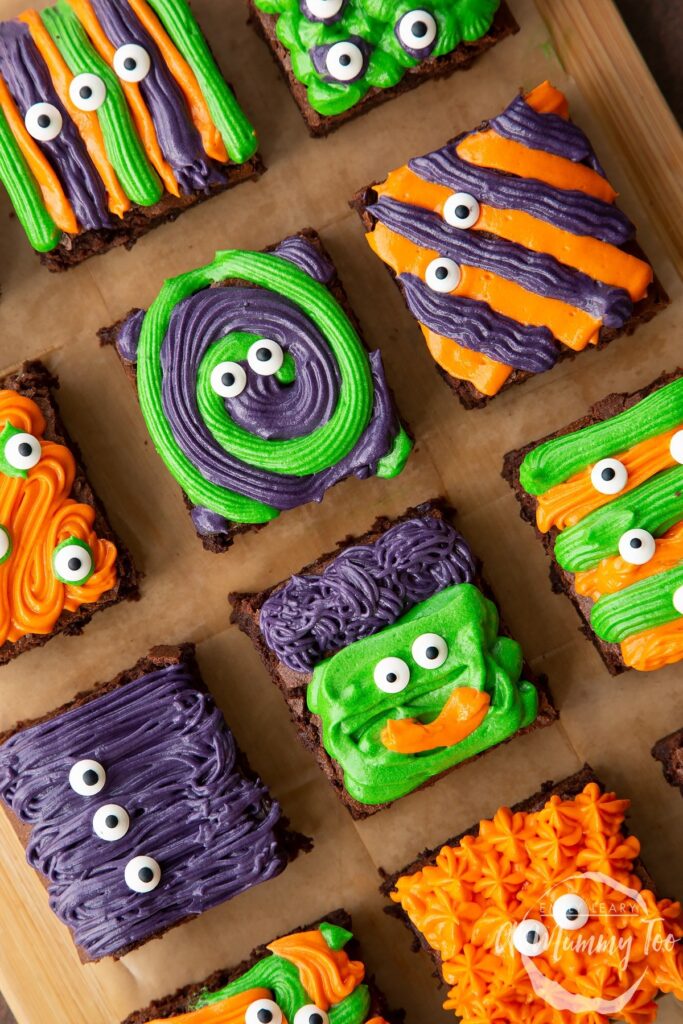 Creepy Eyeball Brownies
The Halloween brownies are so much fun and super delicious. Extra fudgy chocolate brownies are topped with delicious cream cheese frosting in spooky, vibrant shades and finished with a scattering of candy eyes. Eat them before they eat you!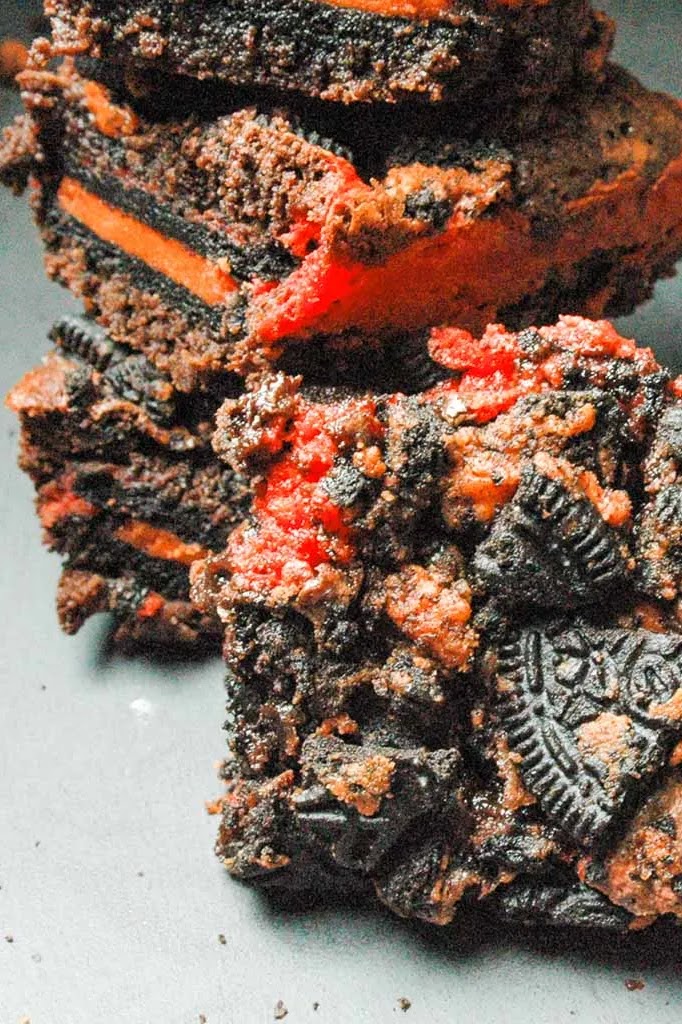 Halloween Oreo Brownie Cheesecake Bars
These Halloween Oreo Brownie Cheesecake Bars are such a fun treat for Fall! Imagine a base layer of brownies, a layer of Oreos with bright orange frosting peeking out, and a smooth (also dyed orange) cheesecake filling, topped with another layer of brownies. It looks amazing, and the cheesecake filling combined with the brownies is sooo good!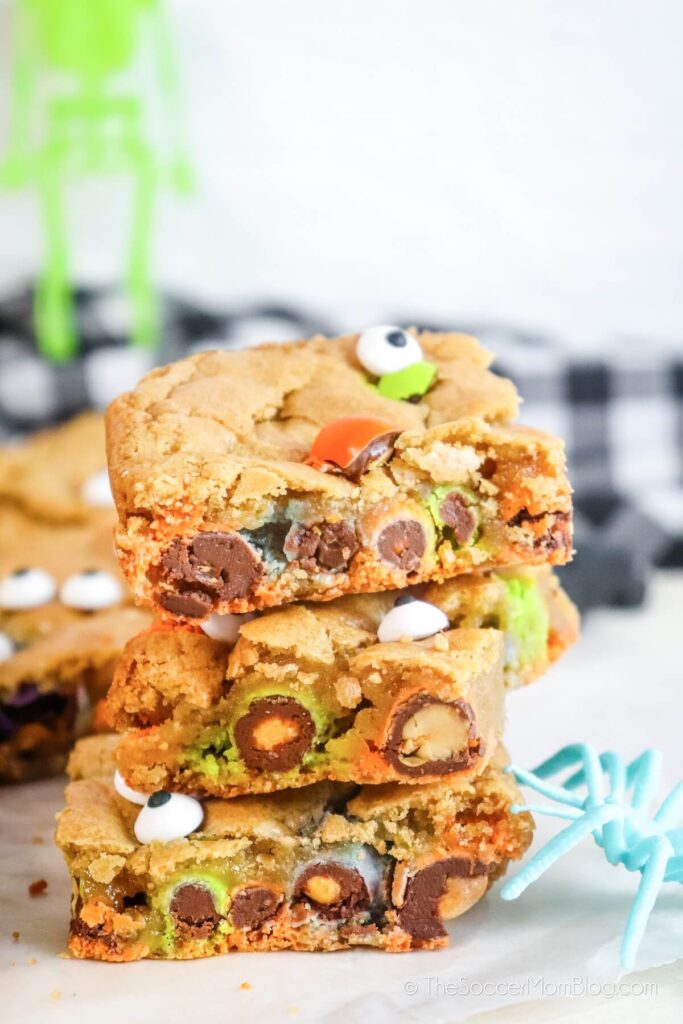 Halloween Blondies
Have you ever looked at a dessert that looks back at you? These Halloween Blondies are an awesome Halloween dessert idea! Dessert ideas like this are so quick and easy.
Graveyard Cake Brownies
Graveyard Cake is a spooktacular Halloween party recipe made with rich brownie, creamy marshmallow, and crunchy Butterfinger Peanut Butter Skulls. Only 4 ingredients!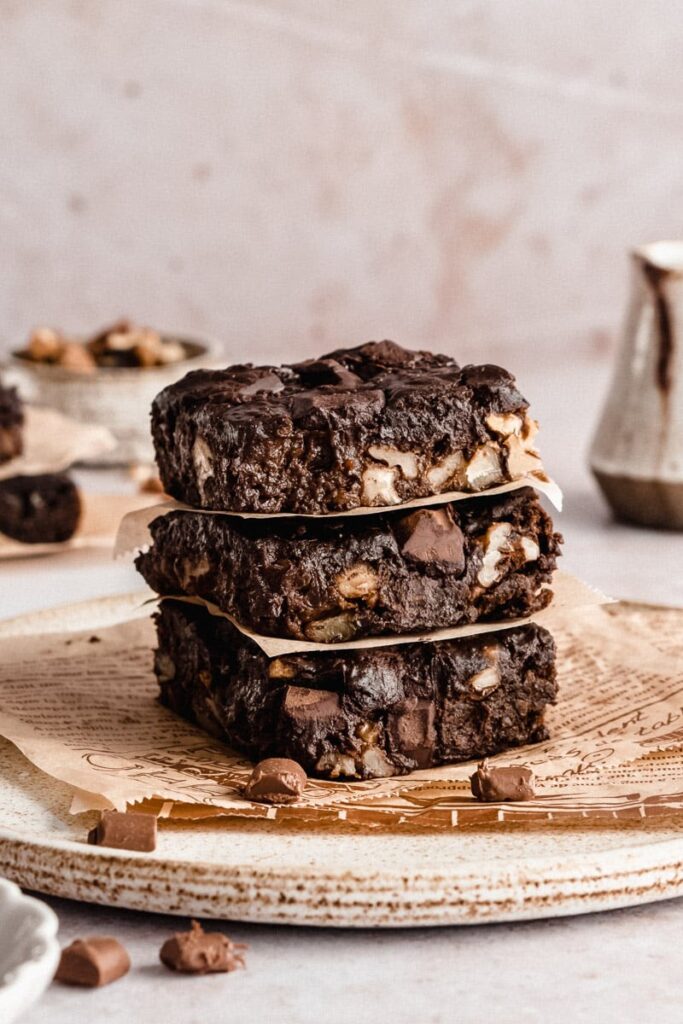 Dairy Free Pumpkin Brownies
These vegan Pumpkin Brownies make the perfect fall dessert! They are chocolatey, super fudgy and extremely easy to make.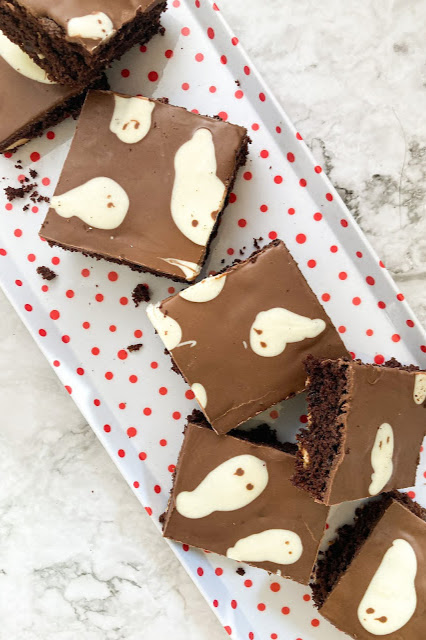 Halloween Ghost Brownies
These delicious ghost brownies are cute, delicious and perfect for those who don't like too much of a scare! They are easy to make and the best chocolatey treat to have at Halloween!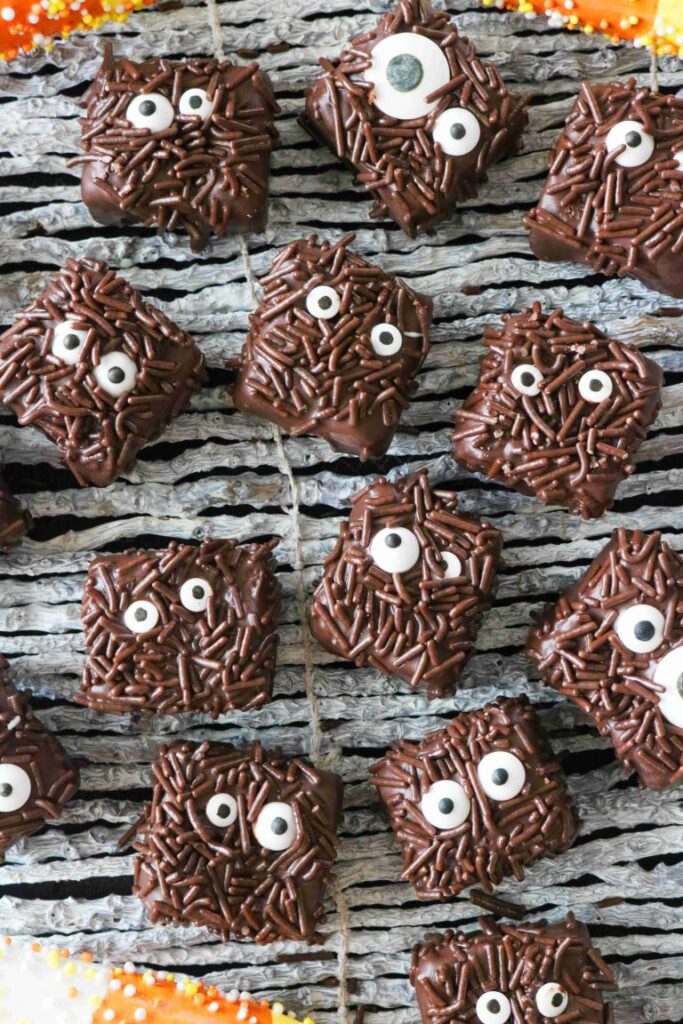 Addams Family Brownies
Homemade Halloween Brownies coated with melted chocolate made to look like "Cousin It" from The Addams Family, a ghost, or just festively decorated with Halloween sprinkles!
Spooky Swirl Brownies
Halloween Swirl Brownies – Rich and fudgy chocolate and cream cheese layered brownies featuring a spooky Halloween green swirl!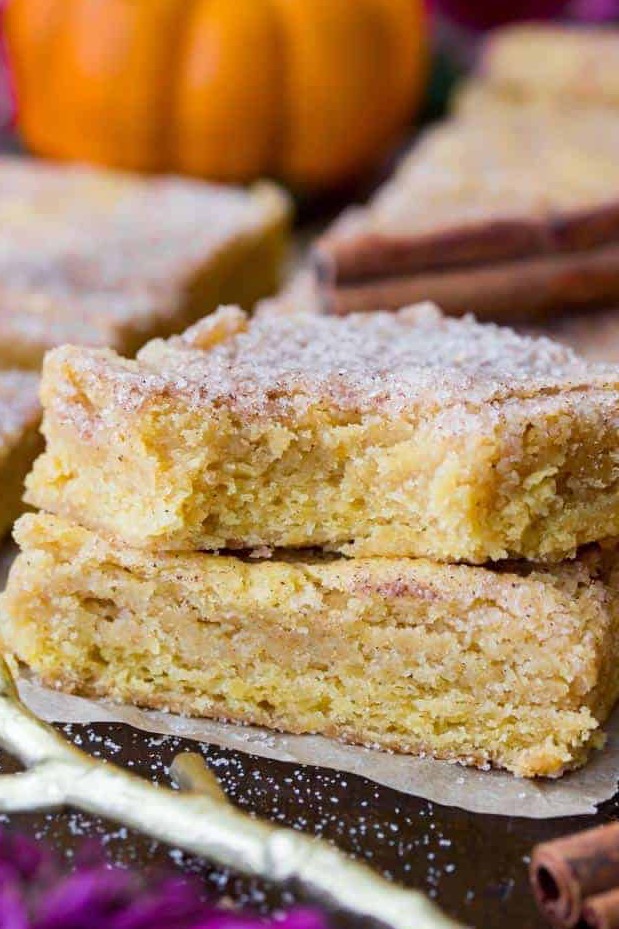 Real Pumpkin Blondies
Sweet, chewy, cinnamon-sugared Pumpkin Blondies are great festive fall treats! Flavored with real pumpkin and seasonal pumpkin spice, these treats are utterly addictive!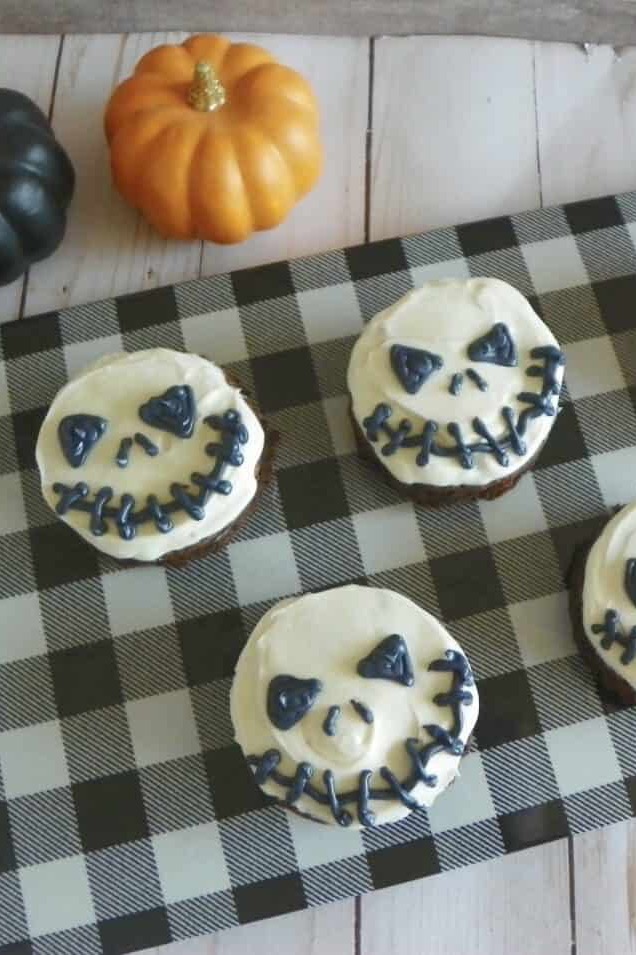 Jack Skellington Brownies
These Nightmare Before Christmas Jack Skellington brownies are easy peasy to make and already a favorite dessert at Halloween parties!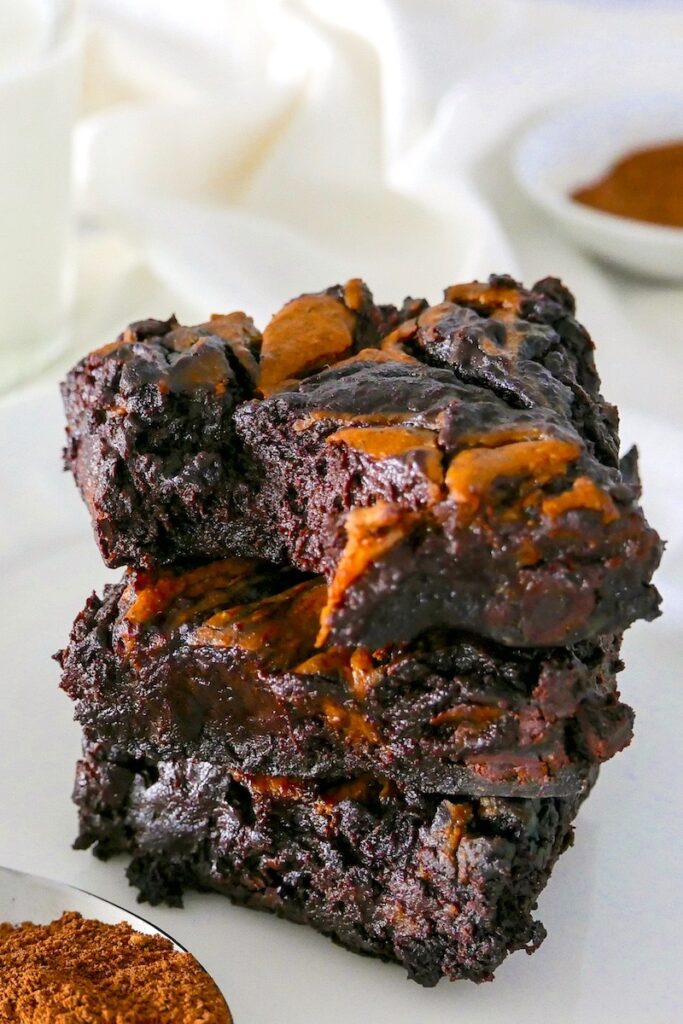 Fudge Swirl Brownies
Fudgy, gooey, and flourless vegan pumpkin brownies marbled with a pumpkin spice filling. A healthy and decadent autumn treat that is super simple (prep time is just 10 minutes!), and requires no special equipment.
If you're looking for Halloween desserts look no further than this list of baking ideas! Whether you're looking for cookies, cakes, cupcakes, brownies, or something else this list of recipes will have you excited for the spooky season. Let us know which ones are your favorite in the comments or on our social media!