Saving for a rainy day is important because you never know when the next big expense is right around the corner.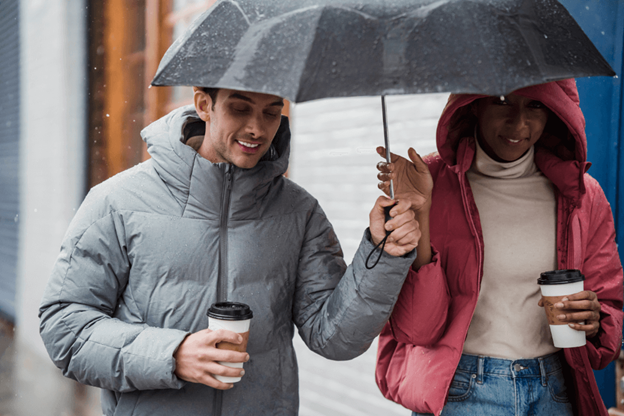 Editor's Note: This post was provided by a guest contributor and contains sponsored links.
No matter how much you plan for the future, there are always unexpected things that come up and cause you to reevaluate. This is especially true when it comes to saving money and creating a budget. You could plan the most organized budget ever and there are still unplanned expenses that come along and without proper planning can push you into debt. That's why it is important to prioritize a "rainy day" fund as a part of your budget.
A rainy day fund is a type of savings that you have just in case. While this isn't for something you have time to plan for like buying a new car or major repairs on your home, a rainy day fund can help offset some of the smaller unexpected expenses in your life- like an appliance breaking down or a surprise car repair. Today, we're going to be discussing a few ways that you can start saving money in your rainy day fund so you aren't caught off guard when surprise expenses appear. Let's dive in!
What is a Rainy Day Fund?
A rainy day fund is a small savings meant for surprise payments outside of your planned budget.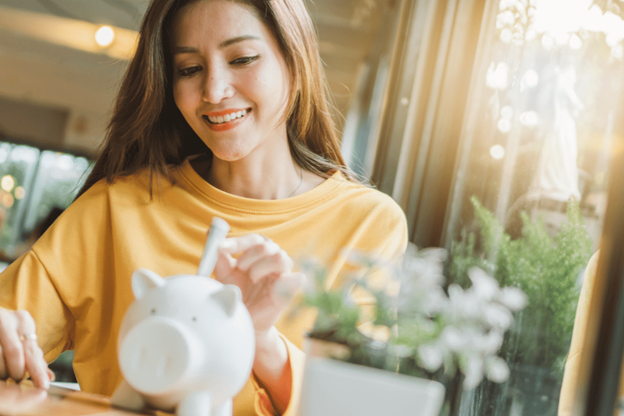 When we talk about a rainy day savings, we are talking about a small amount of money that is set aside from your average monthly spending. Your rainy day fund is there to make sure that when life happens, your whole budget isn't thrown off. Generally, rainy day funds can be anywhere from $500 to $5000, though there is no formal classification of what is and is not a rainy day fund.
The types of expenses that a rainy day fund is used for are unexpected—but they're not always negative. For example, you may be invited to a wedding and you need to use your rainy day fund to cover travel expenses or gift purchases. On the other hand, it could be something as mundane as replacing a kitchen appliance like a fridge or dishwater. No matter what you end up spending your rainy day fund on, we can all agree that it is good to have a little bit saved in the event of surprise expenses.
If you haven't previously saved for a rainy day or aren't sure how to start—you're in luck! We've got a few tips and tricks that you can try out to start setting money aside. Let's discover how you can start financially planning for whatever comes your way.
1.  Try a Money-Saving App to Get Started
Using a financial planning app, users can save for a rainy day, start a college saving fund, and even set up the proper insurance policies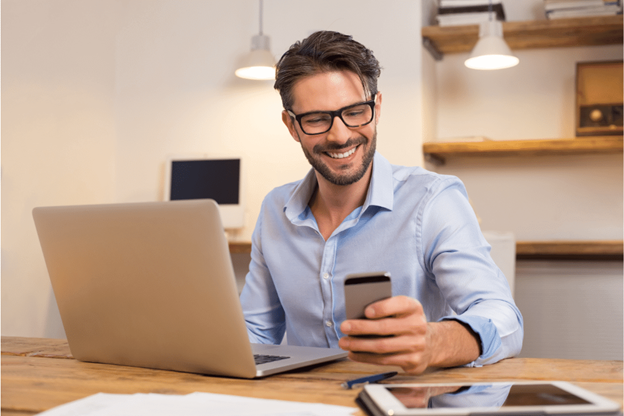 You don't have to be a financial expert to start saving for a rainy day. For people who want a bit of guidance on saving and a way to track their progress, we recommend using the Fabric by Gerber Life app. The Fabric by Gerber Life app has a number of different helpful functions to help people manage their finances. One of these features is a rainy day savings fund. When you first download and open the app, you will be prompted to fill out a short questionnaire about your life and your finances. Then, the app will prompt you to start saving for a rainy day fund. All you have to do is connect your bank account to the Fabric by Gerber Life app and the app will begin tracking your savings progress and help you set savings goals.
The Fabric by Gerber Life app also has other saving options and financial services available to help you plan for the future. Using Fabric by Gerber Life, new parents can begin setting aside money for their children in a 529 plan. The app can also be used to get an instant term life insurance quote. Fabric by Gerber Life specializes in providing term life insurance policies for young families who want to protect their children's future. Because Fabric by Gerber Life has an impressive rainy day saving feature—plus other important financial services—it is our top choice for an app to help you and your family save for the unexpected.
2.  Limit Small Purchases and Replace the Money in Your Savings
Making small alterations to your spending habits will yield big savings over time
We all have spending habits we would like to change. Often, these spending habits are focused around small, repetitive purchases. The most common example is—you guessed it—buying coffee. While the daily cost difference between making coffee at home may seem negligible, it can really add up over time. A great way to begin saving money for your rainy day is to make small alterations to your spending habits and replace that money in your rainy day savings. So, if you brew coffee at home instead of buying a coffee from a café, you should tabulate your savings and remind yourself to deposit the difference into your rainy day fund.
While you don't need to be making tiny deposits every time you decide to go for the less costly option or pass unnecessary purchases, you should keep track of your new spending habits. You may be shocked by how much money you saved by just making some simple changes to your routine. Then, when life throws you a curveball, you can relax knowing you made the effort to plan for a rainy day.
3.  Automate Your Essential Recurring Charges
By automating all of your bills, you'll never get hit with a late charge again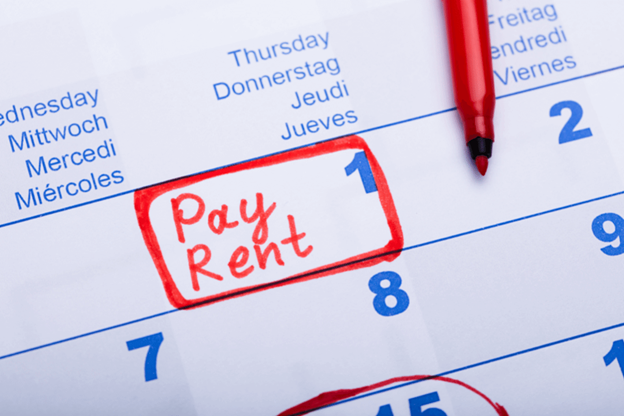 One of the easiest ways to start saving money for a rainy day is by automating your billing. We've all had forgetful moments where we forget to pay a recurring bill and get hit with a late charge. Though this is a common occurrence, it is best to avoid it whenever possible. An easy way to make sure you never get hit with another late charge is by automating all of your recurring bills. This means utilities, rent, and credit card payments. This is especially good advice when it comes to credit card payments as interest can compound quickly. By setting all of your bills up for automatic payment, you can save a substantial amount of money over time and prevent yourself from getting into credit card debt. We recommend you keep track of your savings in this case too! It is extremely rewarding to see how much you can save by making small changes to your financial habits.
4.  Set Up Automatic Monthly Transfers
By setting up automatic monthly transfers, you can save money without thinking about it
Remembering to set money aside for the unexpected can be difficult. When you think about it, the unexpected happens more often than most of us would like! In order to prepare for whatever the future may hold, we recommend setting up automatic monthly transfers to your rainy day fund. You will go about your regular spending habits while a small amount of money is moved from your checking account to your rainy day fund each month. You can start small with $25 or $50 per month that can go to your rainy day fund. Just remember to be careful of overdrafting your account accidentally. If you are worried about accidentally overdrafting your checking account, we recommend opting out of overdraft coverage and closely monitoring your checking account. You can even set low balance reminders to make sure you are never wind up with an accidental overdraft charge.
5.  Split Up Your Paycheck
By splitting your paycheck between checking and savings accounts, you'll have a healthy rainy day fund before you know it!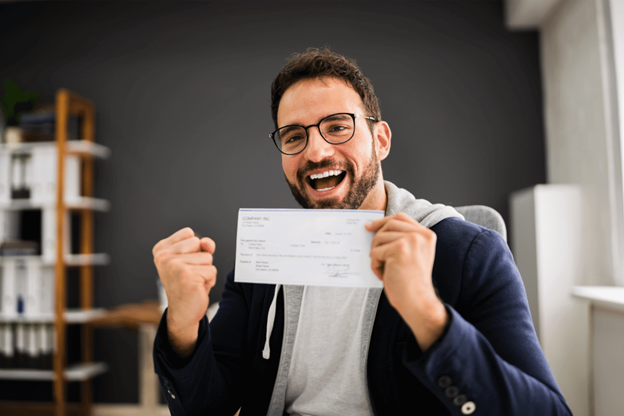 Another way to save money for a rainy day without having to remember to transfer funds is by splitting your paycheck. Splitting your paycheck is not offered by every employer, so you will need to check to make sure the payroll option is available to you. If your employer does offer paycheck splitting, you can designate that a percentage of your paycheck goes into your savings and the rest goes to your checking account.
There is also the option to designate a monthly dollar amount to be contributed to your savings account. To determine how much you want to deposit into your savings account for a rainy day, start with your end goal amount. Once you have your end savings goal in mind, you can predict how long it will take you to reach your goal. Then, divide your goal amount by the number of times you get paid in that amount of time. Your final number will be the amount you need to be placed in your savings account each paycheck. As your paychecks are deposited, your rainy day savings will grow automatically and you can rest assured that you are prepared for any unexpected future expenses.
While saving for a rainy day is difficult, it is far from impossible. If you aren't a financial expert, there are still a lot of ways you can save for surprise expenses. Using any of the methods we've listed, you can start small with your savings and eventually build a strong rainy day fund. Remember, the weather is unpredictable, so always plan for a rainy day!