This post is brought to you by Avocados From Mexico, RITAS, and TABASCO® Brand in partnership with Forward Influence. All opinions are my own.
It's almost time for the Big Game and it's time to start making plans! If you'll be hosting a viewing party, it's also time to start planning your menu! There are a variety of foods that every great viewing party needs, but I think we can all agree that the number one must-have is a really good guacamole!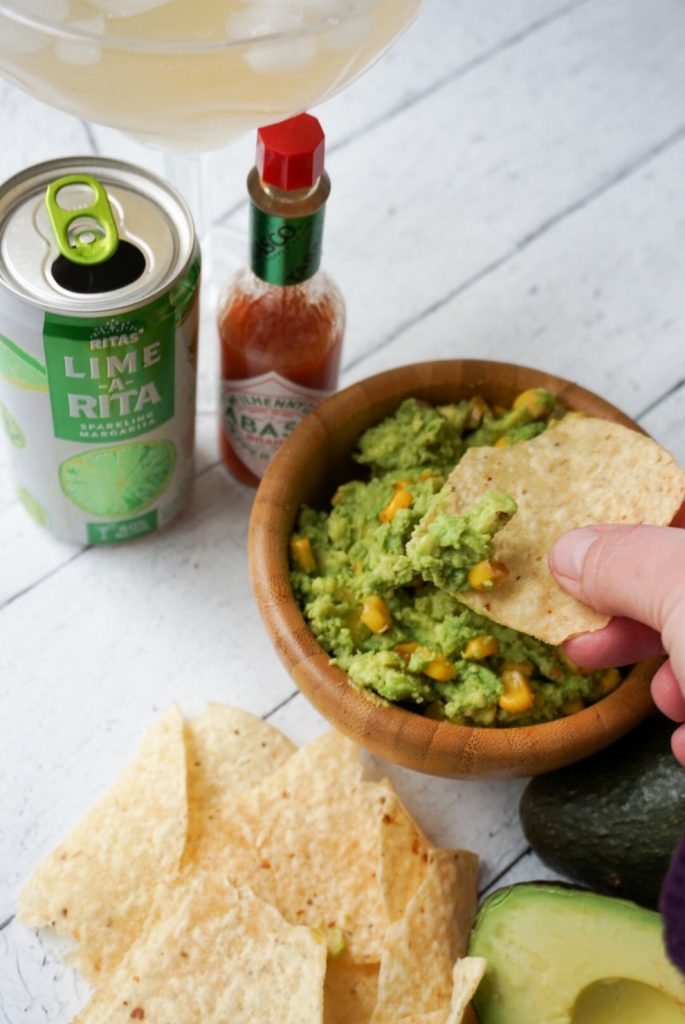 You can impress your friends- or your host, if you're the one attending- by making a homemade guacamole with just a few simple ingredients! Pair it with chips for the ultimate dip or add it to something like a burger, a salad, or something even more creative- guacamole is so versatile, you can use it in a variety of ways. This recipe will make your mouth water as soon as you start making it!
Red Pepper Corn Guac
Ingredients:

3 Avocados From Mexico, halved and pitted
1 tablespoon lime juice
1/4 teaspoon garlic powder
2 teaspoons salt
1/2 cup red onion, diced
1-1/2 cups canned corn kernels, drained
1 tablespoon garlic, minced
1 tablespoon TABASCO® Chipotle Sauce
1 tablespoon olive oil or vegetable oil

Directions:
Heat oil in a non-stick skillet to medium high heat. Sauté red onions for one minute, then add corn and cook until corn has some browning and onions have begun to soften- about 2 to 3 minutes. Add minced garlic and cook for one additional minute, stirring to prevent garlic from burning. Allow corn mixture to cool to room temp- you can pop it in the fridge if you're pressed for time.
While the corn mixture is cooling, scoop avocado pulp from shells into a bowl and mash with a fork, leaving some chunks. Once corn mixture has cooled, add to the bowl of avocados. Gently stir in lime juice, garlic powder, salt, and TABASCO® Chipotle Sauce.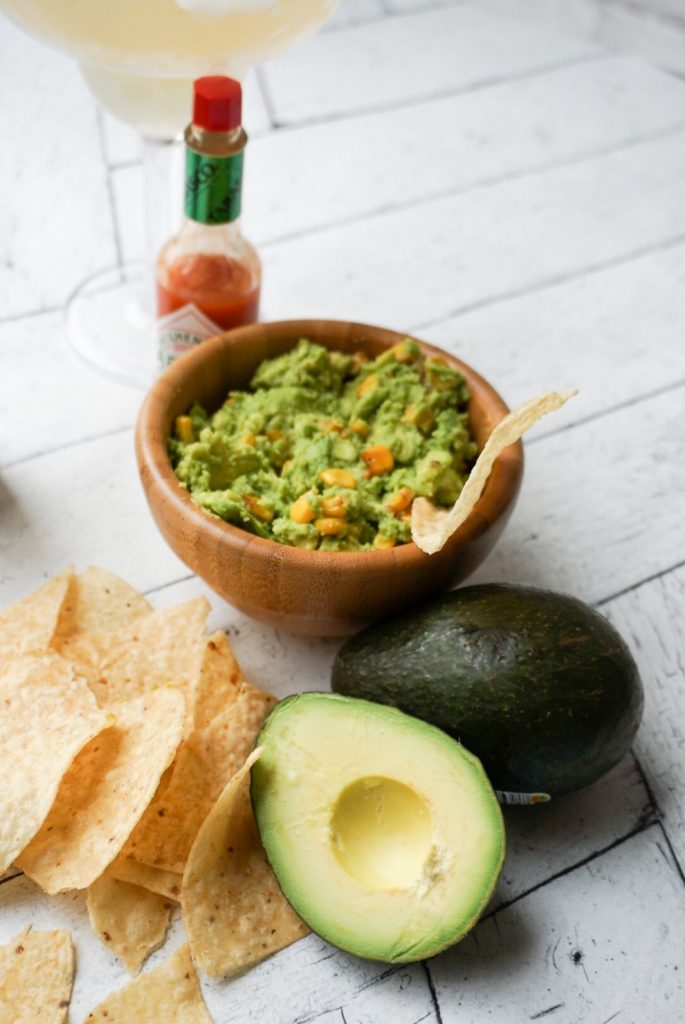 I love using avocados whenever possible because in addition to the health benefits they have, they are delicious and always in season! This easy guacamole recipe is based on one from the Avocados From Mexico website. I made a few small adjustments make it just how we like our guac- but of course, we kept in the delicious avocados and the secret ingredient- TABASCO® Sauce!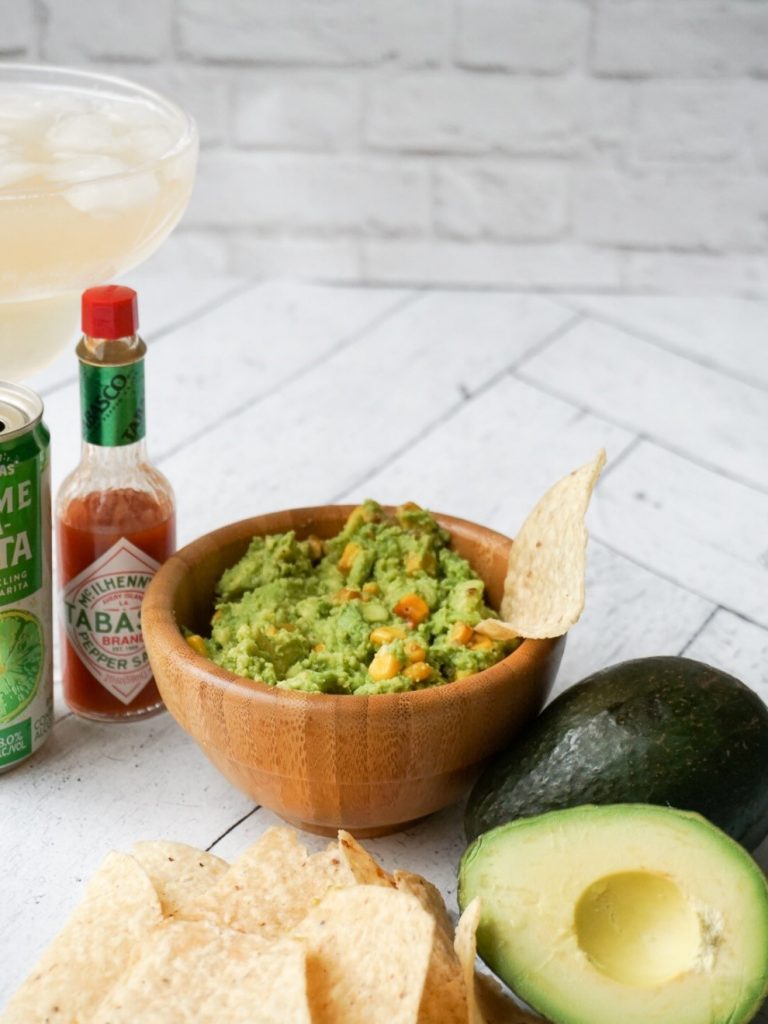 TABASCO® Sauce is made from three simple ingredients: red peppers, salt, and vinegar. That makes it so easy to use to add a little spice and excitement to any meal- the simplicity of the recipe means it can go with a lot of different meals! In this case, it gives this guac just the right amount of body and kicks it up a notch.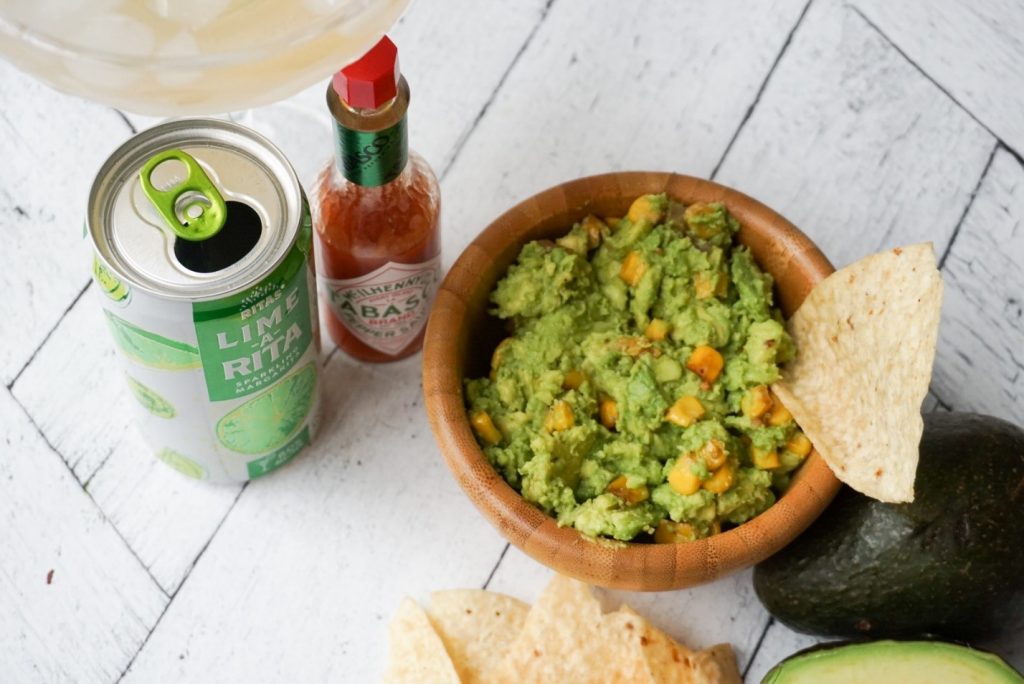 Whether you're hosting or attending- or just watching with your family- be sure to savor winning flavors while you watch the Big Game with this delicious recipe! {Oh, and be sure to watch out for the Avocados From Mexico commercial- it sounds like it's going to be amazing!}