This is a sponsored blog post; while the views expressed here were genuinely mine, consideration was paid to me by Bays English Muffins to review this product.
Growing up, English muffins were a special treat. We were always running late in the morning, and of course as far as I knew, English muffins were only for breakfast. I loved them though, so I'd often eat them on the weekends for breakfast and take my time to enjoy them.
Of course, English muffins are still delicious for breakfast- but did you know they make a great snack or meal at any time of day? They are so versatile that they can be included in pretty much any meal- if you know the right way to do it! And who better to learn from than Bays English Muffins chefs?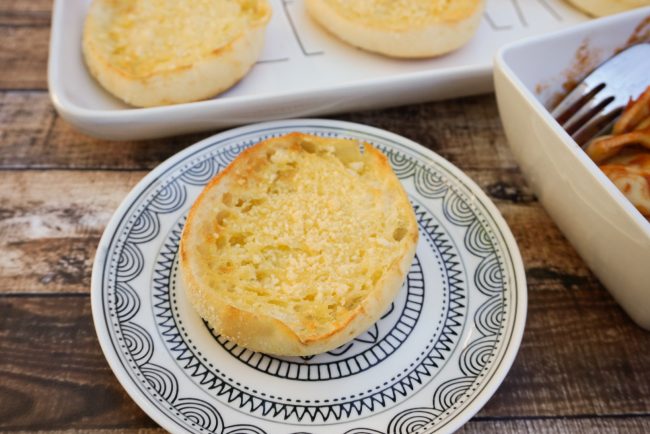 Bays English Muffins are incredibly soft on the inside, with just the right amount of crunch on the outside. They come pre-sliced, which saves me time, and my whole family loves them. So I decided to try one of the recipes from the Bays chefs- garlic bread!
I'm Italian, so pasta is on the menu on a regular basis. We love having garlic bread to go with it, but on weeknights when I'm in a hurry, I don't have time to make it. That all changed with this recipe, which takes only a few minutes to make and tastes fantastic!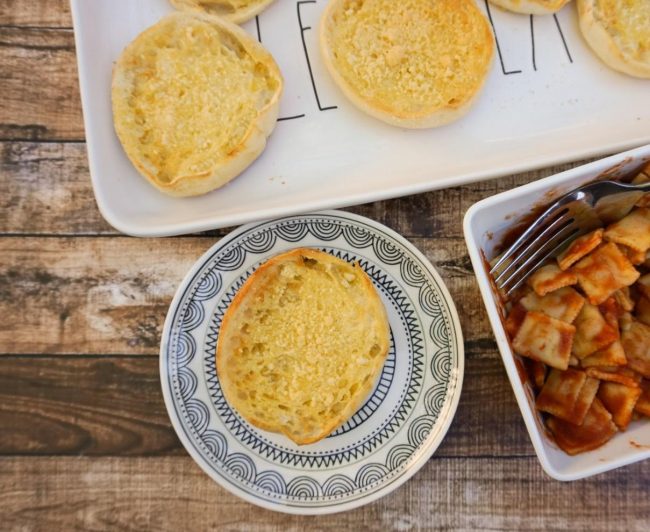 GARLIC BREAD
INGREDIENTS
1/4 cup butter, softened
1/3 cup grated Parmesan cheese, divided
2 garlic cloves, minced or ¼ teaspoon garlic powder
1 teaspoon chopped fresh parsley, optional
6 BAYS English Muffins, any variety, split, toasted
INSTRUCTIONS
Mix butter, 1 tablespoon of the cheese, garlic, and parsley in small bowl. Spread 1 teaspoon butter mixture over each muffin half; place on baking sheet. Sprinkle remaining cheese evenly over muffin halves (1 teaspoon per half).
Broil 1 minute or until lightly browned. Serve immediately.
SERVES:
6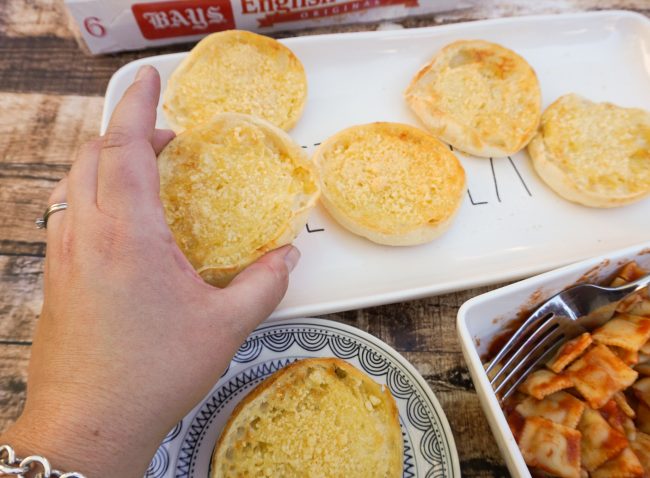 If you haven't tried Bays English Muffins, I highly recommend picking them up! They've been around for over 80 years, all the while adhering to their authentic, original family-inspired recipes. Don't look for it in the bread aisle though- you can find Bays English Muffins in the refrigerated dairy case next to the eggs and milk!
For more delicious recipes using Bays English Muffins, be sure to check out their website! You can also follow Bays on Facebook for more great ideas!