Like most other 90's kids, I watched DuckTales as a kid. It was one of my favorite shows and I used to sing the theme song over and over and over and…
Well, good news- DuckTales is coming back!! To celebrate, Disney XD made childhood dreams come true when they set up Scrooge McDuck's Money Bin right on the D23 Expo floor! Of course, I had to give it a try:
Fans lined up in a line that wrapped around booths and took up a huge chunk of the expo floor to be able to live out their childhood dream of swimming in money. It was made even more fun by the 180 degree photo capture! It wasn't exactly easy getting out of the bin, but why would you ever want to get out of a bin filled with gold coins?! I just wanted to take a few laps around the bin like Scrooge McDuck!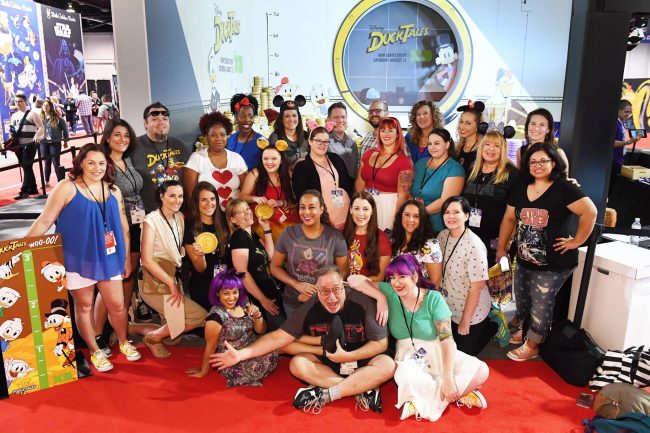 After jumping into the bin, we got to see the first part of the premiere and it was so good!! The whole time I was watching it, I just kept thinking about how excited my boys are going to be to see it. It has all the fun of the original but with some new bonuses, like Webby! She's the nephew's new friend and she has so much spunk. She really balances out the "family" well and I can't wait to see more of her!
While we were at D23 Expo, we also got to interview the people responsible for bringing this amazing show back- Executive Producer Matt Youngberg and Co-Producer and Story Editor Francisco Angones. and you could tell that they were incredibly passionate about Duck Tales. For them, bringing this show back has been a lifelong dream and it's so amazing to see someone truly passionate about something as they bring it to life! We were the first audience to see the DuckTales premiere so they were kind of paying attention to our reactions- but luckily, we all loved it! I'll have an interview with the Producers coming up in a few weeks so be sure to come back!
The new Duck Tales comes back on August 12th as a one-hour television movie. The premiere movie will run for 24 hours, beginning at midnight, on Disney XD. After that, the show's new episodes will premiere on Saturday, September 23rd and will air at 7am, 11am, 2pm, 5pm, 8pm, and 10:30pm. You'll also be able to stream the episode on the Disney XD app and Disney XD On Demand the same day!
Now that that's stuck in your head, the countdown to August 12th begins!
For more updates from D23 Expo, check out my recaps below:
Disney Parks & Resorts Announcements