When I found out I'd have the chance to interview Dan Povenmire and Jeff "Swampy" Marsh, creators of Phineas and Ferb and the new show, Milo Murphy's Law, I thought it would be a great chance for my boys and I to check out a few episodes of a new show. I had no idea that it would become such a huge favorite at our house! Now every night once our pj's are on, my entire family- grown-ups and kids alike- gets together and watches an episode of Milo Murphy's Law before going to bed. We constantly quote the show and bring up jokes from it, and my husband's even talking about dressing up as Milo for Halloween- even though it's 7 months away!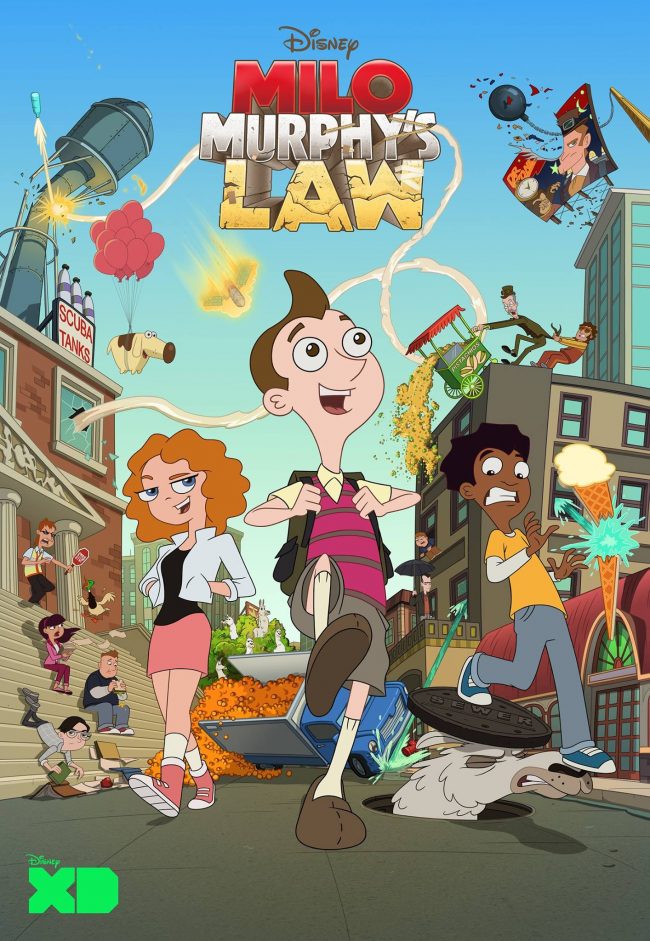 "Milo Murphy's Law" is an animated comedy series that follows 13-year-old Milo Murphy, the fictional great-great-great-great grandson of the Murphy's Law namesake. Milo is the personification of Murphy's Law, where anything that can go wrong, will go wrong.
Milo Murphy's Law is one of the few shows that we've seen on TV that the entire family not only can watch, but wants to watch. There is something for everyone with the series, and laughs to go around. There were a lot of laughs during our interview, too- read on below for their real feeling about working with Weird Al, why they love making a show for the whole family, and what to expect for new episodes of Milo Murphy's Law!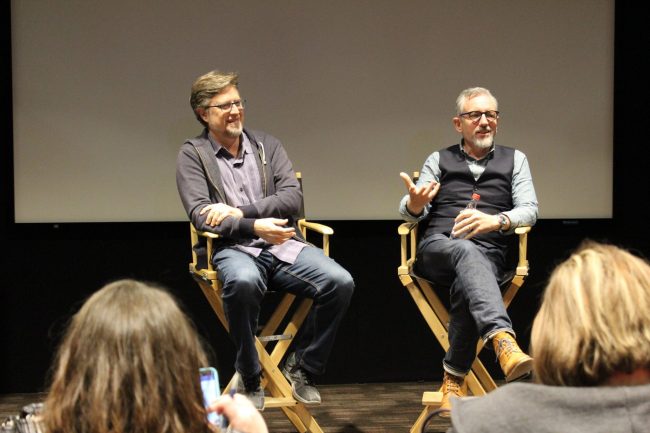 Dan: We forget sometimes, by the time we're done with it, none of it's funny to us anymore because we've seen all of those jokes 30 or 40 times each so it's always a matter of "Well, this made me laugh the first several times I heard it.  I should probably leave it in," because otherwise you end up changing things because you've heard them a lot. It's always nice when people laugh at the things you thought were funny originally. It's nice. You work in TV, you work in sort of a vacuum, and you sort of send it out into the ether, and if you're in features, you can go to an actual theater and hear people responding to it. And if you're in a play or something like that, you get that instant gratification. We have to sort of look online to see what kids are saying about it in order to get a response back.
Jeff: The crew laughs. But we pay them.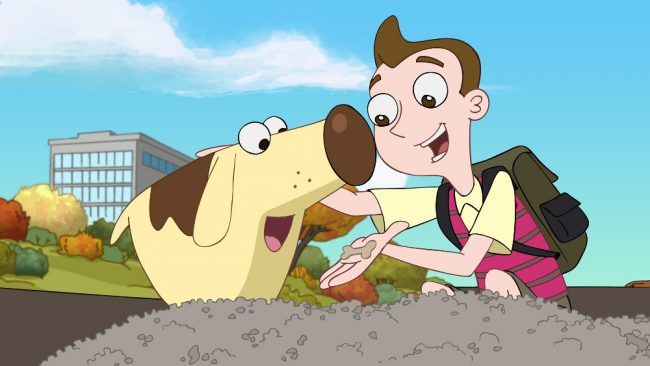 You'd mentioned that you looked online to see feedback you got from fans after they watched the show. What is it you're looking for from them? What do you want them to get from watching this? 
Dan: Well, a lot of times you're looking to see what starts getting quoted, you know. There's always the "Monday morning gag".  That's what we're always looking for. The gag that kids will come to school and talk about.
Jeff: It's nice to know that things that you were hoping that would connect, do connect, and also I think I look for it to find the surprising things I didn't expect. And that's kind of the joy. You think, "Oh, there's this whole other thing that happened that I really didn't anticipate."
The other thing I'm always looking for is the people out there who were me. That if I had had somebody much earlier on in my life say "You should do that," then maybe I would have found this gig a lot earlier. I didn't get into animation until I was 28. I like finding those kids that are out there, looking for somebody to say, "You know this doodling and storytelling you do? Or singing funny songs?  There is a place for you out there to do that."
Dan: We get a lot of people that follow us on Twitter that say that now that's what they want to do is animation. Always makes me feel great.
What is it like working with Weird Al Yankovic, and how much influence does he have on Milo?
Jeff: Well, between the temper tantrums-
Dan: He's a horror to work with.  No.  He's a wonderful, wonderful guy.
Jeff: Somebody said the weirdest thing about him is just how normal he is.
Dan: True.  He's super, super normal.  He's not as wacky as I think people expect him to be, except on stage, or doing one of his videos.  But he's about the nicest guy that we know. And that's part of why we ended up with him, is we were looking for somebody to have this very positive voice without sounding put on. We auditioned hundreds of people for Milo. We auditioned kids, seasoned voice actors, people whose work we love.  But when they try to do that super-positivity thing, it'd always come off sort of Pollyanna and false. We were just like, we just need to find somebody who actually has that voice, because the character is modeled after a friend of ours who just sounds that way when he talks. He just always sounds really positive, and we needed to find somebody who has that positivity just naturally.
Weird Al came in and did a voice on Gravity Falls, and Alex, who runs Gravity Falls, posted it, and I was like — "Oh.  Weird Al." I've met him. I've seen him interviewed. He's this super, super positive guy. What does he sound like? I had to look up an interview with him to remind myself what his voice sounded like. We had him come in, and it just immediately worked. It was a great find, and working with him is great.  The fact that we get to write songs and have Weird Al sing them, it just makes my high school self just, "Weeee!"
Jeff: When you find somebody who really works, it lets you push the character a lot more than you normally would and that's been really fun. Also, I'd never worked with anybody that's that prepared every day, for everything, and especially the music stuff. The other fun thing about Al- of all of the really big names that we have had come in and do voices on this show, those people geek out more about Al than anyone I know. And really famous people- I had somebody look down and go, "Al is coming — can I stay?" I'm like, "Yeah, of course."
You guys voice Dakota and Cavendish. Was that planned, initially? 
Dan: The whole concept of that came out of the writers room. That wasn't part of our original concepts.
Jeff: Our writers, mocking us.
Dan: I think the writers were like, "We need somebody to cut away to," because they were used to doing Phineas and Ferb, and then cutting away to Perry and Doofenshmirtz. They pitched this idea of these time travelers, and then what they do and everything came out of that meeting. But when I drew it, I was drawing it with the thought of me being that guy [Dakota], and you ["Swampy"] being Cavendish.
That's just been a fun thing to do.  And we get to be in the recording room together, which we never did. He was Monogram, and I was Doofenshmirtz, and there were only like, three episodes where they even had a conversation, because they were usually separated by distance.
Jeff: Now we just put two mics in the room.  And we can just sit and play around and ad lib, and it's a lot of fun.
The Doctor Zone references were fun. Do you have any plans to do any other pop culture references? 
Dan: We've been busy with Doctor Zone, because that comes back into play. But what this series has that Phineas never had is the guys who are protecting the pistachios- that becomes a bigger story by midway through the season. It starts to become a big arc that actually goes through the whole season and culminates in a big season finale with a big climax to that story. We'd never really done that in Phineas, where we kept a story going through not only several episodes, but through the entire season. We wanted to introduce all of the characters first. In the very first episodes you only see those guys in the very background of things, and then they start having lines, and then…
Jeff: We covered three or four rooms with Post-It notes trying to make sure everything actually connects and works.
Dan: Luckily, because it takes so long to do animation, sometimes we'll be in episode 16 and we'll go, "Oh. We're doing this here. It'd be cool if we planted something earlier. What episode has not shipped overseas yet, or what episode can we put a line in that'll tease that, and makes us seem a lot smarter than we actually are?" Oh, they were planning that way back then?  Well, yes, and no.
Jeff: We try to do things that make us look smarter than we are, often. That's why I have these glasses.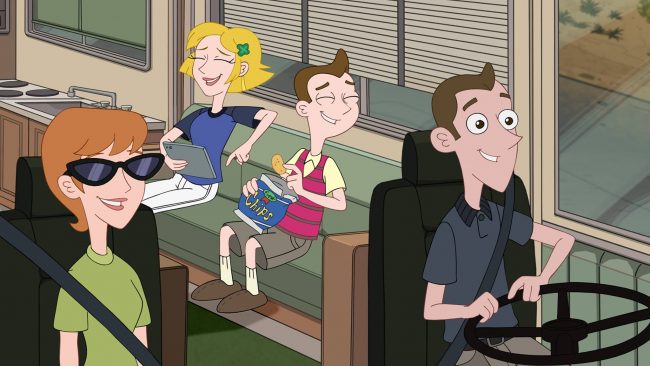 How important is it for you to create a show the whole family can watch together? 
Dan: That's the best thing that we hear, because when we started Phineas it was right at the time where TV watching had gotten so segmented. There's the Food Station, the Food Network, and Home and Garden Television, and-
Jeff: There's a whole Bass Fishing Network.
Dan: Yeah, there really is, and what the research was showing was that every age group in the house had its own TV. So, family viewing as we remembered it, from when we were kids, had sort of disappeared. When we were kids, it was the whole family on the couch watching TV. It was everybody watching one show, and you had to pick something that everybody liked, and since that was no longer the norm, people weren't doing as many shows with the whole family. So, when we hear that, to us, it just warms our heart that we're bringing back family viewing to the family.
Jeff: I was recently on a ski lift with this 18 year old kid, and I was making jokes about my 15 year old son, that I was up here with a bunch of 15 year olds and blah blah blah and we were talking. And he did that "What do you do?" and I said, "Well, I do cartoons for Disney."  "Oh, what show?" I said, "Well, I used to do a show called Phineas and Ferb." And this 18 year old went, "Dude, I gotta take a selfie with you."  I'd forgotten that now these kids that grew up on our show are 18, 19, 20- they're in college. And they have this language with their families- they have shared jokes, because the show talked to everybody in the house. And I think that's awesome.
I had a guy when I was talking at a college who asked if I would call his dad and tell his dad to send him more money as Monogram. I did it as Monogram, because they shared that whole thing, and I did it. "I'm here with your son, and he's doing very well in school, but he could probably use a few more bucks," and I got a nice e-mail from him later, saying, "He sent more money. Thank you."
All of a sudden there is that shared humor, those shared jokes, those shared lines, that those families will have forever.  And sometimes, it's just singing the songs together.
Dan: Part of it was just that we made the show to make each other laugh and to make the writers laugh. We all have immature enough senses of humor that we also laugh at the stuff that the kids would laugh at, but we also laugh at the jokes that the kids won't get. We always feel like, "Well, let's just put everything that we think is funny in. And just make sure that there's enough stuff in for the kids if they don't get a reference, or something like that." Our only rule is, if the adult in the room laughs, and the kid asks what they're laughing about, that conversation can't be an uncomfortable conversation.
Jeff: We'd rather have the conversation be because we did a joke about existentialist philosophy.
So, who has the bad luck? 
Dan: People have asked me a couple times, "How did you deal with all of the adversity that happened to you in your career?" I always look back on that, and I always scratch my head and think, did I have adversity? I look back, and there's a lot of things that went wrong throughout, but I think Swampy and I are both very positive in our outlook of life. So when things go wrong, we just go around it. People often think that you're going down this path, and if you turn this way it's success, and this way it's failure. That's not at all what it is. It's failure, failure, failure, failure, success. You just have to keep going down whatever path you're on, and if there's failure here, you turn that way. If there's failure here, you know you turn that way, and you just keep going. And I think that's part of what we were trying to do with Milo- things are going to go wrong for everybody. If there's anything that we want the kids to know from this, it's that if things go wrong in your life, don't let it ruin your day, much less your life. Find the positive spin on it.
What advice would you have for young kids who are into drawing and doodling and those kind of things? 
Jeff: Throw away their erasers. Somebody much wiser than me once said, "I think there's 10,000 bad drawings in everybody, and your job is to get them out as quickly as possible, and you only do that by doing more drawings." When I started in animation- because I didn't get trained in this- I think it was David Silverman- he was one of the first guys who helped teach me, and for a while he said, "You should just draw with a Sharpie. It'll keep you from fiddling with stuff and fussing with stuff- it forces you just to make bold shapes." And for a year, I didn't draw with anything other than a Sharpie when I was drawing my own stuff, and it had a huge, positive impact. You can't erase it. You can't fiddle with it. And I started filling books with drawings.
New episodes of "Milo Murphy's Law" are airing throughout the month of March on Disney XD! A selection of the new episodes airing in March are also available on VOD and the Disney XD app.