Shane is counting down the days until St. Patrick's Day- even though he can never quite remember the name of the holiday. Whether he's calling it "Four Leaf Clover Day", "Leprechaun Day", or "Green Day", he's excited!
One of the ways we're celebrating the holiday is by making some special treats, like this St. Patrick's Day Parfait. It's incredibly easy to make and is a great way to get the kids in the kitchen!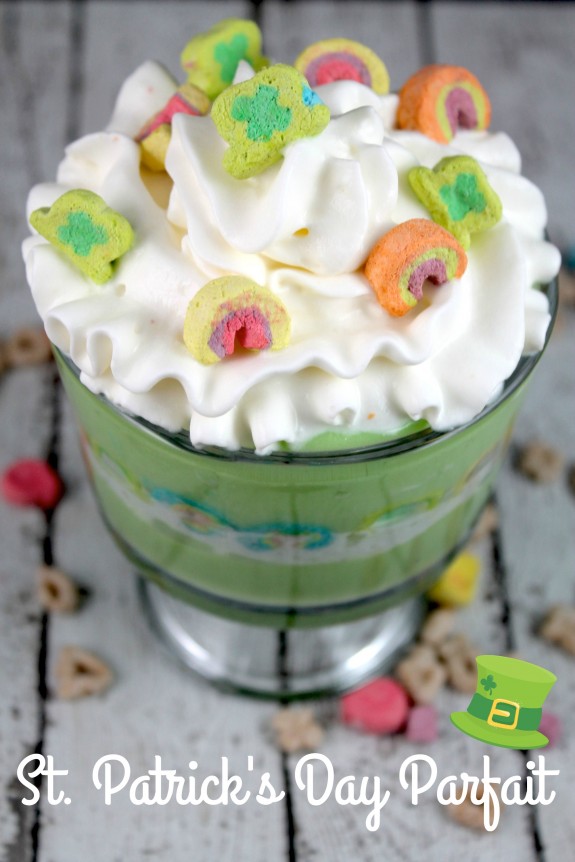 Easy St. Patrick's Day Parfait
Ingredients
1 Package Pistachio Pudding Mix OR Vanilla Pudding Mix
2 Cups Milk
1 8oz Package Cool Whip
1 Cup Lucky Charms, plus extra for top
Instructions
Combine Pistachio pudding mix and cold milk. If using Vanilla pudding, add a few drops of green food coloring to preference. Allow to set in refrigerator for 15 minutes.
In a parfait bowl, layer ½ of the pudding then 1/2 of the cool whip. Cover the cool whip with 1 cup of Lucky Charms.
Repeat with the process of layering the remaining pudding and cool whip.
Sprinkle the top with Lucky Charms.
Best served immediately. Store leftovers in an airtight container.
Do you have any favorite St. Patrick's Day recipes?