A week from today, I'll be bringing Shane to his Open House, where we'll meet his kindergarten teacher- and he starts school the following Monday! We've been preparing for that day for a year now, but we still don't feel ready- at least, not emotionally. To get us as prepared as we can be, I asked a friend what exactly Shane should know and what he should expect to learn. I know many of you have children going to kindergarten this year or next, so she has broken it down for us all- and there's even a free printable kindergarten readiness checklist at the bottom! Enjoy!
---
The word "Kindergarten" might strike fear in the hearts of parents all over the nation, but this next step in your child's life doesn't need to be scary. As parents, it's hard for us to let go of our children, and Kindergarten is all about our children branching out and learning on their own. If you're feeling nervous about sending your child to Kindergarten, you can alleviate your fears by better preparing your child for success.
Here are just a few skills your Kindergartener will need to learn throughout the first year of school:
Letter Identification
Letter identification is a basic skill your Kindergartener will need to know, but it is one of the most important. Without being able to identify letters, you child will be unable to progress to sounding out letters or blending those sounds into words. Since these skills are necessary prerequisites to reading, teaching your Kindergartener letter identification should be at the top of your to-do list.
Letter Sounds
Once your child knows how to identify letters, you will want to teach what sound each letter makes. You can then help your Kindergartener blend those sounds into words, successfully giving your child the skills needed to start reading. Your child should learn this particular skill in school, but since it can be a difficult concept to grasp, practice this skill at home as well. This will help ensure your child has enough time to master the skill before applying it in reading groups.
Number Identification
Another important skill you can teach your Kindergartener is how to identify numbers. Depending where you live, your child's school could expect Kindergarteners to identify numbers 1-10 on sight. Some schools even expect children to be able to identify numbers up to 20 or higher. Regardless of what your school's requirements are, the fact remains that teaching your Kindergartener to identify numbers is a good idea.
Counting
This next skill goes hand-in-hand with number identification. Not only does your child need to be able to name numbers, your Kindergartner will also need to be able to count without skipping numbers. Although different schools might require students to count up to a different number, a good rule of thumb is to teach your child to count up to 100. Not only will this allow your child to succeed at whatever assessment the school uses, it will also give your Kindergartener a better number sense. This gives your child the foundation needed to progress on to more difficult math concepts.
Shapes & Colors
Although know shapes and colors might not seem like a useful skill, it is very important to Kindergarteners. Shapes are used in math, so knowing the difference between a square and a triangle will help your child have a solid foundation in this subject. Knowing colors is equally as important since colors allow your child to better explain something, effectively improving your Kindergartener's communication skills.
Does your Kindergartner have the skills needed to succeed in school? Use this Kindergarten readiness checklist to find out: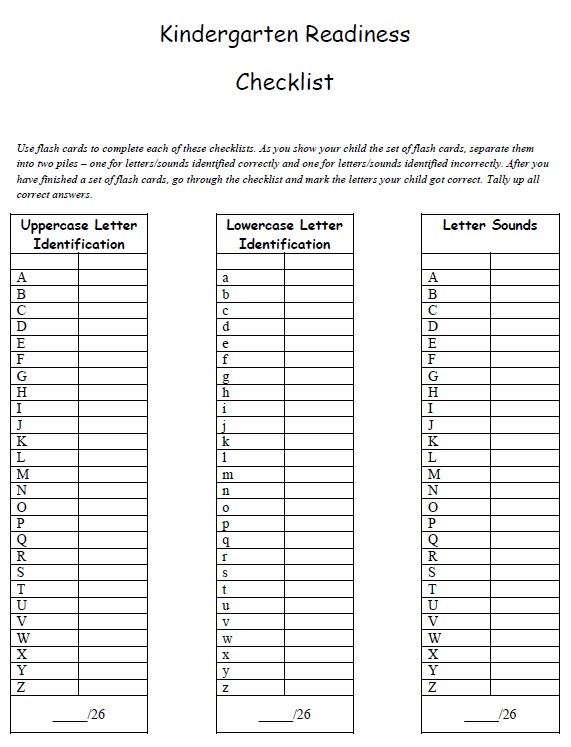 Do you have any advice for me as I prepare to send my oldest off to kindergarten?