Lately, I've been on a bit of a cookie kick. There are few things better than a chocolate chip cookie and a refreshing glass of milk- except for maybe if you use your cookie as a cup for said milk! With this delicious recipe, you can have your milk & drink it, too- straight from a chocolate chip cookie.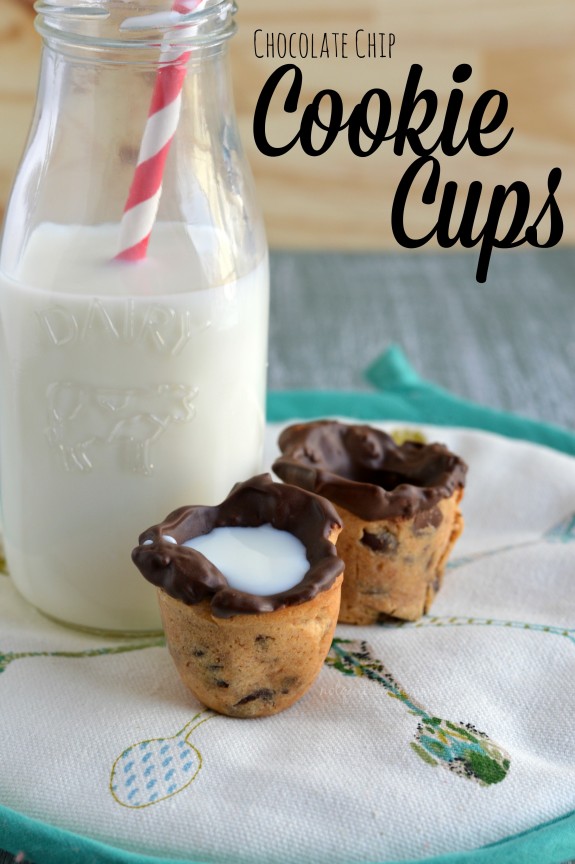 Chocolate Chip Cookie Cups Recipe
Ingredients
1 1/2 cups Graham Cracker Crumbs
1 can of Condensed Sweetened Milk
1 cup of Chocolate Chips
1 cup of Melting Chocolate
Tools Needed: Silicone Cake Pop Mold
Directions
Mix condensed milk with graham cracker crumbs. Mix well and then gently fold in your chocolate chips.
Scoop out about a heaping tablespoon and place inside the cake pop mold. Stick your finger in the middle and push the sides down to smooth it out.
Bake at 350 degrees for about 10-15 minutes.
Take out and let cool for a moment, but be careful- the silicone will be hot! 
Dump them out onto wax paper and push the bottom of the silicone mold to pop the cups out- carefully. Allow to cool completely.
Melt your chocolate by placing in a microwave-safe bowl and microwaving in 15 second increments- stop & stir in between and stop when chocolate is fully melted.
Get a small spoon and put chocolate into your cookie cup. Swirl it around and use the spoon to get the cup fully covered on the inside. You can dip the top edge in the chocolate as well.
Then let harden and fill with milk. Enjoy!
https://www.notquitesusie.com/2014/05/chocolate-chip-cookie-cups-recipe.html
What's your favorite way to eat a chocolate chip cookie?

Thanks to contributor Priscilla for this delicious post!