This is a sponsored post written by me on behalf of Mom to Mom.
Babies are expensive. The average parents spend $7,000 in baby items before baby's first birthday! A large part of that is diapers- a baby requires an average of 7,300 diaper changes by their second birthday. That's a lot of diapers.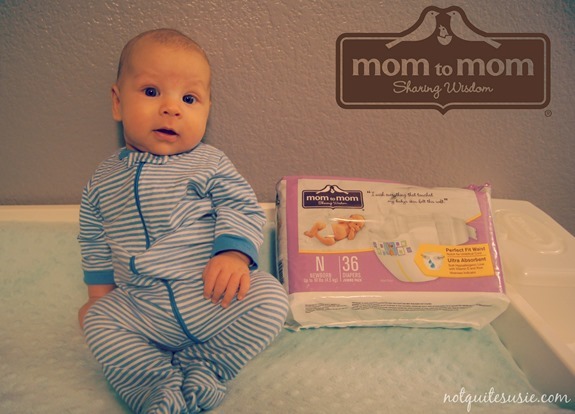 Safeway knows that value is important to moms, so they have a line of baby products that they offer at a great value. We recently tried the Mom to Mom diapers from Safeway with Zac and I have to say I was impressed!
When it comes to newborns, I prefer diapers that let me know if the baby needs a change without me having to actually change them. Babies go through enough diapers at that stage- few things are more frustrating than going to change your baby, only to realize the diaper is still completely dry. Not only is it a waste of a diaper, but both of my boys have disliked changes as babies, so it upsets them unnecessarily. The Mom to Mom diapers have a line down the front that changes from yellow to blue when wet, so with just one quick glance you can see that baby needs a change.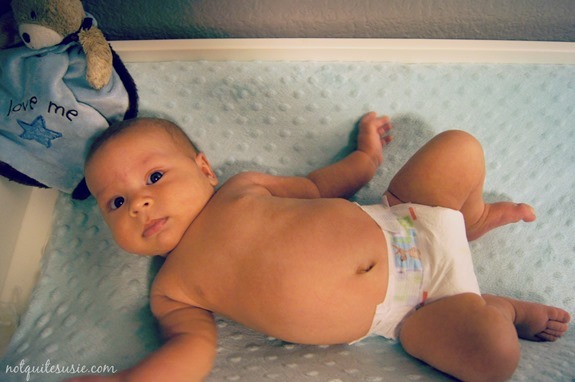 I really liked the fit of these diapers. Babies at any age vary greatly in size, but no more so than in the newborn stage. That makes finding a diaper that fit s right pretty difficult, and a lot of the ones we've used thus far with Zac have been much too large in the back. These diapers fit really well and contained everything just fine.
I also liked the cute little characters on the diapers. I know it's not something a diaper has to have, but babies are cute, so I like when their diapers are, too. The Newborn sized diapers that we tried had kangaroos on them, and I have seen some with tigers, lions, elephants, pandas, and giraffes- so cute!
On a more practical note, the diapers have a liner that is hypoallergenic and contains Vitamin E & Aloe to soothe baby's sensitive skin. My boys take after me with their highly sensitive skin, so this is a much appreciated feature.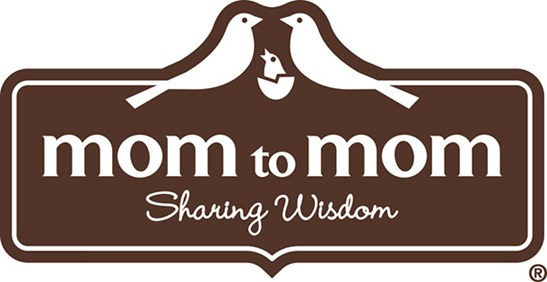 You can find Mom to Mom diapers & other products exclusively at your local Safeway or Safeway affiliate. Check out their website for locations near you or for more information!
What's your must-have feature for diapers?

This is a sponsored post written by me on behalf of Mom to Mom.