One of my favorite things about Easter is the candy. While I always got a couple of presents in my Easter basket, the sweetest part was always the candy that I dug out from a pile of Easter grass. Sometimes we had fun new treats in there, but every year without fail we got Peeps!
If Peeps are a big part of your Easter celebrations as well, you have to make these Peeps Rice Crispy Treats! They're a fun version of a classic with a little extra Easter on top. We're on Spring Break this week so I'm making them with Shane- just in time for Easter!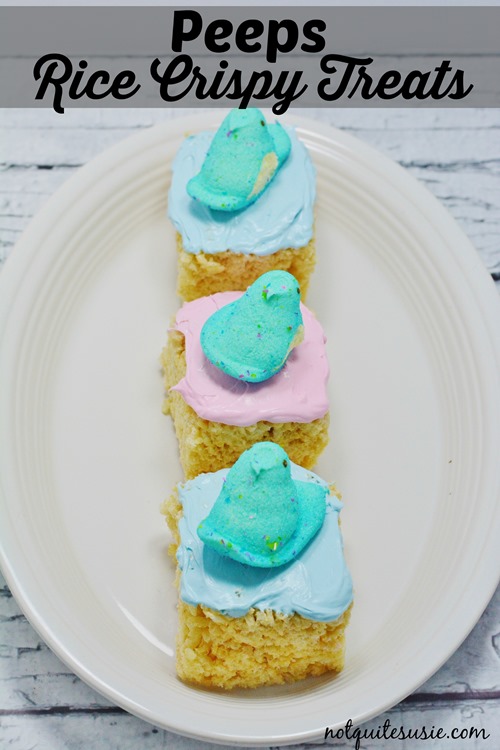 Ingredients:
1 Box of rice crispy cereal
1 Bag of mini marshmallows
¼ cup butter
1 Container of white whipped icing
Red and Blue food coloring
Peeps Birthday Cake flavored chicks
directions:
Step 1: In a large bowl combine the mini marshmallows and ¼ cup butter. Microwave for a minute at a time, stirring well in between until the mixture is smooth.
Step 2: Add the box of rice crispy cereal to the marshmallow mixture and stir together well.
Step 3: Place the marshmallow coated rice crispies into a 9 x 13 baking dish and press down firmly all over with a sheet of parchment paper.
Step 4: Put the mixture into the fridge to cool for at least 30 minutes.
Step 5: In the meantime, place one half of the container of icing into one bowl with a few drops of red food coloring and the other half into another bowl with a few drops of blue food coloring. Mix thoroughly until you have a bowl of pink icing and a bowl of blue icing.
Step 6: Remove the rice crispy mixture from the fridge and cut into squares that are large enough for a Peep to fit on top of. Put icing on top of each rice crispy treat square, alternating colors.
Step 7: Place a Peep on top of each iced rice crispy treat before serving.

What's your favorite Easter candy?

Thanks to contributor Kathleen for this delicious recipe!