I am so excited to be guest posting here for my friend Shell during her wedding week!!! 10 years ago (last week actually!) I married the man of my dreams and have been living in wedded bliss ever since. It's fun to be *almost* sharing a wedding anniversary with her.
When Shell asked me what I'd be guest posting about I wasn't sure at first. After thinking about it I realized, if I were getting married now, I'd want to know ways to save money and still have a great honeymoon. Most of us pay for our own honeymoons, and these days I don't know anyone who has a ton of cash to throw around. However, we all want our honeymoon to be memorable… So how can you do that? Is it possible to have a great honeymoon without spending a load of cash? Absolutely!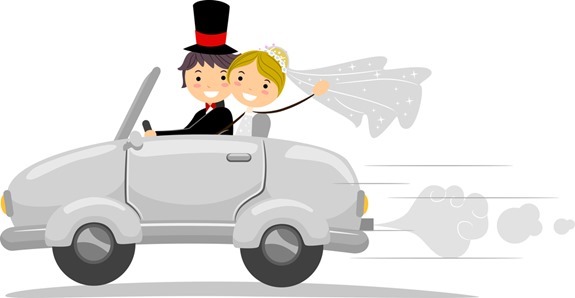 Consider your family- By that I mean, consider asking your family and close friends to contribute to your honeymoon as their wedding gift to you. Many will ask you if there's something specific you want for your gift, so be sure and suggest that! Maybe they can go in on airfare or hotel? Maybe they have tons of frequent flier miles accumulated that could go toward a sweet honeymoon destination for far cheaper than full price? We were blessed to have been "given" our honeymoon by my grandparents and my aunt. They paid for airfare and resort for 9 days in Maui. All that was left for us to cover was food, rental car, and activities. It was amazing to be able to take the little bit of cash we had saved, add that to the cash we got from the wedding, and go spend it in Maui.
Find a close destination- The further you fly, the more it's likely to cost. Consider honeymooning close to home where you can drive. It's likely cheaper than airfare, and the money you save can be spent on a room upgrade or additional honeymoon adventure/activity!
Plan on eating in- Book a condo or find a room that offers a kitchenette. It will be far cheaper to make your own meals than to eat every meal out, and it can be more romantic! Pack some candles and think 'quiet candlelit dinner for two' with no interruptions! Also, check and see if your hotel offers free continental breakfast and save yourself some cash. If you don't feel like staying up, go grab the free breakfast and bring it back to your room; You can catch some more zzz's and breakfast will be on the table when you wake up!
Find an activities site- When searching for activities to do on your honeymoon, try to find a local company that you can purchase activities through. For instance, when we went to Maui we had a huge list of things we wanted to do (we figured this was a once in a lifetime thing and we wanted to do all we could)! We found a website for a local company in Maui where we could see all there was to do, find different locations/companies and book/buy our tickets through the website. This made it easy to find what we were looking for, see all of the options available, and save money. Just do a search by typing in the name of the place you are going + adventures (ie: Maui adventures or San Diego adventures) and you'll find a long list of sites to choose from!
Look for deals and coupons- Check sites such as Groupon for deals on activities and dining. Check sites like quikbook.com or hotwire.com for deals on hotels. Check the lobby of the place you are staying for coupons on activities and dining. You're bound to find deals or coupons for most anything you want to do.
Thanks for the great tips, Alesha! While I'm gone on my mini-honeymoon, be sure to check out her site at FullTimeMama.com!