I received these products as a member of the Quarto STEAM Club. All opinions are my own. This post contains affiliate links.
School looks different for kids all over the country right now, whether they're learning from home via distance education, attending school with some changes, or just totally homeschooling. No matter what the case is, most of us parents are wanting to supplement that learning with some education at home- especially when it comes to subjects not always focused on in school.
STEAM stands for science, technology, engineering, art and math and while my kids have math every day, they barely work on any of the other subjects in elementary. Because of this, we've always made focusing on STEAM in our home- in a fun and engaging way- a priority.
Quarto Kids has a huge selection of amazing books that can help! They have biographical books about people through history in STEAM fields, they have educational books to explore based on all kinds of STEAM subjects, and my favorite of all- they have books full of ideas, experiments, and projects that families can do at home for some hands-on STEAM education!
This fall, the Quarto STEAM Club Picks are perfect because they encourage kids to unplug after school, get outside in the fresh fall air, and spend time learning together as a family. And without further ado, here are this season's picks!
Experiment with Outdoor Science: Science isn't limited to the classroom—it can be found out in the garden! This photographic book of experiments and projects covers covers chemical reactions, states of matter, microbiology, and much more—all with materials and equipment that can be found at home.
Stanley Jr. Woodworking is Awesome! Jump right in with an introduction to building with wood! A complete basics section on tools and skills teaches kids the ground rules. (They'll also learn when parents will need to lend a helping hand in the wood shop.) The rest of the book is all about the projects, including easy builds and more challenging ideas. Chapters and projects include:
Fun and hobby-related projects like a birdhouse, toss across game, and catapult!
Handy projects like a tool carrier and workbench.
Gifts, including a picture frame and jewelry box.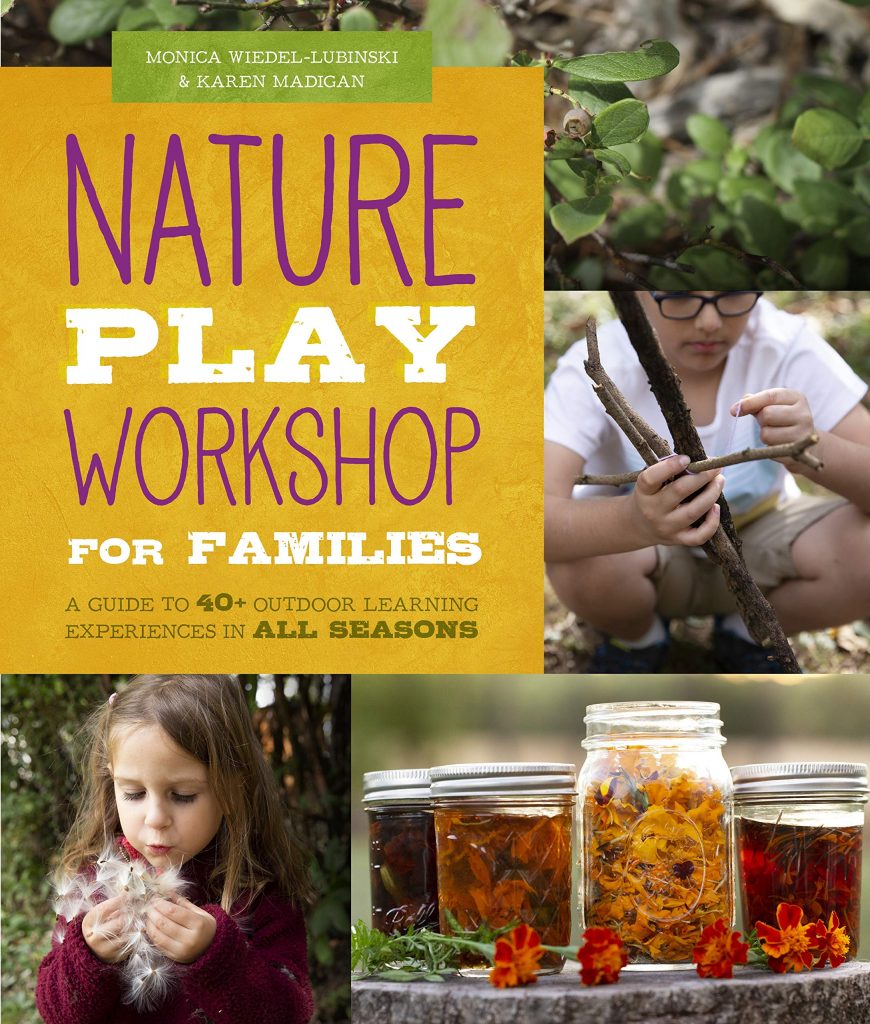 Nature Play Workshop For Families This insightful guide balances nature play experiences with hands-on projects using natural materials and is an ideal jumping off point for immersive nature play.
Examples of nature-based child experiences outlined in the book include:
Wildlife observation and tracking
Nature sounds, songs, and poetry
Gardening and cooking with wild edibles
Printmaking, charcoal drawing, dyeing, and shadow play
Journaling inspired by nature
The Unplugged Family Activity Book Get ready for kid-approved ideas that celebrate the great outdoors year round! Whether you're building forts or making fresh cider, there's something for every kid and every season. Host a springtime tea party, where you'll nibble shortbread cookies and make a mossy teacup fairy garden. Or gather with family for a summer potluck party. Blow giant bubbles, race leaf-and-bark boats, or camp out in your own backyard.
Super Science Experiments: Outdoor Fun  This fact- and fun-filled book includes tons of simple, kid-tested science experiments, many of which can be done with items from around the house, and require little-to-no supervision! That's right—no adult help needed. That means no grownups doing all the fun stuff while you watch. You can do lots of messy, cool, mind-blowing experiments all by yourself! All the supplies you need are probably already in your home. No fancy gadgets or doohickeys needed!
Concoct crazy drinks that will make you think!
24-Page illustrated activity book guides young scientists through 20 wild & wacky experiments they can actually drink.
Mix up purple potions, Alien ice cubes, and glowing slime, then switch on the included UV light to see your glowing concoctions.
Stem focus: chemistry and food science
Ages 8 and up
We've been spending the last couple of weeks adjusting to our new school routine, and now that we've settled in we are so excited to try some of the experiments in these books!
We have the kids take turns choosing which activity or experiment we should try next and it's really great having so many options- it means the kids can always find something that they're interested in!
If you're looking for great STEAM focused books full of activities to do with your family, be sure to check out the selections above. These would also make great gifts for the budding scientist in your life!
How do you encourage STEAM learning at home?