This post is brought to you by iD Tech. All opinions are my own.
We are a month into summer break right now, and of course, this break has definitely been a lot different than in years past. Since it's really hot in Vegas all summer, we're actually kind of used to staying inside the whole season. Usually that just means visiting museums and indoor water parks and having fun visiting friends, but this year those things aren't options. Since we can't do all that this year, I've been looking for other ways for the kids to have fun and stay engaged from home.
It can be hard to find activities that are both educational and fun when you can't leave the house, but luckily iD Tech makes that easy! They offer a variety of really great Virtual Tech Camps that let kids learn while doing something they enjoy from their own homes!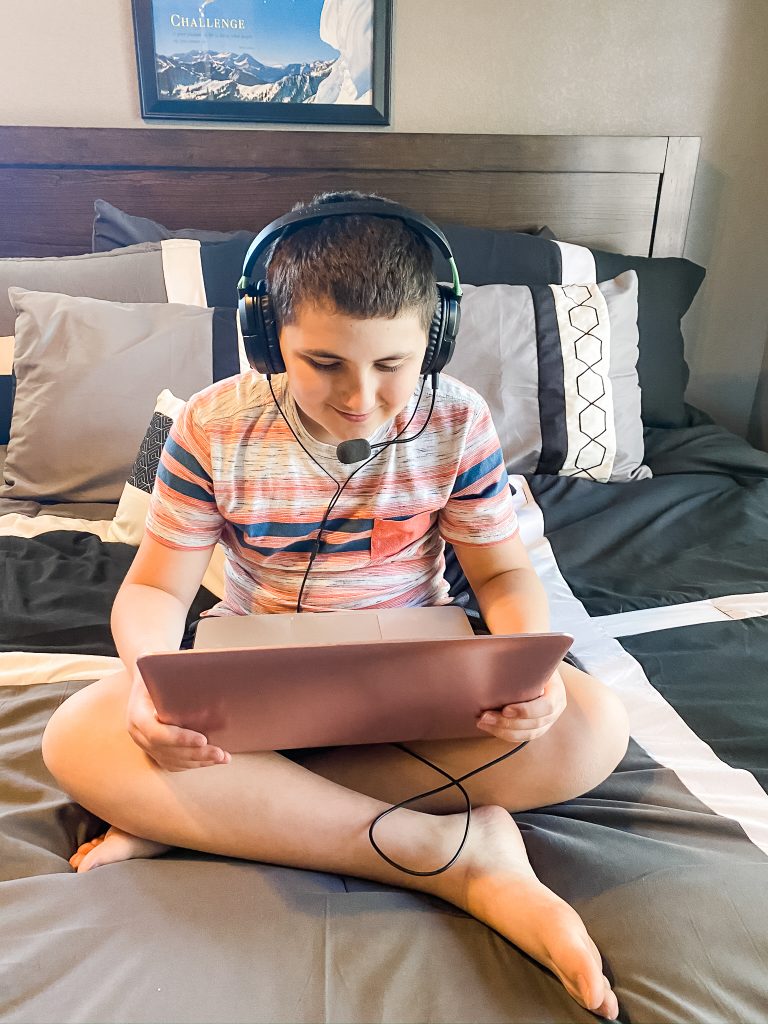 Every iD Tech Camp is based on a different type of game or activity, and there are a variety to choose from. Each one includes 2 hours of live instruction and 2 hours of self-paced project development every day, Monday-Friday, for one week. The camp has a maximum of 5 campers, that way the group can really get to know each other and the instructor has plenty of time to teach and to work one-on-one with kids when needed. There are different camps for different skill levels from beginner to advanced so each kid can find the right level for them. Camps are also grouped by age so each participant is working with a group of their peers, and camps are geared towards kids 7-19.
Last month, Shane signed up for a week-long Minecraft Adventure Design Camp and he absolutely loved it! Each day, he got online at a specific time to meet with his instructor and just four other kids to work on their Minecraft worlds. The instructor gave them general instructions to help guide them while creating their Minecraft worlds, but allowed them to be creative. He was on hand for the entire 2 hours per day to answer any questions that came up and offer any tips that the kids asked for.
The camp instructor was amazing, and had Shane feeling confident in speaking up in no time. He often struggles with things like that, so it really says a lot that I heard Shane voluntarily participating so much! All of the instructors for iD Tech Camps are adults that have been carefully vetted and recruited from top universities. Many of them are the same talent sought by companies like Google, EA, Tesla and Disney- so you know they know their stuff! They all go through meticulous background and reference checks as well, so you can feel safe entrusting your child's education to them.
In addition to learning throughout the week, Shane was able to chat with the other kids in the camp as well, allowing him a chance to socialize with kids with similar interests- something he hasn't really been able to do in the four months that we've been home. It was really nice to hear him laughing and talking to other kids for a couple of hours every day, and since he had the same campers with him all week he really got to know them!
At the end of the camp, I received an email with feedback from the instructor that shared what they covered and how proficient Shane had become in each area. I was thrilled to see that he had learned so much in just one short week! It really helps to have kids learning about something they already really enjoy, and I think seeing how far his level was coming every day gave him motivation to keep going.
Shane has been playing Minecraft for years, so he already knew some of the basics going into the camp. That said, he still came out of the camp having learned a lot that he didn't know before! The camp would be great for any Minecraft player, whether they're brand new or have been playing for a few years like Shane.
Not only was I happy that Shane had something to engage him and keep his mind going this summer, but I was glad that he was able to still have a little bit of "normalcy" this summer. While he may not be attending a day camp in person, he was still able to have a few hours dedicated to something he loved and got to spend time with other kids. It's definitely our recommendation for summer camp this year, and I'm so glad he did it! I can tell he really loved it because he's already asking to attend another session!
Check out what Shane had to say about his experience in his own words:
Camp was so much fun! I learned how to make my own adventure map and texture pack. My instructor was great. He taught me very well. I would love to do camp again.
If your kids are into tech, game design, or coding, I highly suggest checking out iD Tech Virtual Camps this summer! There are several camps to choose from- they have other Minecraft camps, like Minecraft Modding with Java Coding and Minecraft World Designer. They have camps for other games like Roblox and Python as well. And if your kids are ready to take it up a notch, they have lots of other coding and game development camps as well. They even have camps for 3D Modeling and 3D Printing!
SAVE BIG
Interested in signing your kids up for iD Tech Camp? Click right HERE and use code SHELL125 to save $125 on any Virtual Tech Camp!