This post is brought to you by a guest contributor and is paid placement. It's also great advice!
If your child has lice – remain calm! Take a deep breath, we'll get you through this.
In fact, lice removal isn't as dramatic as you might think! All you have to do to get rid of lice is physically remove them from the head with the wet combing method. The wet combing method is safe, effective, all-natural and simple. All you need is water, conditioner, and a lice comb!
Here's what you need to know before you get started:
REMOVING THE NITS IS VITAL
As you shop for lice removal solutions, you might find many products that claim to kill lice. And they do! But they don't kill nits, and that's why they don't work. Nits are lice eggs and as long as they remain on your child's head, they will continue to hatch and produce even more lice. The ONLY way to kill nits and end an infestation is to physically remove them from the head.
LICE FREEZE IN PLACE WHEN WET
Why do you need water in the lice removal process? Because lice freeze in place when they're wet, making it that much easier to capture and remove them. By keeping your child's hair damp throughout the combing process, you'll have the lice exactly where you want them!
YOU DON'T NEED PESTICIDES TO GET RID OF LICE
Did you know that if a chemical claims to kill a pest, it's considered a pesticide? We don't want to put harsh chemicals on our children's heads, and we don't expect you to either. And with the wet combing method, you don't have to! It's all about the natural, physical removal of lice. No pesticides required!
HOW TO REMOVE LICE AND NITS WITH THE WET COMBING METHOD
All the tools you need for the wet combing method are sold together in the Dollar General Lice and Nit Removal Kit with WelComb®! The kit includes:
Conditioner to lubricate the hair, making it easy to see lice and nits as you comb them out. (Don't worry, it's free of harsh chemicals and ineffective oils!)
A Detangler Comb to remove tangles and evenly distribute conditioner throughout the hair.
A WelComb® that has rigid teeth just the right distance apart so no louse or nit can slip through and a beveled edge that allows you to get right down to the scalp where lice and nits like to hide.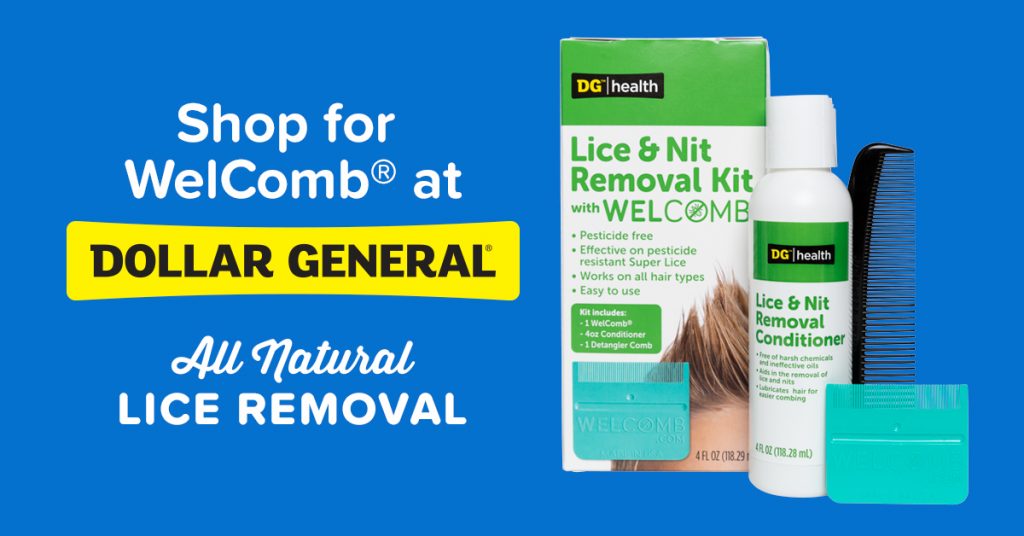 Visit your local Dollar General today to purchase a kit! You can also find detailed wet combing instructions and an instructional video in English and Spanish at www.welcomb.com.