This post is brought to you by Solay Sleep. I received the Solay Sleep Premium Foam Pillow to facilitate this review and was compensated for my time- however, all opinions are my own.
One of the most important things we can do is get a good night's sleep. We spend a third of our lives sleeping- or at least, we're supposed to if we aren't tossing and turning all night- and it's important to do so comfortably. A bad mattress can cause you to have pain during the day, including headaches, backaches, and more. Not getting enough sleep can cause irritability, anxiety, and can even impact your immune system.
Getting good sleep is so much easier said than done though, with an endless to-do list, kids who can't sleep through the night, anxious minds that won't turn off and uncomfortable beds. Ironically, getting a good night's sleep can help make it easier to tackle all of those things- well, except for the bed. But that's where Solay Sleep comes in!
The first step to getting a good night's sleep is making sure that you have the best environment for successful sleep. That includes turning off electronics in your room at least half an hour before bed, making sure the room is cool enough to be comfortable, having comfortable sheets, blankets, and pajamas, and most of all- having the right mattress and pillow.
Solay Sleep makes premium foam pillows and a high-quality mattress that can help you get the shut eye you need. Their mattresses combine breathable cooking foam layered on top of hundreds of springs for the most restorative, comfortable- and affordable– night of sleep you've ever had. If you buy one, you can rest assured- it comes with a 180 Night Trial AND a 25 year Warranty!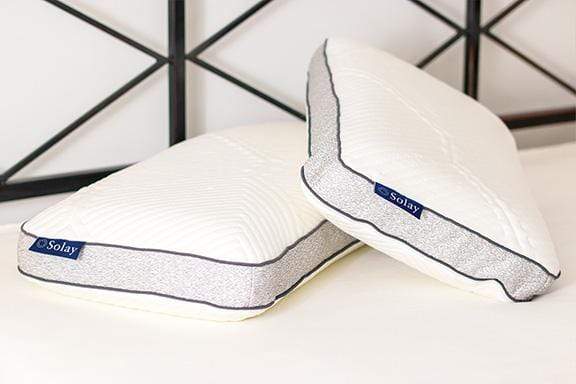 To add even more comfort, the Solay Sleep Premium Foam Pillow is the perfect addition to a Solay Sleep mattress, and is also designed with premium cooling foam. The pillow offers comfort and support without being too heavy or hot- I've been using one lately and it's been so nice here in Vegas where it's still 105 degrees at midnight! The pillow is available in both standard and king size, and is so worth trying out!
You can save $100 on your purchase of a Solay Sleep mattress when you click this link and use offer code SHELL!