This post is brought to you by the American Chemistry Council.
I was eight when my brother was born, so I remember childproofing the house. I mostly remember the annoying latch on the toilet seat I could never quite figure out without help and I remember my mom adding a jingle bell to the front door so we'd notice if he tried to run away. I'm sure my mom did more than that, but it went unnoticed by me.
Now that I'm the mom, and I've had two of my own babies who like to get into things, childproofing is an ongoing effort. Beginning at birth but continuing to this day, I'm constantly making adjustments as needed as my kids get into new stages. When you have your own kids, pretty much everything seems like an accident waiting to happen- so much so that it can be hard to figure out what's a real threat and what's not. Research is always happening so ideas about what's good or bad for our kids is ever-evolving, so it's difficult to figure out what's true, what's exaggerated, and what's just an old wives' tale. Below are some of the current myths about child safety as it relates to chemicals we're exposed to all the time- and what that means for your family!
Myth: Your kids should never, under any circumstances, come into contact with BPA.
What it is:  BPA is a chemical used to make hard plastic. A lot of products are made using BPA, including sports safety helmets, skis, snowboards, car parts, electronic devices, and many more items you use every day.
The truth: BPA is actually one of the most thoroughly tested chemicals in use today – and has a safety track record dating back to when most of our parents were kids. In February 2018, the Food and Drug Administration (FDA) released initial findings of the largest study ever conducted on BPA. The statement from FDA answered the question "Is BPA safe?" with a resounding "yes." FDA found that typical exposure to BPA would not result in the development of adverse health effects.
What's next: The study will undergo a peer review process this week, and if the result is still the same the FDA will publish those results in a scientific journal.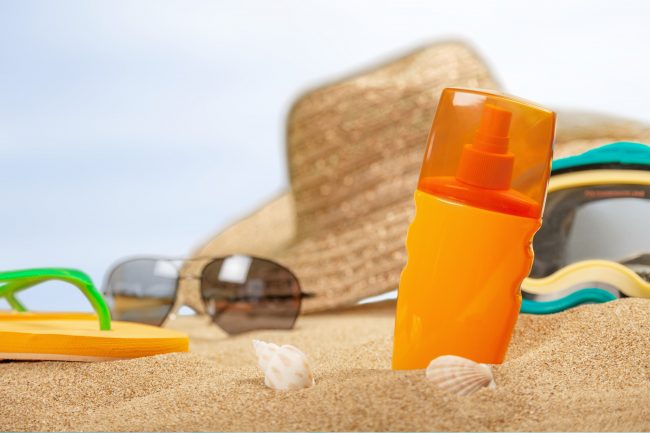 Myth: Sunscreen is toxic.
The claim: Recently, it's been said that ingredients used in sunscreen, like titanium dioxide and zinc oxide, are toxic and should be avoided.
The truth: You know what's actually harmful? Too much exposure to the sun. The FDA has rigorously tested and subsequently approved 17 different ingredients for use in sunscreen, including those chemicals that are often said to be dangerous. Too much sun exposure can cause sunburns, premature aging, and of course, skin cancer.
How to Reduce Exposure: Honestly, unless you plan to only leave the house at night, I don't recommend skipping the sunscreen- especially for your kids. Chemicals currently used in sunscreen have been tested and approved by the FDA, and over-exposure to the sun is known to cause all kinds of problems.
Myth: Organic food is pesticide-free and better for you.
The claim: Organic produce and other organic foods are labeled as such because they don't use pesticides.
The truth: Organic farmers use pesticides as well- they just use "natural" ones, referred to as biopesticides, instead of "synthetic" ones. The U.S. Department of Agriculture's list of approved pesticides for organic farmers even includes some substances considered slightly toxic, like copper sulfate. It is also worth mentioning that the synthetic pesticides used are just has highly regulated by the EPA as biopesticides are to make sure there's minimal risk to humans, animals, and the environment.
How to Reduce Exposure: Organic foods cost more to produce and in turn, cost more to purchase. If you're still concerned, do your research, talk to your local grocers' or farmers market vendors to find out more about how your food is produced.
Myth: There are tens of thousands of untested chemicals in products you use every day, like beauty products, processed foods, and more.
The truth: For the last 35 years, no new chemical can go on the market to be used in products without undergoing an EPA review.
What's next: A new law was recently passed that requires the EPA to go back and update the inventory of chemicals used today. The law also gives the EPA more authority to review any chemical at any time to better protect the public health and the environment.
When you hear people say the word "chemical," you probably think of things like bleach and gasoline. However, everything you touch is made of chemicals- it's just a matter of making sure that they're used safely. There are enough scary things to worry about with our kids- rest easy knowing that those things you come into contact with regularly are tested and approved!
To learn more about the use of specific chemicals in daily life, check out these websites:
https://www.chemicalsafetyfacts.org/
https://www.americanchemistry.com/LCSA/