This post is sponsored by Clorox®.
Our time is divided- not very evenly- between things we want to do and things we have to do. Hanging out poolside all summer? Something we want to do. Cleaning the toilet in a house full of boys? Something we have to do.
But that doesn't mean the things you have to do can't be made better! While the bathroom cleaning fairy is yet to make her way to my house, I find ways to make it more fun. I might wear fun gloves or enjoy a special treat after I'm done- or, in this case, I might use cleaning products that let me pretend that I'm somewhere a little more tropical!
I recently received a very summer-centric box from Babbleboxx that had all kinds of fun goodies in it- click here to watch my unboxing video on YouTube!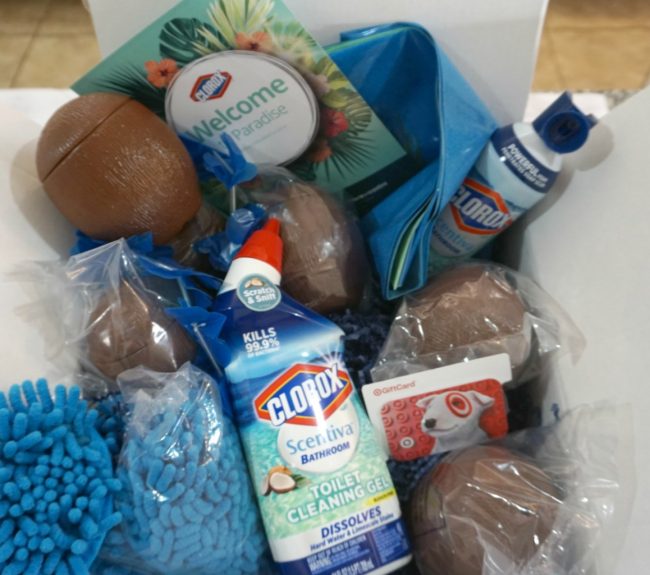 The new line of Clorox Scentiva Pacific Breeze and Coconut cleaning products can instantly transport you- or at least your senses- to memories of summers past, or the dream of summers future. Instead of burning my nose with the smell of cleaning products, I get to remember the days my mom put way too much sunscreen on me and I ruined my dinner with one too many ice pops.
There's a whole line of summer scented products, but the ones I picked up at Target were the Clorox Scentiva Pacific Breeze and Coconut Foam Cleanser, which is amazing at cleaning up soap scum. Justin leaves for work at 4am and takes a shower before he goes- but then he has to shut the bathroom door behind him so the sunlight from the bathroom window doesn't wake me up too early. Because of that, soap scum and sometimes even mildew can show up pretty quickly since there's just a ton of moisture in the bathroom, and in the past scraping that all off the shower and tub has been a HUGE job. This foam cleanser just cut right through all of that and made clean up a breeze! It even tackles my kiddo's bath crayon doodles.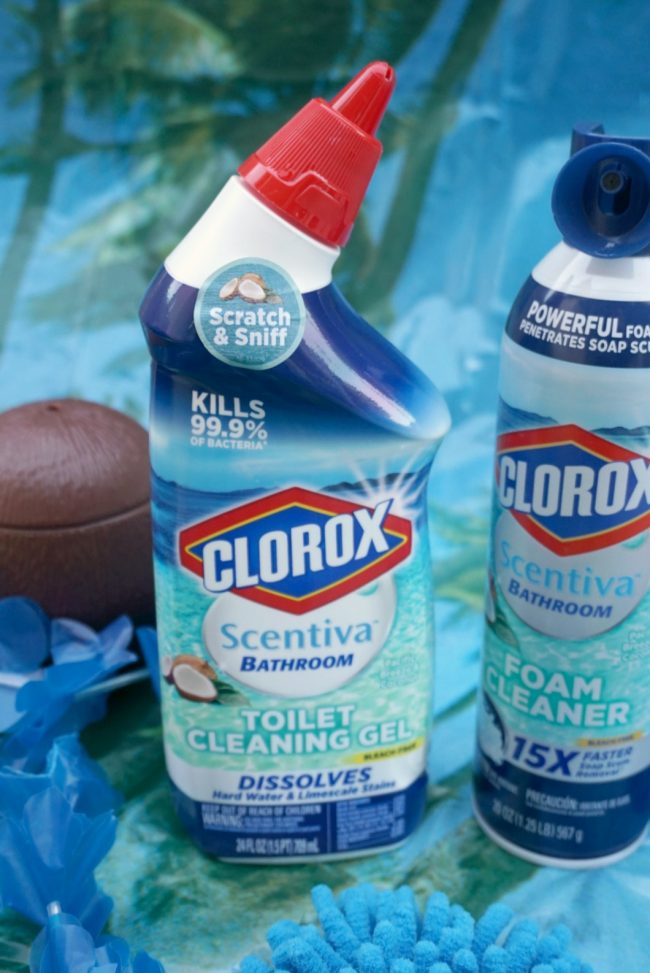 I also purchased the Clorox Scentiva Toilet Cleaning Gel, which not only kills 99.9% of viruses and bacteria but also dissolves hard water and lime scale- a major issue we have with our water here. I put the cleaning gel to good work and tested it and I could not believe how much of the hard water staining it took off! I thought we were just going to have to live with some of those stains and Clorox totally saved the day on that- while making our bathrooms smell amazing! I'll spare you the photo of our toilet, but trust me when I say it's SO much better!
Cleaning doesn't have to take all day, and it can be rewarding, too. Now I don't try to avert my gaze every time I walk into the bathroom so that I can pretend I don't need to clean, and my house smells like a tropical beach! I still won't say cleaning toilets is a want to do… but since I have to do it, I'd rather do it with Clorox Scentiva Pacific Breeze and Coconut scented products!
You can find Clorox Scentiva Pacific Breeze and Coconut products right now at your local Target.