This giveaway is brought to you by Lionsgate. All opinions are my own.
I grew up with My Little Pony, and while they may look a little different now than they did a couple of decades ago, they're more magical than ever! They also finally have their own movie and it's out today!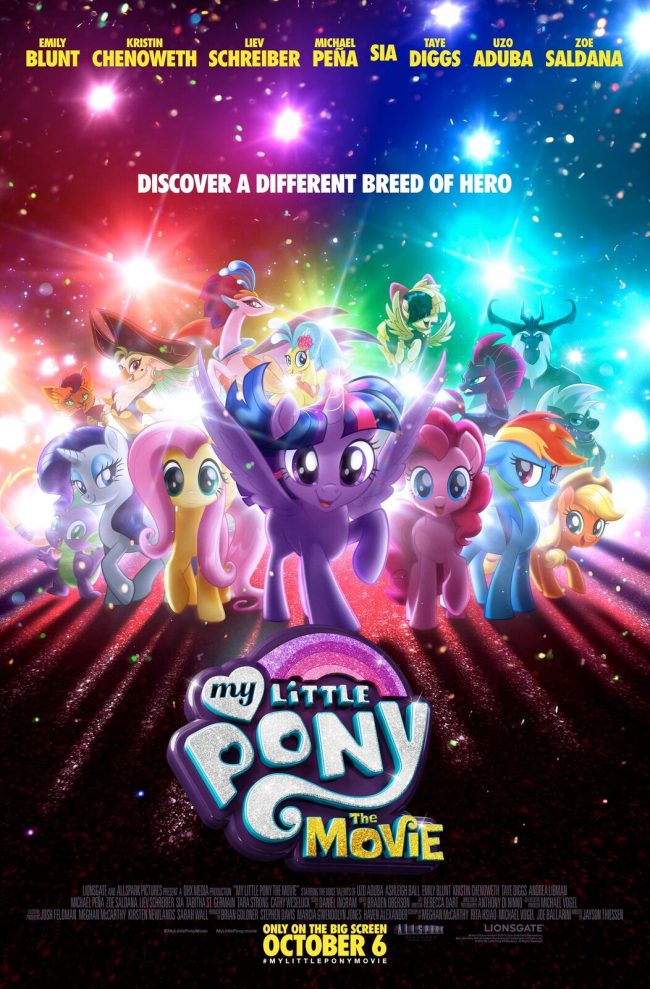 About the movie:
A dark force threatens Ponyville, and the Mane 6 – Twilight Sparkle, Applejack, Rainbow Dash, Pinkie Pie, Fluttershy, and Rarity – embark on an unforgettable journey beyond Equestria where they meet new friends and exciting challenges on a quest to use the magic of friendship to save their home.

The film has an all-star voice cast including Emily Blunt, Kristin Chenoweth, Liev Schreiber, Michael Peña, Sia, Taye Diggs, Uzo Aduba and Zoe Saldana. The movie features original music and songs performed by Sia, Diggs, Saldana, Chenoweth and Blunt.
Whether you also grew up with My Little Pony or you just have kiddos who love it, this is sure to be a movie for the whole family to enjoy.
My Little Pony: The Movie is now officially in theaters and to celebrate, I made this delicious Magical Pony Candy Bark! You can make it at home with just a few ingredients- kids can even help with the sprinkles!
My Little Pony Candy Bark
Ingredients:
Wilton Bright Pink Candy Melts
Wilton Blue Candy Melts
Wilton Lavender Candy Melts
ChocoMaker Blue Shimmer Rock Candy
Blue Pearl Sprinkles
Pink Pearl Sprinkles
Directions:
1. Grab a cookie sheet or rectangular cake pan and line it with wax paper.
2. Pour blue candy melts into a bowl and microwave for one minute. Stir and continue microwaving in 15 second increments, stirring after each time, until fully melted.
3. Repeat with pink and purple candy melts, each in their own separate bowls. While those are in the microwave, pour half of the bowl of blue candy melts onto one of the cookie sheets. Spread into a thin layer- not so thin that you get gaps in the candy, but just a little less than that.
4. When the pink and purple candy melts are done, use a spoon and pour about half the bowl over the blue in streaks. I found the easiest way to be just letting the candy melts drip off the spoon while constantly moving the spoon up and down and side to side. This does not- and should not- be exact! Feel free to have fun with it.
5. Next, repeat the process but backwards. Pour the remaining yellow candy melts into the second cookie sheet and spread into a thin layer. Add the rest of the blue candy melts on top, again randomly.
6. Immediately cover in sprinkles as desired! I thought the shimmer rock sprinkles were perfect for the adventure the ponies go on in the sea in the movie but you can use any brightly colored sprinkles.
7. Place into the fridge for about half an hour or until fully solid and cold. Lift bark up over cookie sheet and break into pieces! Store in a food storage bag in the fridge to prevent melting.
Giveaway
To celebrate the new movie, one lucky reader will win a $50 American Express gift card to see the film in theaters PLUS a Hasbro My Little Pony: The Movie Princess Skystar Glitter and Style Sea Pony Playset! To enter, just use the simple form below. Good luck!
a Rafflecopter giveaway

{Giveaway open to U.S. only}