Since we bought our house almost seven years ago, it's been overrun by toys. Shane was just under a year old when we moved in so we've always had young children in this home, and it's always been silly to try to decorate because it was always just full of kid clutter anyway. Now that the kids are getting a little older, I'm trying to start adding little touches of decor here and there- nothing too big, since we plan to buy a new house soonish, but small touches that help our house feel more like a home.
One of the things that has been making me smile lately is the addition of a few Chesapeake Bay Candles from the Alassis collection. We added two candles to our nightstands on either side of our bed- the Alassis Blush Orchid & Plum 2 Wick Candle for me and the Alassis Verbena & Cedar 2 Wick Candle for Justin- and the larger Alassis Lotus & White Tea Deluxe 3 Wick Candle downstairs by our couch.
One of my favorite things about the candles in our bedroom is that I was able to match them- without matching them. Since I have two of the same style they balance each side of the bed out, but since they are different colors and scents they are perfect for each of us.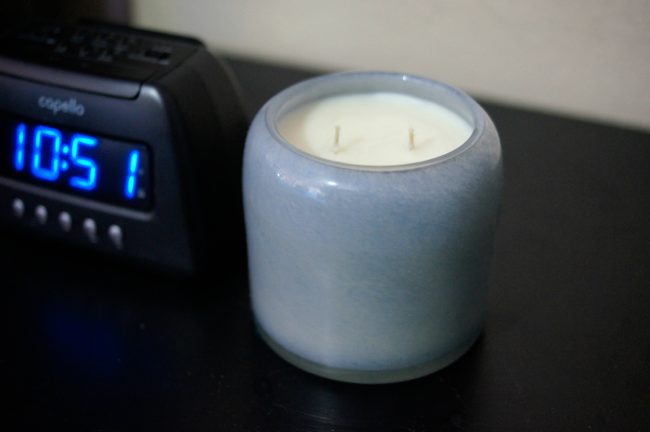 The soft, flirty scent of the Blush Orchid & Plum candle on my side and the light pink color makes me smile, while Justin is glad his candle is grey in color and a more "manly" scent since it has Cedar and Sandlewood. It has other components as well, such as orange zest and white rose, so it's not an overpowering scent by any means. It's very balanced and something that we can both enjoy.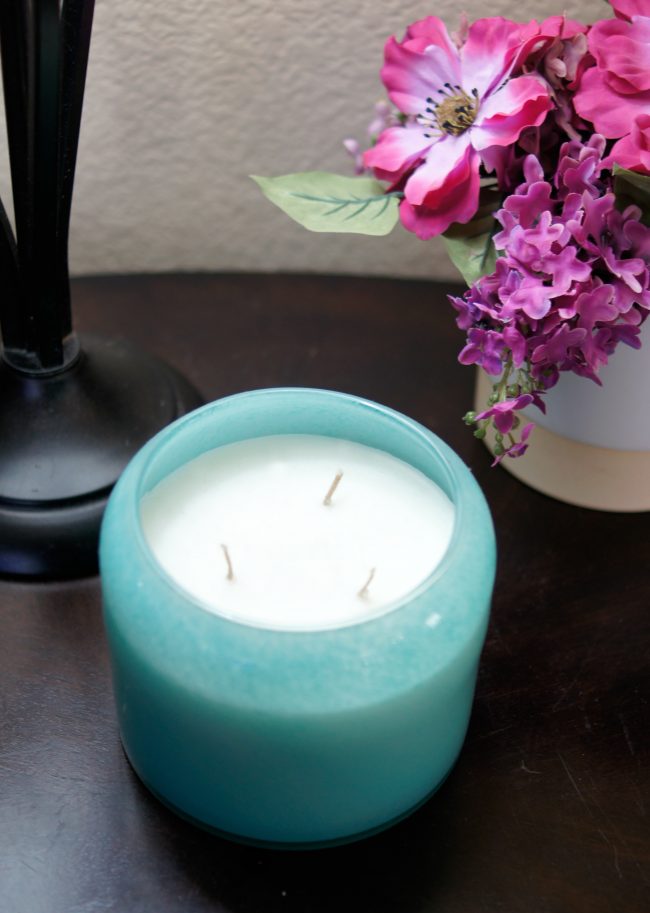 The Lotus & White Tea candle we have by the couch contains lemon rind, dandelion, marine notes, lotus, white tea, and eucalyptus. Together, they make our home smell like summer and I can't get enough of it! Every time I go to the table near the couch to grab the remote I am always pleasantly surprised by the scent of the candle- even when it's not lit- and it makes me happy!
I love the way they tie everything together, and I love the way the candles smell! I tend to be a little sensitive to scents sometimes- they can make my nose itchy- but these never do that. They can make the entire room smell nice when I light them, and even when they aren't lit they make the area surrounding them smell nice.
I also love the way the candles look- they look like art pieces to me. Each candle is contained in a hand-blown art glass and it just elevates it so much. Each candle comes in a pretty gift box, too, making it the perfect gift for Mother's Day!