This shop has been compensated by Collective Bias, Inc. and its advertiser. All opinions are mine alone. #StreakFreeShine #CollectiveBias
I have two young boys who hardly ever stand still. Between the crazy shenanigans they're always up to and the creative imaginations they have, they can make quite the mess. They always leave toys and snacks everywhere, and pretty much every surface of my house has fingerprints all over it. I try to tidy up before bed every night but it's amazing how much mess they can accomplish, even before breakfast!
Normally I don't mind the mess and I allow our house to look "lived in", since it is. However, when guests come over, I want it to look at least mostly clean. All of our parents live within 10 minutes of our house, so we have had our fair share of calls with an unexpected "See you in a few minutes!" at the end. As much as I love seeing my parents and my in-laws, I don't typically want them to see the mess the kids have made- at least not in its entirety!
Over the years, I've figured out the five most important things you do when you only have a few minutes to clean. These are the things that you can do quickly that will have the most impact on what the house looks like. Below is my list of must-do's- and underneath that, you can grab a free printable checklist to keep on hand for those emergency cleaning situations!
1. Pick up toys, books, and other clutter. If you don't have time to put everything where it goes, throw it all into a bin, a laundry basket, or a reusable grocery bag. Just don't forget to put everything away when your guests leave!
2. Clean the sink. If you have any dishes in the sink, stick them in the dishwasher. Be sure to also take a sponge to it to clean up any leftover food or drink messes!
3. Run the vacuum. Don't have time to vacuum everything? Then get at least the edges, where fur, hair, and dust like to hang out. It's easy to tackle these areas with a handheld dust buster, which means you can just spot clean as needed without pulling out the entire vacuum.
4. Set the table. You don't have to put out a full setting- just throw a clean tablecloth and a decoration on the table to tie the room together.
5. Clean the glass! Our house has a lot of cut-outs and lots of windows- which means lots of glass! They are really nice to have and allow us to get a lot of sunlight and make it easier to see the kids wherever they are, but when they're covered in fingerprints they are the first thing you notice in our house. I keep a pack of Windex® Original Glass Wipes on hand so that I can always wipe down any obvious streaks or fingerprints, no matter how little time I have.
Grab the checklist by clicking here or on the checklist below!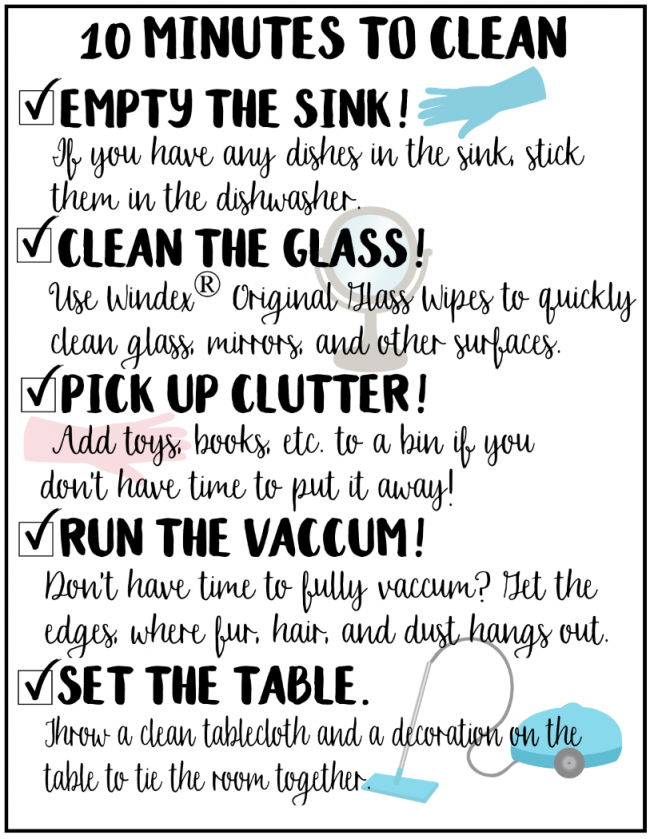 We use Windex® Original Glass Cleaner wipes and spray for all kinds of things in our house! I have a pack of wipes and a bottle of the spray upstairs and downstairs at all times. There's a reason they've been trusted for generations- the products don't leave streaks and are great for all kinds of things, including cleaning windows, mirrors, glass shower doors, glass top stoves, and more. It's formulated with Ammonia-D®, which means it starts working on fingerprints, dirt, and anything else even before you wipe!
You can find Windex® Original Glass Cleaner products at your local Kroger or Kroger affiliate store! I picked up a couple of new packs of wipes and the sprays at my local Smith's the other day, just in time for Spring Cleaning. Whether you have someone who often stops by with little notice or you just have lots of fingerprints to tackle, be sure to stock up today!
Learn more about Windex® Original Glass Cleaner here and check out the Don't Stand for Dirty website, where you can find fun DIY ideas and more information about Windex® products. Be sure to follow Windex® on Facebook and Twitter, too!