A couple of weeks ago, I told you about one of my new favorite shows- The Real O'Neals. Last month in LA I had the chance to interview some of the cast and the Executive Producers, and I shared the first part of that interview here! In honor of tonight's brand new episode, "The Real Retreat", I'm sharing the rest of my interview- along with a sneak peek at the new episode!
On tonight's episode:
When Jimmy is unexpectedly named Leader for the weekend at the Youth Retreat, a jealous Kenny decides to take on his older brother's role as ring leader of the bad kids. Home alone without the kids, Pat invites a new lady friend over, and Eileen can't help but enlist Jodi to spy on them, with surprising results.
Catch "The Real Retreat" airing tonight, Tuesday May 3rd at 8:30/7:30c on ABC!
If you missed Part One of The Real Interview, be sure to check that out here. And below find Part Two!
On raising dogs:
Mary Hollis Inboden: I got a poodle mix, and he's the best thing that ever happened to me. A Cavapoo- a King Charles Cavalier Poodle, and he's a regular teddy bear. Raising puppies and dogs is no joke. It's having a child.
Matt Shively: I realized that it doesn't matter the size the size of bed you have anymore. Last night, it literally slept on my side, and I was like, I can't move. But I have a king-sized bed that just doesn't get used anymore. There's so much room.
On trying to stay serious while filming:
Mary: Let me tell you something about this guy [Matt]. This guy is our all-star improviser; most hilarious person- goes off the cuff the most; makes us all laugh. He and Jay [Jay R. Ferguson, who plays Pat], when they're filming, it takes hours for them.
On their favorite parts of working on the show:
Mary: Obviously we're very fortunate to be just working.  It's just nice to get a job in this business. But it's really cool to get on a show that you really like, and we really like the show. We really like the message of the show. We think the show is not preachy in any sort of way but really inclusive in an interesting way and we all have such a good time with each other. I mean, we really can't stop hanging out.  So we're so fortunate all the way around. It's not typical, we hear- we have a lot of different personalities on these sets, and we have to work really long hours, and it can get kinda grueling, but we can't stop hanging out.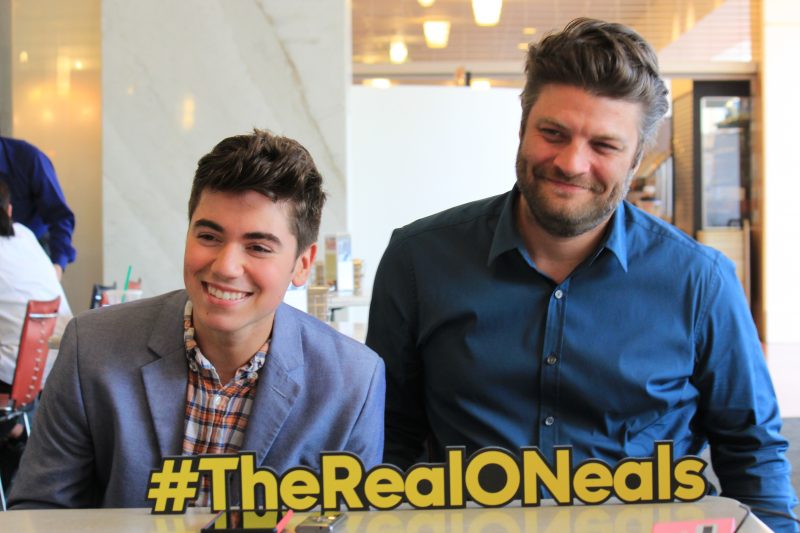 On how Jay got involved in the show:
Jay R Ferguson: My audition process was very nonexistent, really. I had a situation that existed previous to the show with ABC Studios, and we were trying to find something to do together and this came. I was working on something else, actually- developing something else with somebody, and this came along. I was really excited about this thing that I'd been working on developing but this was calling my name because I was a big Dan Savage fan already, and I thought the script was so well done.
I was excited to get to play a dad that was not going to be an old stereotype of someone who reacts with anger and shame, but actually doing what really I believe is a more of the contemporary version of what dads are like now when they have to react to that sort of thing- embrace it, and accept it, and just say I love you. So all of those things combined. I had an opportunity to come in and sit down with David, Stacy, and Todd, [the Executive Producers] and a couple of our other producers. We talked about what the trajectory of the show was going to be, and the trajectory of my character and throwing different ideas around and that was really it. They were very gracious in offering it to me and after consideration, I gladly and excitedly accepted.
On their favorite scenes:
Noah Galvin: I was excited to eat that cake [in the episode "The Real Grandma"]. All week, I was so stoked, and then of course, me and Martha [Plimpton, who plays Eileen] didn't film the tag which was us on the porch eating the cake until 3:00am on Friday. And it was after three meals, and they had brought in pizza for the first time ever. I went a little too hard on the pizza; but at 3:00am, they're like, "Now eat three slices of rainbow cake.
Jay: I don't know if I have a favorite scene. I definitely have favorite lines. Mine's more about the moments that made me laugh while we were working, and those are always the ones that I look back on with the most fondness, and the ones that inevitably crack me up the most once I see it on TV.

On how the casting process worked:
Casey Johnson: We were really lucky. We got Martha and Jay pretty early on. Then we got Matt Shively, and Bebe [Wood, who plays Shannon], and Mary Hollis, but we didn't have our Kenny yet. It's a big piece of the show- really, really important- and we'd been working with some other actors that we weren't quite sure about, and Noah was in New York. He's a theater actor. He'd been on Broadway since he was thirteen but had never done a show- had never acted in front of a camera before.
We saw his tape and it's kinda that crazy story that he flew out here and did a screen test for us, and in about a minute, we all felt it. We were like, this is our Kenny. It was really neat, and then we got to show it to the executives, and they all felt the same way. Everyone immediately was very excited.
On how the cast makes their job easier:
David Windsor: But they're all so amazing. They instantly bonded; they hang out with each other outside of work. They're a family and that just makes our job so much easier because you can only write so much of that, and the rest of it has to sort of happen organically and luckily with them- they love each other so much.
Stacy Traub: From the pilot, they had that chemistry. Jay was on Mad Men, and he said they used to always play games during the downtime, so during the pilot, he brought all these games, and he was the one who kind of was like, "We're doing this." Some actors just go off to their trailer; they want to do their own thing, and he really made them this family.
On trying to determine how far to go with topics:
David: I think we always come out at what is real; what's happening in people's lives; the kid's lives at that age; the grownups that are going through this heavy thing. It's kind of a fine line we're walking because we're dealing with a lot of sort of serious, heavy issues, but at the same time, we're making a comedy, and so the authenticity of all of their problems, I think, makes the show more relatable to everybody.
And it also in some weird way makes it easier to write comedy for, because those awkward moments, all these things that are so uncomfortable, often times are mined for a lot of comedy. Our goal is really just to make it as real as we can, and it's part of the reason we made it the title. We didn't want to shy away from any of that stuff.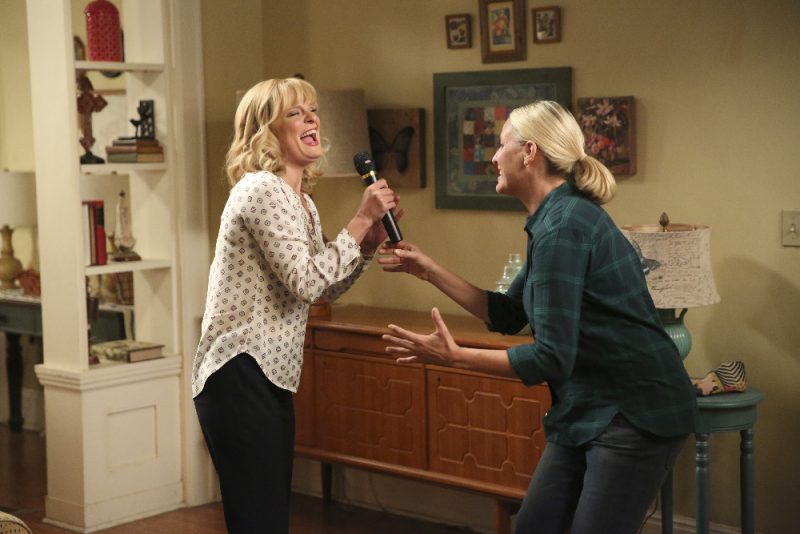 If you aren't watching The Real O'Neals, you're really missing out! The show is the highlight of my Tuesdays. You can catch The Real O'Neals Tuesdays at 8:30/7:30c on ABC! {If you have your DVR set, be sure to watch it within 3 days so that your viewing will count in the ratings and ABC will be more likely to renew it!}