This post was written by a guest contributor.
It's always a little bit scary moving into a brand new house. Whether you're moving across the country or across the street, there will always be a certain period where you just don't quite feel settled in yet. Of course, feeling out of your element and far from home can disrupt your whole outlook on life, so help yourself get more quickly readjusted by finding some fun ways to make your new house feel more like home.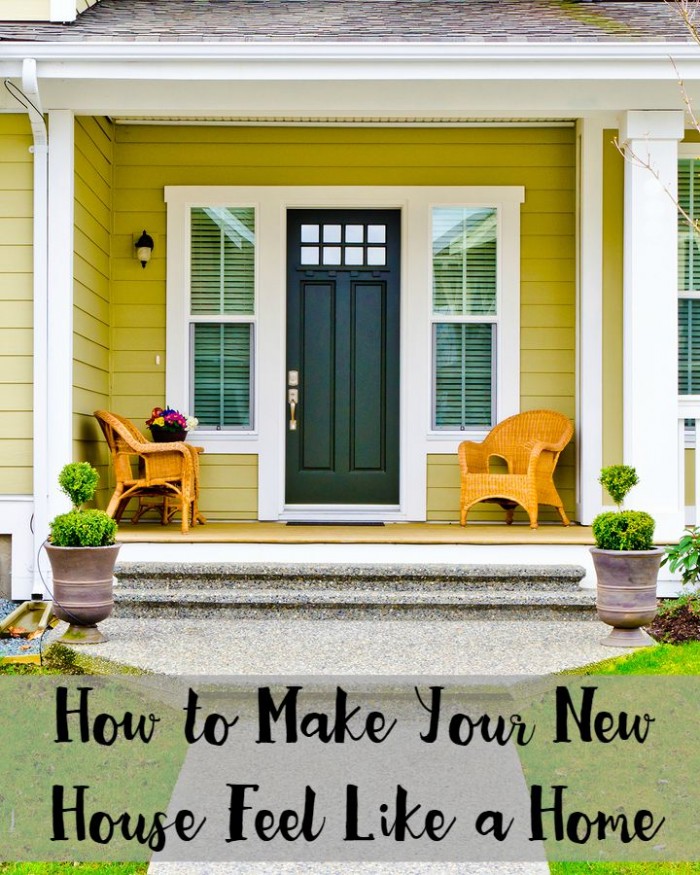 Take Time to Consider What You Want
When you first move in to a new home, it can be tempting to just get everything bought, unpacked, or assembled as quickly as possible—no one likes living in a half-furnished home full of boxes. But it's important at this stage that you really take some time to consider exactly how you want your new home to look. This is your opportunity to break away from your old look and old style and try something new.
Check out some interior design magazines and books or pull up some pictures of famous or classic room looks. Think about the particular things you like about each of these designs and try to come up with your own design sensibility based on those things you like. Come up with a few elements that will be your style design key, and use these to guide your shopping and planning. For example, if you really like rooms with a sleek, modern look, but you prefer warm colors to the harsh black and white of many magazine design spaces, make these elements your defining characteristics for your ideal room.
Shop Smart
It might be tempting to shop the same way you did for your dorm room or first apartment out of college, but you should resist this. That is, don't just go to Ikea or your nearest big box store and pick out the cheapest items in every section. Instead, allow yourself to take the time to make a careful study of all of your options. Once you see something you like, go ahead and buy it, but don't feel like you need to buy the first cheap choice you see.
Shop around in your area and online for modern products for sale. Instead of setting yourself a total budget, which can be more confusing than helpful, set yourself a budget for each room or each item. That way, you don't have to think about your whole budget as you shop, but rather just the reasonable price range for that particular object.
When shopping, don't forget about the key design elements you gave yourself. For example, in the scenario above, you might look for things that are sleek and modern with lots of hard angles and color blocks, but that come in warm colors like gold, brown, and burnt orange or red. By choosing items that fit these categories as you find them, you'll be able to pull together a room that feels homey and cohesive without having to overthink it.
Choose Some Great Accent Items
Designing a great room is not just about making it look cohesive. It also has to be interesting and personal. Choose a small selection of accent items for your new space that are related to your overall design scheme but different enough to be noticeable. For example, if you choose a plain slate gray couch, it might be fun to choose a blanket or some throw pillows in more vibrant colors and mismatched patterns.
Make sure you leave room for your old life, too! It can get easy, especially on a larger budget, to get caught up in the fun of buying lots of new home decorations, but it's important that you leave yourself room to accommodate all of the life that you are bringing with you from your last home. Mix in favorite old sentimental objects with your statement pieces to get a good balance. After all, it's good to have a space with a story!
A Few Takeaways
Here's a quick list, if you're in a rush, of the biggest things to keep in mind when making a house into a home:
Start small and take it slow. Go one room at a time and one idea at a time for best home design results.
Don't forget your greenery. You'll be amazed how good a simple collection of house plants can do for a space. In fact, living greenery has been shown to lead to significant mood improvements over long periods of regular exposure, which is why people tend to report higher levels of happiness in neighborhoods with lots of trees. This can be as easy as picking up a few succulents at your local grocery store, or growing your own plants in a garden outside.
Get to know your neighborhood and your neighbors. Nothing makes you feel more at home than feeling like you are familiar with your surroundings.
And most importantly: spend time in your new space. As you live there, you'll start to notice areas that could use improvement and you'll really start to feel familiar with your space. That familiarity is truly what turns your house into a home.
How have you made a house feel like a home?