We all have crushes on actors, musicians, and fictional characters, right? While I no longer tape pictures of the Backstreet Boys on my ceiling, I still find myself more likely to watch a movie based on who is in it. I've found that most of my crushes remind me of my husband, like my ultimate character crush: Tony Stark.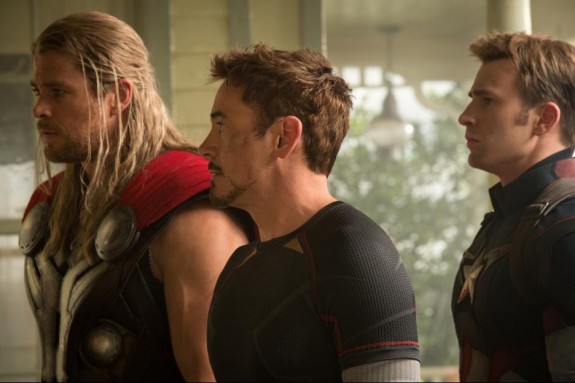 Sarcastic, brilliant, and with perfect facial hair, Tony Stark is the big-screen version of my husband. Except, you know, a genius billionaire playboy philanthropist. In any case, he's not the only reason I'm so excited about the new trailer for Avengers: Age of Ultron– but he's a large part of it! Although, to be honest, it's hard to tell exactly what side Tony's playing for. See for yourself:
So, why is Thor choking him? Why is he trying to get The Hulk? What is happening here?! Apparently we have to wait until May 1st to find out, but you can bet I'll be following The Avengers on Facebook & Twitter to get every sneak peek possible for the next few months!
Who is your favorite Avenger?