This post is brought to you by SeaWorld® Kids Apps and is written by contributor Brittany.
Ever since I was a little girl I have the fondest memories of going to Sea World with my family and enjoying all of the animal exhibit. Where else can you go to see penguins, polar bears, sharks, dolphins and more exotic animals up close and personal. Now that I'm a mother of my own children I love being able to take them to Sea World and experience the same joy I did growing up. I always wished there was a way to virtually interact with the animals, learn fun facts about them and get my children involved and to my surprise there are now 3 apps that are doing just that. Penguin's Playground by SeaWorld® Kids, Polar Bear Playground by SeaWorld® Kids and Baby Animals: Cute and Cuddly Animal Babies by SeaWorld® Kids are all free apps that can be downloaded on your iPhone or iPad.
Penguin's Playground features 18 activities featuring our beloved penguins that all kids and adults love.  Watching penguins in their natural habitat is such an amazing experience and this app allows you to get up close and learn everything you'd ever want to know about penguins.  This app allows your children to become creative and interact with the penguins as well as completing fun penguin puzzles they will give them a fun challenge they won't forget.  I love apps that allow my children to have fun as well as learn useful facts and I think penguin's may be my boys favorite animal at Sea World.  You'll be enjoying high definition videos, educational e-books, puzzles, pictures, games, coloring activities and lots more.  I'm giving this app an A+.  Be sure to watch the high definition video here.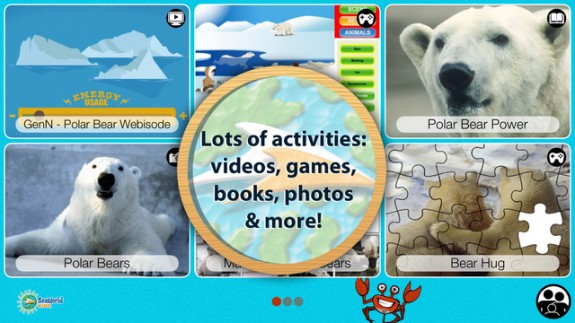 The Polar Bear Playground features 30 activities that will teach your children everything they could learn about polar bears.  At Sea World you can get up close with polar bears and watch them walk, swim, eat and rest in their natural habitat.  Polar bears are beautiful, powerful animals that will have your children in ah.  Polar Bears are definitely my favorite animal that can be seen at Sea World and this app was especially fun for myself and my kids.  Enjoy high definition videos of polar bears in their natural habitat and watch how they move, swim, hunt and just have fun.  Educational e-books, puzzles, pictures, memory games, coloring games and interactive games to keep your kids busy for hours.  Watch the high definition video here.
When people think of Sea World they envision killer whales, polar bears, penguins, sharks and more but often forget about the cute and cuddly animals that can be seen there as well.  I'll be honest when I first walk into Sea World my first stop is always to say hi to Shamu in the underwater tank and then I proceed around the rest of the park.  Now thanks to the Baby Animals: Cute and Cuddly Animal Babies by SeaWorld® Kids app I'm able to focus on all the animals I missed while walking around with my kids.  I love that my kids can get the virtual experience of all the animals to be seen and learn a little bit about those cuddly animals as well.  This app was definitely my daughter's favorite and she loved watching the videos of baby animals over and over again.  This app highlights giraffes, killer whales, dolphins, cheetahs and lots more.  I was so impressed by the quality of the high definition photos and the detailing my kids got to experience was amazing.  You'll enjoy all the same great content as the other 2 apps.  All 3 apps were fantastic and I highly recommend them to both kids and adults.  High Definition video can be seen here.
Which animal featured is your favorite?