While I don't have a lot of free time, I still like to try to stay relatively connected to the outside world. I spend a lot of time on social media and I love reading articles because they are the perfect length for me to finish while waiting to pick Shane up from school or while waiting for a pot of water to boil. My husband has his mobile homepage set to Yahoo for the same reason and is always telling me about this or that article that he found so I decided to check out Yahoo, too. It had been awhile since I had been to their website so I was pleasantly surprised to find the Yahoo Parenting section! One article in particular really got me thinking- "Does Your Child Have Too Many Toys?"
I almost didn't want to read the article because without even reading it, I knew the answer was yes! I grew up not having much so now that I'm the adult, I am pretty quick to buy new toys for the boys. Half the reason is that I get bored playing the same things with them, but also I just really like that I can say yes, since so many times my parents were forced to say "No."
However, it's because I grew up with so little that I feel so strongly about teaching my boys to give back. We regularly donate to everything from food drives to animal shelters, and I always remind him that it's important to make sure we are doing what we can to help others.
A couple of years ago we made a shoebox for Operation Christmas Child and donated a box of necessities and gifts to a child who otherwise wouldn't have anything (or would have very little) for Christmas. Shane was only three at the time, but he was really excited to be able to make another kid happy at Christmas. Because of that experience, and because we have way too many toys, I decided to start a new tradition this Christmas: donating toys to charity!
We are going to approach this in two ways: first, I'll be helping Shane to choose some toys that he no longer needs or wants. Aside from a couple of sentimental selections that I might save for Zac, we will bag them up and donate them to either a shelter for women and children or to a similar charity. Secondly, we will be purchasing some brand new toys to give to Toys for Tots- and encouraging our friends and family members to do the same! I want Shane to be able to experience the joy of helping others, so I will let him pick some toys out at the store to donate.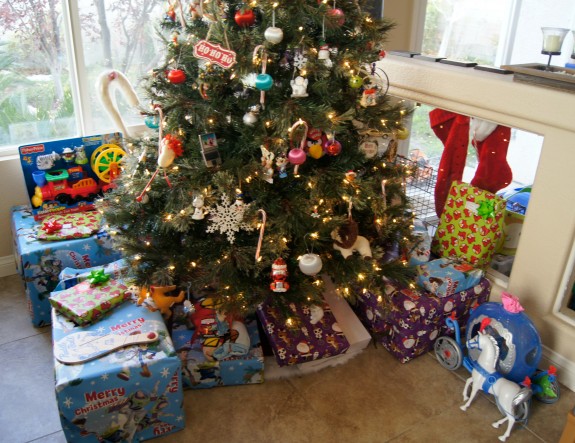 I'm really glad that I stumbled upon that article and I'm so excited to start our new tradition! Whether you're looking for a new holiday tradition or just want to read up on the latest parenting tips and tricks, be sure to check out Yahoo Parenting!
How do you deal with toy overload?

I was selected for this opportunity as a member of Clever Girls and the content and opinions expressed here are all my own.