We received a puzzle as a thank you for sharing this Holiday Gift Guide feature. Don't tell Shane until December 26th!
Shane really loves doing puzzles. When he was little he would spend hours doing the ones that show the matching piece underneath. Eventually he graduated to the shape matching ones, and finally to real jigsaw puzzles. He has a puzzle map of the states that he loves- but he always loses those little Northeastern states! The problem is, with a baby around the house, it can be dangerous for those little puzzle pieces to go missing. I don't want to discourage him from doing puzzles though, because they are such a great learning tool. That's why I was so excited to hear about FlipStir Puzzles!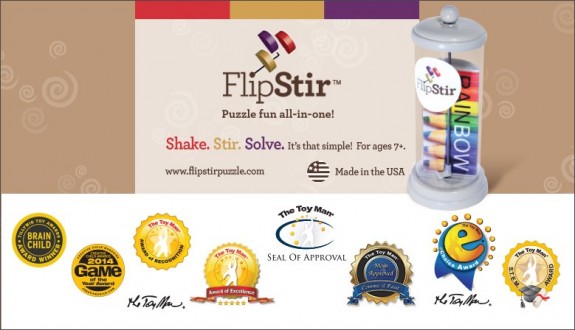 FlipStir puzzles are contained within their tubes, so there's no mess to clean up and no choking hazard involved. The puzzles are easy to enjoy- you pull the wand back, shake the puzzle to scramble the pieces, then just use the wand, gravity and your problem solving skills to solve the puzzle and reveal the artwork.
There are currently four puzzles available, including Rainbow Pencils, Tyrannosaurus Rex, Solar System, and the Statue of Liberty. The first two are Level 1 puzzles, which means the images are simple and the pieces are rectangular. The Solar System and Statue of Liberty are Level 2 puzzles, so they are a little more difficult and include some curvy pieces.
I love that they help work on hand-eye coordination and motor skills development while providing fun and entertainment at the same time. The puzzles are geared towards kids 7 & up, but younger kids may be able to navigate the Level 1 puzzles with a bit of help. Shane will be getting one for Christmas, so I guess we will find out soon!
Buy it: You can find FlipStir Puzzles at select specialty retail locations and online for $24.95 each here.
Which puzzle would you choose?