Sponsored post by Lunchbox all opinions are my own.
Every day, we are exposed to too many chemicals to count. Some of them are harmless, and are just a part of living. But there are those that can harm us or our bodies- and have found their way into our food, our water, and even our air.
It is possible to lower your exposure to dangerous chemicals, though. How?
1. Check your canned goods. In light of the recent push to become more Eco-friendly, many companies have removed BPA from their cans. However, not all companies have, and some of this harmful chemical can leech into whatever food is contained inside.
2. Leave your shoes at the door. Just think about all of the places you walk every day, and all of the things you have to step on. Now think about how many harmful chemicals are likely lurking on those streets! We don't allow shoes in the house because it keeps the floor cleaner- both visibly and chemically.
3. If you garden, consider your pesticide use. Some kinds of pesticides can get into your soil and your plants, and if you're eating those plants, into you. Either check for a healthier option or forego them. At the very least, be sure to wash any vegetation you grow before eating it.
4. Use products that are free of the bad stuff. Simple skincare products all have NO parabens, NO dyes, NO artificial perfumes and NO harsh irritants! When your environment keeps you down, keep your moisturizer light with Simple®, the expert on sensitive skin.
Want to give Simple a try? Visit Walgreens on this Saturday, September 20th from 10am-5pm to get expert beauty advisor tips on all your favorite Simple® Skin products! Beauty advisors will be handing out an exclusive $1 off coupon on Simple® Skin products on this day only.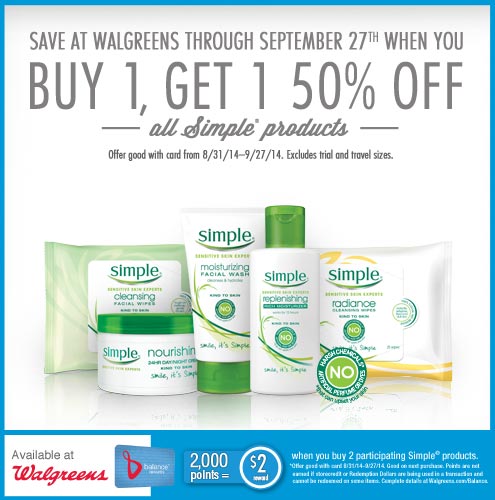 You'll also get 2,000 Balance Reward Points when you purchase 2 or more participating Simple® Skin products at Walgreens- AND you'll get 50% off the second product with your Balance Rewards Card! If you really want to take advantage of an outstanding deal, go into Walgreens on September 20th from 10am-5pm and get your $1 off coupon on top of all these offers for some serious savings!
Win It: One lucky reader will win a $50 Walgreens gift card to help them save even more! Just enter using the simple form below. Good luck!