This post is brought to you by a guest contributor.
There are countless TVs available on the market today, from small, portable flat screens ideal for the kid's bedroom, to gigantic 3D plasmas that rival the local cinema. The choice is so great that you'll definitely find something to fit your needs, but it can feel like a bit of a mammoth task with so much competition out there, and so many different options.
Therefore we've put together a list of things to think about when buying a new TV to ensure that you end up getting the best deal for your money and don't end up with something you don't want or need.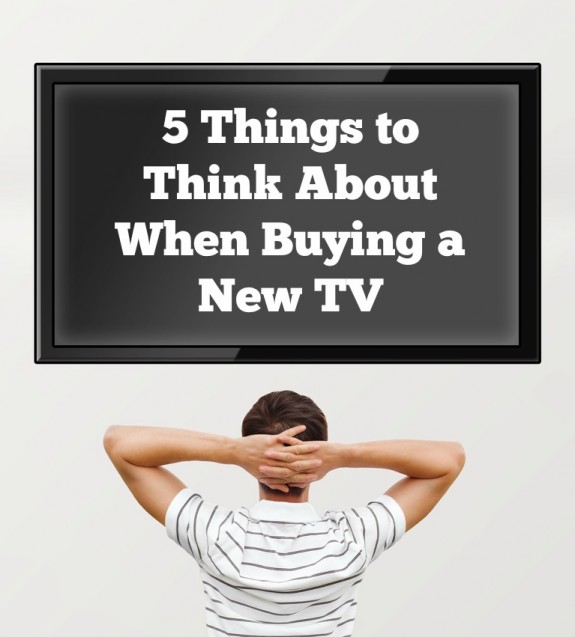 Size and space
There's nothing worse than going and buying your brand spanking new TV to then get home and find out it doesn't fit in the corner of your room or on your entertainment centre. It seems obvious, but measure the space you want to fill and be sure to stick to those measurements when shopping for your new TV. If you are strapped for space, wall mounted options can be a good idea as you can get wall brackets for your TV fairly cheaply. Also, lots of TVs come with an integrated DVD player and things like Freeview which will save space too.
Picture quality
The picture quality of your TV is determined by the resolution, processing rate and screen type, so you'll need to consider these when looking for a new TV to ensure you get one with a good picture. You've no doubt heard of things like HD and now even 4k Ultra HD, and there's a good explanation of the differences of those here.
Sound system
You won't want to have spent all those pennies on getting the best TV with the best picture quality but then find out that the sound quality is lacking. Investing in things such as a soundbar or a soundstage can be great for amplifying the sound of the TV which will greatly improve your experience when watching it. It's perfect if you're after a full home-cinema package, too.
To 3D or not to 3D
3D TVs are growing ever more popular these days, as they provide the ultimate home cinema experience which is perfect if you're a proper movie buff. They are quite pricey, but you can save lots of money generally by shopping online for them instead, as a 3D TV at Hispek is much cheaper than most high street stores, and they usually have better delivery options, too. To watch 3D in your home you'll require a 3D ready TV, a 3D source such as Sky 3D or a 3D compatible Blu-ray player, 3D glasses for your TV set and a compatible HDMI cable to transfer the 3D signal to your TV.
Add-ons
As briefly mentioned above, you will need something to display the TV on, whether it's an entertainment centre or a simple wall bracket. Likewise, if you want to get more out of your TV, it's well worth looking into the different cables you can buy which enable you to connect things like your laptop, camcorder or phone to your TV.
When was the last time you got a new TV?