Dogs are family. Before Shane came along, Bella Notte was our only child. She slept in our bed and got to lick my plate when I was done. We went to the dog park every evening and she even had a first birthday party!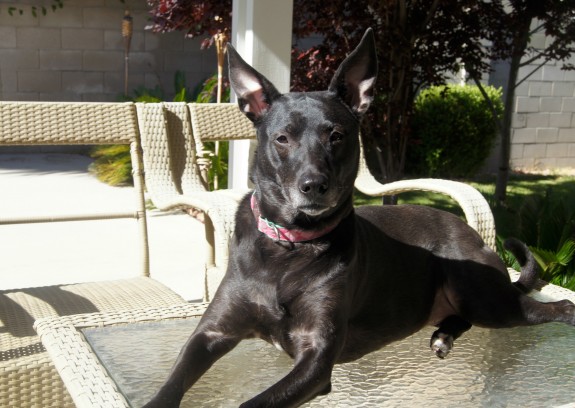 Bella may not be an only child anymore, but she's still a part of the family. Whether she is giving the baby way too many kisses or chasing Shane around the yard, she's like a sister to the boys and like another kid to us. So of course we want to make sure we are taking the best care of her!
Between the heat, more time spent outdoors and the prevalence of unwanted creepy crawlers, summer is a hard time for dogs. Below are my top 5 tips for taking care of dogs in the summer:
1. Time your walks. If you live somewhere that's very hot, like I do, make sure you are not taking your dog for walks at a dangerously hot time. Not only can they overheat, but they can very easily burn the pads of their paws. If it's too hot for you to walk barefoot, the same goes for your pup! (Don't have a choice? Get some puppy boots or walk them in the grass only.)
2. Keep their water cold. You can easily make a block of ice to place in their water bowl by freezing a smaller bowl full of water. Just place it into their dish and ta-da: cold water all day long.
3. Go swimming. Most dogs love the water and will enjoy hanging out in a (shallow) kiddie pool filled up with water! Just make sure you don't fill it so high that they have trouble walking in it.
4. Never, ever leave your dog in a hot car. If they can't come inside with you, leave them at home.
5. Protect and treat them. Use medicines to keep fleas and ticks at bay! No one wants to be itchy or to have yucky bugs on them, including your dog. Be sure to treat them with the best!
How do you keep your pup smiling during the summer?