This post is brought to you by a guest contributor.
Saving money on groceries is a priority for most families, but we don't need to replace the more expensive items on our shopping lists – such as meat and produce – with less healthy alternatives such ramen noodles in order to save money. In fact, you could save as much as $50 per month or more by simply changing your shopping habits, particularly when it comes to fruits and vegetables: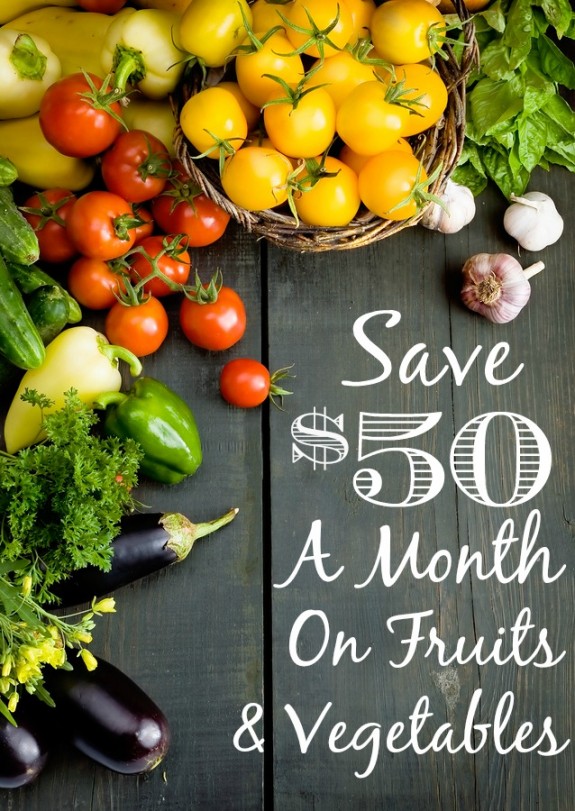 Grow Your Own
This may be difficult for urban or apartment-dwelling families, but if you have some free space outdoors and occasional sunlight, then consider growing some of your own produce. This is by far the freshest option on this list – straight from your garden to your table! – but it does require a small upfront investment in gardening supplies such as pots, fertile soil, watering can, and seeds. As we transition into the spring months, now is a great time to start a fun and money-saving hobby like gardening.
Farmer's Markets
If growing your own food is out of the question but you still want fresh produce at affordable prices, then visit your local farmer's market. Haggling on prices is generally frowned upon, but you can still find some sweet deals on just-picked produce from local farmers.
Buy Less, More Often
If you don't have access to a farmer's market but you live near a grocery store, then limiting the amount of produce you buy each time could help you cut back on grocery expenses as well as food waste. Approximately 35 million tons of food goes to waste each year in the United States and on an individual household level, you could avoid wasting food by buying the minimum amount you need for a few meals at a time each time you go to the store. An advantage to this strategy is that it can help you avoid rapidly approaching expiration dates, but one disadvantage is that it requires more trips to the grocery store, which requires gas if you live too far to walk or bike there.
Frozen and Canned Produce
Did you know that frozen or canned produce is often healthier than its fresh counterparts? Exposure to air diminishes the nutritional content of food, while freezing or canning it can preserve the nutrients, as well as give you more time before the food expires altogether. Frozen and canned foods may not have that same "fresh taste," but they're often cheaper than what you'll find in the fresh produce aisle at the store.
Supermarket Deals and Discounts
Does your local grocery store offer daily or weekly discounts on items in the store? If so, keep an eye out for their produce deals and build your family meals around the latest discounted items. Coupons – which you can find through your local newspaper or online at sites such as SumoCoupon – are also very helpful when it comes to lowering your grocery bill without slashing items from your shopping list.
Dollar Store Produce
Although much of what you'll find here is probably close to its expiration date, buying produce from dollar stores is an extremely frugal way to put fruits and vegetables on the table without paying conventional grocery store prices. Be sure to check each item prior to purchasing (but don't ignore this option just because it seems too cheap to be legitimate – there are certainly some great deals to be had at dollar stores!).
How do you save money on produce?