Disclaimer: This post is sponsored by Lunchbox. All opinions are my own.
There are body parts that we spend a lot of time caring for- like the face, for instance. Every day, I wash and moisturize my face, use eye cream and apply sunscreen. I also spend time on my hands, trimming my nails and using hand creams. Then there are the body parts that get completely forgotten about, like the back of your knee or your armpit.
But your armpits deserve so much more! They get treated very poorly by the razor- you can lose up to 38% of your armpit skin every time you shave! Your armpit is actually a very sensitive body part to begin with, and that of course doesn't help. I doubt any of us are willing to forgo the razor, so what can be done?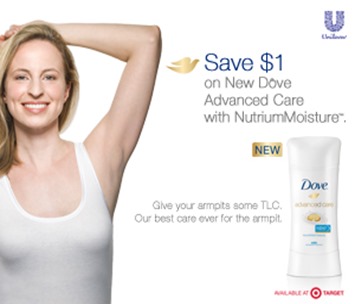 This year, Dove Deodorant wants to change the way we care for our armpits. To fix the damage done by a razor and restore beauty, just use Dove Deodorant NutriumMoisture after shaving to heal and protect sensitive skin! Dove NutriumMoisture offers 48-hour protection while taking care of your armpit at the same time!
I already use Dove Deodorant &even use their NutriumMoisture body wash so I'm picking up this new deodorant this week. If you want to give it a try too, be sure to print out this $1 off coupon good at Target!
What body part do you often neglect?