This post is part of the SPLENDA® 365 Sweet Swaps™ Blogger Program by McNeil Nutritionals, LLC and The Motherhood, who sent me products and compensated me for my time. Opinions, experiences and photos shared here are my own, and I hope you enjoy them.
Did you know that the average American eats 22.2 teaspoons of added sugar daily? That's a big number, and to really put it in perspective consider that experts recommend that women consume less than 6 teaspoons daily. That means on average we're consuming almost four times as much!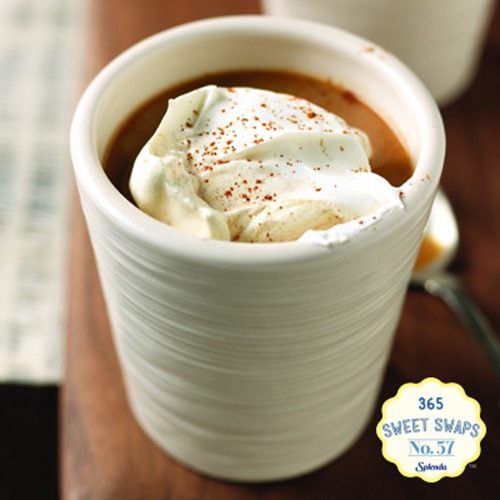 As someone with a major sweet tooth, I totally get how that can happen. I make swaps where I can though- I often opt for sugar-free foods and drinks made with Splenda Sweetener! For years I've used Splenda in place of sugar in my coffee and for other uses- I sometimes even use it when baking!
To help others cut down on their added sugar intake, Splenda is sharing 365 Sweet Swaps that will help others switch from sugar to Splenda Sweetener. For example, the delicious sounding Chai Banana Smoothie below!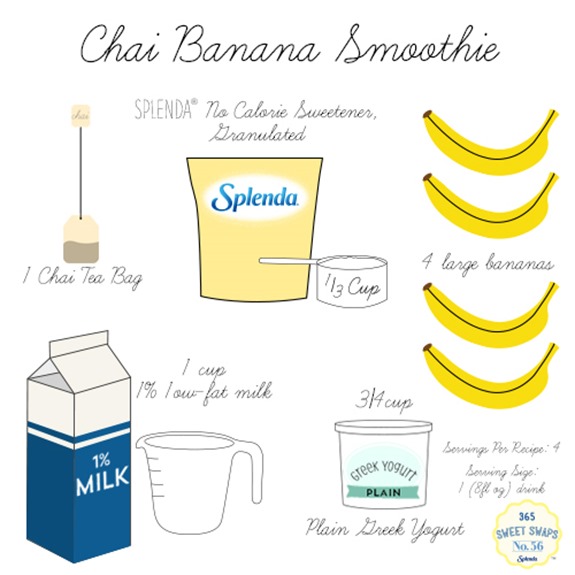 Chai Banana Smoothie Recipe
Servings Per Recipe: 4
Serving Size: 1 (8 fl oz) drink
Directions
Place bananas in freezer for about 30 minutes or until frozen.
Pour milk into a microwave-safe measuring cup; microwave at HIGH for 1 minute or just until milk boils; add chai tea bag and let steep for 20 minutes, pressing bag gently with a spoon to release chai flavor. Remove and discard tea bag; chill chai flavored milk for 10 minutes.
Combine frozen bananas, SPLENDA® No Calorie Sweetener, Granulated, yogurt, and chai flavored milk in a blender. Process mixture until smooth, stopping to scrape down sides.  
To learn more about Splenda & how you can make sweet swaps, check out their website or the 365 Sweet Swaps page!
What sweet swap do you want to make?