Safety is the number one concern of all parents. We childproof our homes before baby even arrives, let alone can crawl, and scan the product recall lists for some light nighttime reading. We make huge decisions based on the safety of our children, including the neighborhood we live in & the type of car we drive. But yet, a lot of people have no idea how to correctly use a car seat, putting their child in danger on a daily basis.
I see a lot of people posting photos on social media of their little ones in their car seats incorrectly, and they don't even know. There are so many things to keep in mind when strapping your child in, and it's important to pay attention to every single one. Chicco has provided some car seat safety tips from Julie Prom, their car seat advocate: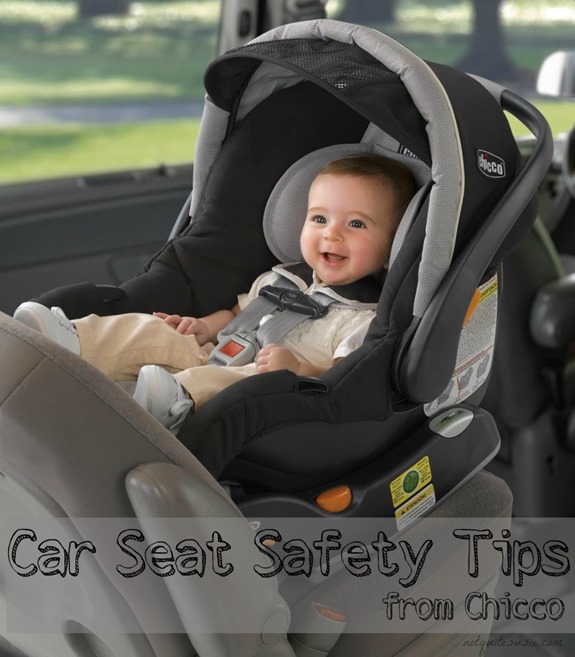 –Rear-facing is safest.  The American Academy of Pediatrics and the National Highway Traffic Safety Administration recommend rear-facing as long as possible. Parents should keep child rear-facing until at least 2 years old, longer if the car safety seat weight and height limit allows. Young children are fragile and are best protected in a rear-facing car seat. To ensure a child can stay rear-facing as long as possible, purchase a convertible seat when your baby outgrows the infant seat.

–Most children younger than 5-years old are not mature enough to sit without a full harness. Keep your child in a forward-facing car seat with a harness until at least 5 or 6 years old.

–Most common mistakes can be avoided by simply following manufacturers' instructions. All car seats must meet stringent Federal Motor Vehicle Safety Standards to be sold in the U.S. It is when they are not used correctly that makes them unsafe. Always read and follow the instructions for the safety seat. Also, read the vehicle owner's manual section on child restraints.

–Always buckle your baby into the safety seat first, and then cover the baby with blankets. Avoid bulky clothing and add-on products such as car seat buntings. This can interfere with proper harness fit and crash performance of the seat. A good trick for older children is to buckle them in without their jacket and then put it back on them backwards over the harness. Not only do these techniques ensure proper harness fit, but also avoids overheating by allowing the baby to be easily uncovered or the child to take his jacket off once the car gets warmer.
Additionally, there are some things to keep in mind each & every time you buckle your child up:
–Air Bags and Children Don't Mix – NEVER place a rear-facing car seat in the front an active frontal air bag, serious injury or death can occur.

–Back Seat is Best – The back seat is safest for all children.  Keep children in the back seat until at least age 13.

–Make it Tight! – A car seat must be installed tightly in the vehicle to do its job. If you can move the seat at the belt path more than an inch side to side or front to back, it's not tight enough.

–Forward-facing – A Tether is Always Better! – Always use the tether when using a forward-facing car seat. A tether will help hold the top of the car seat back and provide better protection for the child.

–Rear-facing – Keep baby's Airway Open – Make sure a rear-facing car seat is at the correct angle so your infant's head does not fall forward.

–Harness Height – Rear-facing, harness should be at or BELOW the child's shoulders. Forward-facing, harness should be at or ABOVE the child's shoulders.

–Harness Snug – Make sure the harness is snug! There should be no slack in the harness at the baby's shoulders. Avoid bulky clothing; this can interfere with harness fit.

–Booster Seats – Ensure the adult safety belt is threaded properly through the belt guides. The lap belt should be on child's lower hips/upper thighs and the shoulder belt should lay flat across the middle of the child's shoulder and chest.
I wish that my childbirth class would have covered car seat safety- I admit to not knowing a few of these things until someone told me a few years ago. I hope that these tips can help someone else who doesn't even know that they aren't protecting their child the best that they can.
Keep in mind that car seat safety starts with a safe car seat. You can find one of my favorites, the Chicco NextFit, at a retailer near you or online at Chicco's website.
What are your car seat safety tips?

Note: This post is part of a series with Chicco, for which I was provided a car seat. All opinions are my own.