Dear Shane,
I still can't believe you started preschool this month! I admit, I was a bit anxious before you went. I knew you'd love it, but you've never been away from family like that before. In your four years on this earth, you've been babysat by your Grandma & Grandpa, and twice by a friend's mom, and even that was two years ago. I wasn't sure how you'd handle being away from everyone you know for three hours, three days a week, but I quickly realized it wouldn't be a problem.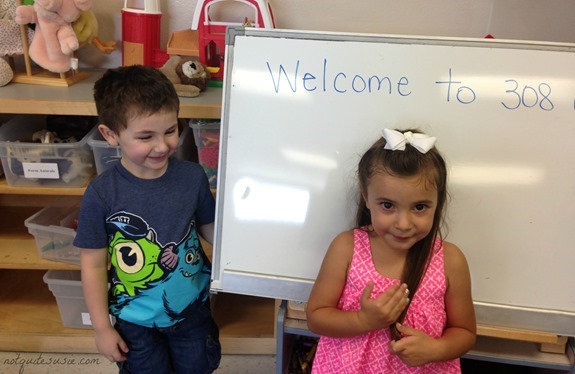 I took you to your orientation the Friday before school & instead of crying for me to stay or at least asking where I was going, I couldn't get you to stop playing long enough to say goodbye before I headed to the auditorium to hear the Headmaster speak. I knew then that you would be just fine, and I was absolutely right. Granted, I shed more than my fair share of tears when I dropped you off on that first day, but seeing how excited you were about school when you came home erased any bittersweet feelings I had & replaced them with pure happiness for you.
I suppose I shouldn't be that surprised, though- I loved school when I was a little girl & still plan on being a teacher when you & your little sibling are all grown up. You just take after me, and I'm so proud! You also take after me a bit with the whole, social butterfly thing, though, so we'll have to watch that. You've already told on yourself for bothering your friend during class- you were just trying to hold her hand, nothing serious- but it's not okay for school! But since you never went to daycare, and this is your first year of any kind of school, I know it'll take some time to learn what's okay & what's not.
You've now gone four times & you're always so excited when you wake up on school days! You love to tell me all about your day & everyday there's a fun, new thing you're excited about. Yesterday it was the sandbox, but who knows what it'll be tomorrow? I look forward to finding out- and I can't wait to hear about your day every single school day for the next 14 years.
Love,
Mommy
Be sure to check out the next blog in the Letters to Our Sons circle- Penelope's Oasis!