As the midwife appointments roll in and your bump begins to show, you might be eager to start work on the nursery – but what happens if you're short of funds? Well, providing a safe, comfortable place for your baby to sleep doesn't have to cost the earth, so check out these money-saving tips.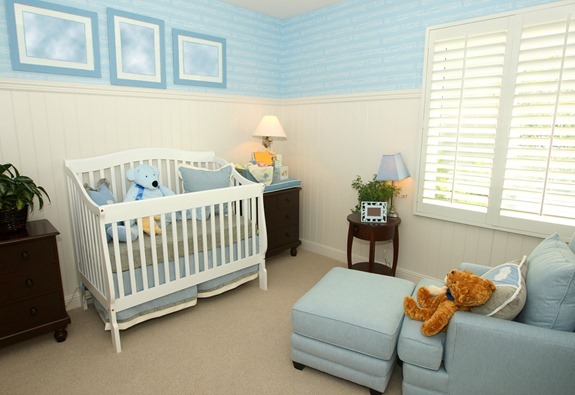 Shop around for a crib
During the first few weeks your baby will probably sleep in a Moses basket, but he/she will soon need a crib. To make your money go further it's a good idea to buy one that transforms into a toddler bed. These can be bought relatively cheaply online, but always shop around for the best deal and ensure it complies with safety standards. What's more, if you're paying electronically, always use a low rate credit card to keep your borrowing costs to a minimum.
Don't overdo the furniture
As well as a cot bed, you could also benefit from a changing table/dresser. To save money, buy a well-priced chest of draws (that comes up to about waist height) from a market, second hand or charity shop and give it a good rub down. Paint and varnish it in whatever colours you choose before leaving it to dry in a well-ventilated room. Once that's done, purchase a baby changing pad online or in store and you'll have somewhere convenient freshen up those nappies. All you really need then is a comfy chair!
Add color with accessories
If you nursery is in a good state of repair, a few child-friendly accessories might be all you need to brighten up the room. There are a wide range of wall transfers online and you could even learn how to create a feature wall using stencils. Decorative door knobs, unique wall hangings and fun lamps can complement your colour scheme and don't forget things like musical mobiles, fluffy rugs and plenty of teddies! Strong pinks and blues look fantastic in any nursery, but using neutral colours like yellows and greens might be more practical if you're planning a large family.
Make the most of gifts
Whether you throw a baby shower, naming ceremony or simply welcome visitors to your home, you're sure to receive a wealth of wonderful baby gifts. Everything from cuddly toys to name plaques will look great in your nursery, so don't worry about kitting the whole room out alone! It might look bare to start with, but it will soon be overrun with everything your baby could possibly need. If something's missing, you can always buy it when you have the funds and add it to your collection.
Everything from shopping around to applying for low interest credit cards could save you a fortune, so don't spend money unnecessarily.