According to Hasbro, as of early 2008, more than 275 million copies of Monopoly, the "fast-dealing property trading game," have been sold worldwide. The company estimates that over a billion people have played the game since it was released in 1935. You may have recently observed that Monopoly has made the news. The board game's "Save Your Token" contest recently ended where fans voted to replace one of the old tokens with a new one.
Times have certainly changed since 1935—Monopoly fans from 185 countries around the world had the opportunity to use Facebook to vote for their preferred new game token. After all the votes were counted, the cat came out on top! It was able to scratch and claw its way past the toy, robot, guitar, and diamond ring by garnering 31 percent of the fan vote. The cat immediately replaced the iron token, which has fallen out of favor with today's fans.
While all this may only come as earth-shattering news to devout Monopoly fans, I'd like to use this opportunity to discuss key benefits your children can reap by playing the game. Read on, curious parents…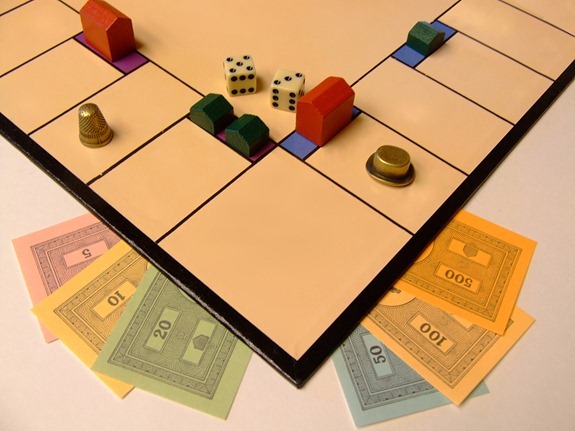 Learn Money Management
Money makes the world go round, and there is nothing wrong with giving your child a taste of this reality. Playing monopoly allows children to understand that money isn't unlimited and expenses are never ending. Paying rent, paying for utilities, and paying for transportation all require money. The inflow and outflow of money means children must use basic math skills—addition, subtraction, multiplication, division—at some point in the game.
Improve Problem Solving
A critical skill needed to succeed in school, work, and life in general is the skill of problem solving. This skill involves having the ability to make smart, beneficial decisions in a quick and efficient manner. Children can sharpen their critical thinking skills by playing Monopoly because the game demands fast-paced decision making. If a child is on the brink of bankruptcy (just in the game!), he or she will have to think and act quickly to improve the situation. A lot of the problem solving situations presented in Monopoly are not much different than those often encountered in real life.
Learn Investing
Investing, at its core, means using money to make more money. In Monopoly, children will begin with some fixed amount of money—typically $1,500. They'll have to work and make decisions to use this initial amount of money to make more money throughout the game. Of course, there's an element of luck involved in the game, and the same can be said about real life.
Improve Negotiation Skills
In order to be a successful businessman or businesswoman in the future, your child must learn the art of negotiation, and Monopoly is a perfect starting point. At some point or another in most Monopoly games, players will have to engage in negotiation talks to make property trades and deals. This is where children can develop their negotiations skills.
Enjoy Family Time
Educational lessons aside, play Monopoly with your kids to enjoy quality family time. We live in an age where video games and virtual worlds dominate—Monopoly is an excellent game families can play in a face-to-face setting.
Playing Monopoly helps children learn about money management, improve their problem solving abilities, learn about investing, and improve their negotiation skills. It also makes for a fun family evening full of strategic thinking and laughs!
Patti Clark is a proud mother of three, wife, and content strategist for BabyChangingStation.com. Patti's family has Monopoly nights at least once a month.