Do you have a junior sports lover in your life? A few weeks ago, my in-laws taught Shane to chant "Go Big Red!" while watching Nebraska Huskers games, and he even enrolled in soccer last week! I find that he's asking questions about sports more & more, and I think it's awesome that he's developing a genuine interest. If you have a child in your life that loves sports, consider getting them Sports Illustrated Kids this year for the holidays!

About Sports Illustrated Kids:
SPORTS ILLUSTRATED Kids is THE magazine for boys and girls who love sports. It presents sports the way kids want to read about them: with great action photos, easy-to-read stories about star athletes, helpful instructional tips from the pros, and humor, comics, and activities. SI Kids is a great way to encourage kids to read, and it has won highest honors from the Association of Educational Publishers and the Parents' Choice Award.
Sports Illustrated Kids is the perfect stocking stuffer- and there's no need to go to the store to get it or even wrap it! Kids love it because it's full of exciting photos, stories and games & parents love it because it encourages even the most reluctant readers to dive in! They cover many different sports and include fun features like comics, posters, player cards, and more!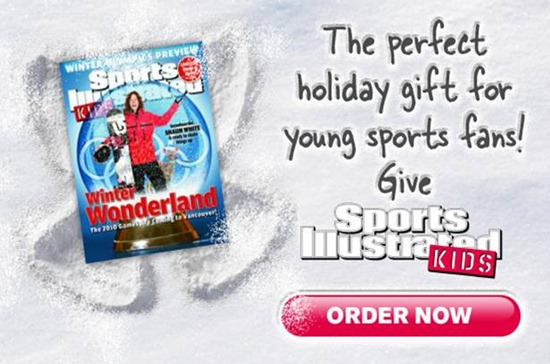 Special Offer: Right now, you can get an entire year of SI Kids in print and on tablet for only $19.95! You can subscribe here.
For more information on Sports Illustrated Kids, check them out online & on Facebook!

Disclosure: Our blog is participating in a sponsored blog ambassador program from Sport Illustrated Kids. As a part of this program we have received paid compensation, a year subscription and merchandise for placement of digital advertisements and specific postings related to SI Kids.