Today at the park, Shane was playing on the bridge. He saw a little girl coming up the ladder, and walked to the top of the ladder. He looked to me and said, "I don't want her to use this ladder. Once I got him out of her way, I took him to the side. I explained to him that he needed to share, because the little girl was just trying to have fun like he was. He didn't bother her again, but sometimes he needs a little reminder.
Getting a talk about sharing
Usually he's actually pretty good about sharing. That is, he'll ask me to share my popsicle with him or to share my phone. When it comes to sharing his stuff with others, that's where his "only child syndrome" comes into play. He gets excited at the thought of sharing but once he actually realizes that it means he has to go a few minutes without his beloved toy, he wants no part in it.
He's three, so sharing is a big learning experience for him right now. Whenever I have the chance to demonstrate it for him, I do. Whether that's sharing my popsicle to show him that he can benefit from it or by encouraging him to wait his turn at playgroup, he is exposed to sharing all the time.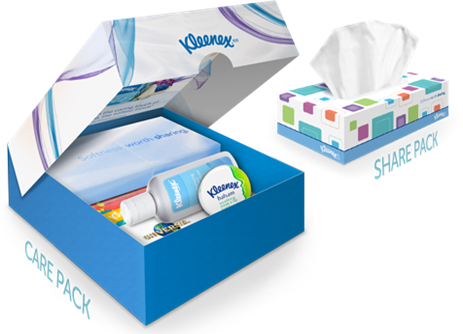 Kleenex is helping to make sharing easier with their new Care Packs. If you go to your local retailer & purchase a Kleenex brand bundle pack, it will have a code on the box. To redeem it, just go to Kleenex.com & follow the directions to send a Care Pack to someone who needs a little extra care! You can even get your child involved in the experience, either by letting them pick who they share with or just by talking to them about why you're sharing.
You can learn more about Softness Worth Sharing by visiting Kleenex.com or by following on Facebook!

Note: I wrote this review while participating in an ambassador program by Mom Central Consulting on behalf of the Kleenex brand and received product samples and a promotional item to thank me for taking the time to participate.