Bounty are synonymous with helping women through the highs and lows of pregnancy week by week by providing hints and tips, free products, special offers and a place for all expectant and new mothers to chat amongst themselves and make potential friends for life.
The online parenting club has recently launched a pregnancy diary app – and I thought I'd download it to see how useful it is!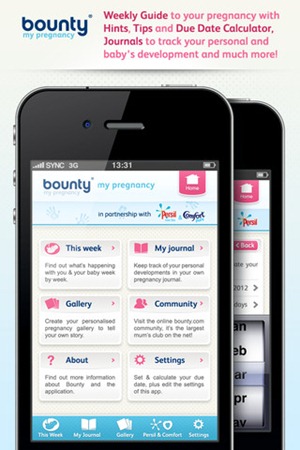 There's a wide range of different functions on the app and it's pretty comprehensive, clearly plenty of thought has gone into thinking about the type of things future parents worry about and think about.
Sure, there's a ton of books available covering the same subjects, but the information in this app is easy to understand and easy to access whenever and wherever you like, which is perfect if you don't have time to read a whole library full of books.
Here are some of things that I liked about the app:
· Videos. Loads of them! From skincare to advice on what maternity clothes to wear through the different seasons, there are plenty of videos that load quickly and stream smoothly. There are also some special videos for dads only, which is a great little function to mke sure you partner doesn't feel left out.
· Gallery. It's so important to take photos in the months leading up to – and after – birth because it's such a special time of life. This app allows you to take and share photos.
· Week-by-week guide. Everything changes at such a fast pace that sometimes you don't know whether you're coming or going. Bounty have a brilliant week-by-week guide charting what's happening with mother and baby.
Best of all, this app is free! You can download it here– let me know what you think of it!